When dining out but also opening up a new restaurant business, some cities in America are better than others. From world-renowned restaurants to local favorites, these cities have built reputations as culinary destinations that draw foodies from around the country and beyond. 
So whether you're a fan of traditional American fare, exotic international cuisine, or anything in between, there's a city on this list that will satisfy your appetite. So without further ado, here are 5 of the most restaurant-friendly cities and towns in America.
#5 Charlotte, North Carolina 
Experts believe this growing east-coast city is up and coming in the food scene and could very well become one of the nation's leading destinations for food. The plethora of food options is noteworthy, but also, the creativity of the restaurants is as well.  For example, one innovative restaurant space in Charlotte, NC is a place called "Church and Union", which is set in a huge old church-looking building.
With its proximity to college campuses, such as Johnson & Wales University Charlotte, and larger metropolitan areas, such as Atlanta and Washington D.C., it is easy for traveling customers to visit your restaurant and experience something new. 
Watch this to see just a few of the top restaurants in Charlotte:
#4 Chicago, Illinois
Chicago is often overshadowed by other bigger cities when it comes to dining, but this Midwestern city has plenty to offer food lovers and restaurant owners alike. 
The city is full of rich history and multicultural influences, resulting in some iconic dishes. Throughout the city, you'll find a range of foods invented in the city years ago that have become mainstays in the foodie scene. These include Chicago-style deep-dish pizza, Lollipop Chicken Wings, jibaritos, Italian beef, and of course, the classic Chicago-style hot dog. 
No matter your palate or preference, Chicago has the food to fit it. 
Check out some of the best restaurants in Chicago:
#3 St. George, Utah 
The growing town of St. George, Utah, has some of the region's most inexpensive but the best food. With Mexican-influenced steakhouses, burger joints, plues cookie shops, and soda bars to get your sweet-treat fix. 
Plus, it's exceptionally restaurant friendly, as the small city is known for providing an efficient licensing and permitting process to new restaurant owners.
And there are ample opportunities to promote your new restaurant. With a growing population, advertising your new business can be done through local media and universities, such as Southern Utah University and Utah Tech University.
These are some of the must-visit restaurants in St. George:
#2 New York, New York
You didn't think we'd write up this list without including the Big Apple, did you?
NYC is one of the greatest food cities in the world, with a culinary scene that reflects the city's diverse population and burgeoning cultures and history.
For one thing, New York City is quite the melting pot of cultures, and its food scene reflects this diversity well. You can find almost any cuisine in the city, from Italian and French to Korean and Ethiopian. The city's many ethnic neighborhoods offer an authentic taste of different cultures.
Of course, New York City is also home to dozens of Michelin-starred restaurants with various cuisines and price points. These restaurants are known for their exceptional cuisine, impeccable service, and elegant atmosphere.
Finally, the city has one of the most trendy dining scenes in the world, with restaurants that combine innovative cuisine with stylish decor and atmosphere. Celebrities and socialites often frequent these restaurants, and they offer a unique dining and restaurant experience.
Here are some of the best restaurants you should visit in NYC:
#1 Austin, Texas 
Austin is widely considered one of the best cities in the United States for foodies, which in turn makes it a fabulous city to open a restaurant in as well.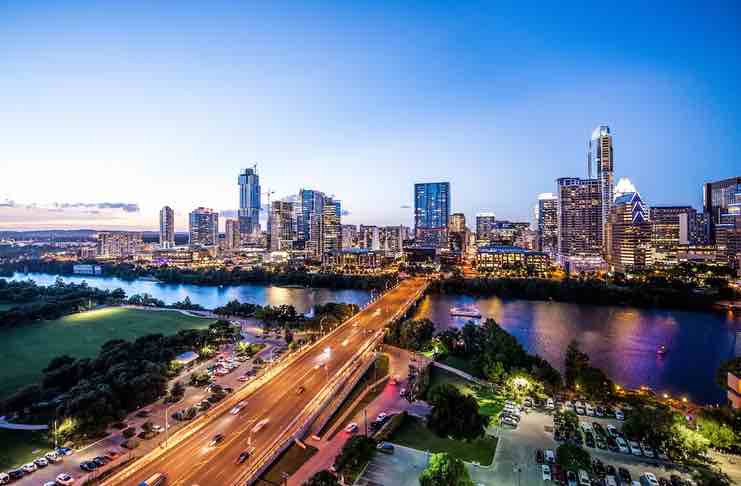 With a thriving culinary scene and a rich history of food culture, the city is home to some of the country's most innovative and exciting restaurants. Here are a few reasons why Austin comes in at #1 on this list:
First, Austin's food scene is as diverse as it is delicious. From classic Texas BBQ to globally-inspired fusion cuisine, the city's restaurants offer something for everyone. So no matter if you're in the mood for traditional Tex-Mex or a plant-based meal, you'll find it in Austin.
Another reason Austin makes this list is that the restaurants there take pride in using locally-sourced ingredients, including fresh produce, meats, and dairy products. This commitment to local sourcing supports the local economy and ensures that the food is fresh, sustainable, and delicious.
However, if you decide to go there, be sure to take into account the competition between restaurants. Because the scene is thriving, some are saying it's necessary to have nearly $1.3M set aside at the beginning for start-up costs alone. 
Watch this to get a glimpse into the food scene of Austin:
Of course, the US has many other amazing cities for restaurants, but these are some of the best. No matter where your food journey begins, in one of the above cities or not, it's sure to be a delicious one! Happy eating.