Are you planning a trip to New York soon? Why not add a culinary trip to the itinerary? Oh, you're in for a treat! There's plenty of shopping and sightseeing to do in New York, but have you considered adding eating to your itinerary? If you're a "certified" foodie you surely already know and are excited about all the good stuff that the city can offer you and if you're not so much of a foodie…all we can say is do not settle for mediocre food while you're in NYC!
It's easy to fall into the trap of wandering around a city until you're so hungry that you just stop at the first restaurant or food truck you see, but New York, of all places, is not the place to do this. This city is a dream destination for the foodie traveler. Besides the countless fine dining establishments, the city is full of cuisine that is as culturally diverse as its people. In New York, you are guaranteed great, tasty food 24 hours a day year-round. If it's your first time to NYC and you're with a car, make sure to have route planning for Android or iOS so you can avoid getting lost in the BIG apple. 
So without further ado, let's have a look at what are the must-try New York staples and restaurants!
What foods you need to try while in New York
Pizza

is a city-wide and regional favorite dish, as well as an important part of the city's culture. New Yorkers can get a great slice from one of the city's many food carts. The dollar slice is the city's favorite cheap meal, with a piece of pizza costing $1 or less. While there are many fast-casual restaurants dedicated to the dish,

99 Fresh Pizza

has the most consistent slices. If the slices have opened up your appetite for a whole pizza, there are so many places where you can eat some fantastic ones such as

Totonno's Pizzeria Napolitano

in Coney Island or

John's of Bleeker Street

, one of the city's oldest pizzerias. 



BEC

is the bacon, egg, and cheese sandwich, or BEC is what many New Yorkers start their day with and one of the staples of the city. What's the best part about this cheat-day delicacy? It's available at almost every deli in town. This traditional breakfast sandwich is available in many variations including ham and sausage in place of bacon. One of the best places you can get it at is

Sunny & Annie's Gourmet Deli in the East Village. 

Bagels

are probably the most New York thing to eat (aside from pizza slices). To begin a day in the city, there's nothing like a fresh bagel. Stop by

Russ & Daughters

for an authentic New York bagel, which has been serving them with traditional toppings like lox and cream cheese for over 107 years! Some say it's the water that makes New York's bagels so delicious. Maybe. However, New York City is home to some of the world's best bagels. 

Pastrami on rye

is definitely a must-try in New York. The best pastrami sandwich in town is served at

the Jewish deli

, and it comes with a pile of hand-carved beef pastrami, yellow mustard, and freshly baked rye bread. 



Hot Dogs

…but not the ones sold on the sidewalk!

A true New York hot dog should be crispy on the outside, juicy on the inside, and ideally eaten at

Gray's Papaya

, a local institution. 



Falafel,

or fried chickpea fritters, are popular among locals, who frequently eat the Middle Eastern dish with tahini, fresh vegetables, and pita.

Mamoun's Falafel,

New York's oldest falafel restaurant, opened in 1971 and remains the best place in town.



Meat over rice

, also known as street meat, is a simple yet popular dish sold by sidewalk food carts throughout the city. However, you'll want to get yours from

The Halal Guys

, a sidewalk stand whose gyros, falafel, and other dishes have consistently drawn long lines of hungry customers.



NY Cheesecake

is…well, something else. You can't really finish a culinary trip in New York without tasting one. And once you've had true New York-style cheesecake, nothing else will compare.

Junior's

is still the best place in town to sample the city's richest dessert after more than 70 years, with fresh fruit and homemade purees accenting creamy slices with sponge-cake bottoms.

The black and white cookie

actually is not a cookie at all. With a cake base and half-chocolate, half-vanilla frosting, it is a New York City institution and a delectable one at that.

Zabar's

is the best place to get it at, a place that has been serving homemade sweets for generations.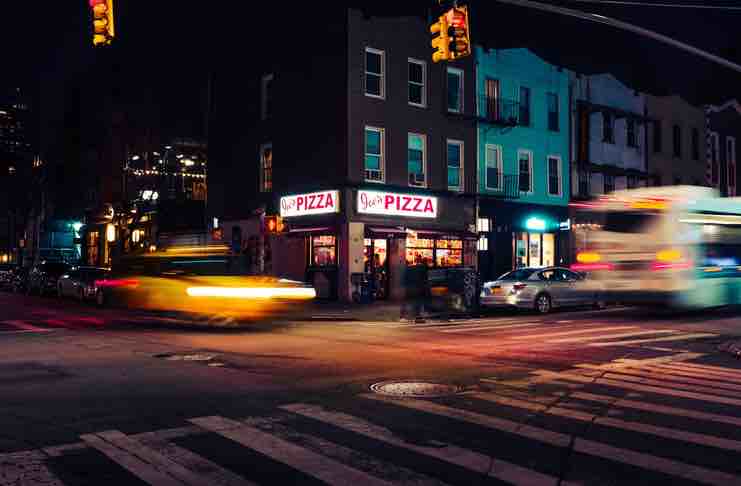 Tips For Your Culinary Trip in New York City
You see, there are simply too many incredible places to eat here. Too many, as in you'll never be able to fit them all into one culinary trip in New York City. But if you only have a couple of days to spend in the city and want a shortlist of the most interesting and yummy places to dine at, take a look at the one below and take your pick!
Have you ever imagined how it would be to eat a  steak in an underground restored 1930s bank vault? Well, in midtown Manhattan you can do just that. Butcher & Banker is the kind of place where you'd expect James Bond to be swilling his cocktail in the corner.
There are a dozen different steaks on the menu and a lot of tasty sides to choose from!
Craving ramen? This is unlike any ramen you've ever had. They have a few locations in the city, one in Bushwick, Brooklyn, one in Midtown and one in Times Square, this place specializes in tonkotsu ramen, which is made with pork broth. But it's not just the delicious ramen that makes this place such an interesting experience. This place only has individual slots in the dining booths. So if you're the type that enjoys peace and quiet while eating, this place is perfect for you!
A culinary trip in New York City is not complete without a good Italian Pizza. If you're craving Italian pizza, Emily is the place to go! They not only serve wood-fired pizzas but they also have crunchy-n-spicy chicken wings and a banana pudding that will make you wish to never leave NYC. Add in a cozy but minimalist pizzeria vibe in one of Brooklyn's cutest but little-known neighborhoods, and this place is a clear winner.
Want to really splurge on a delicious meal in New York? Go to Harry's on Wall Street.
A gleaming chandelier "tree" in the middle of the restaurant floor, as well as a menu full of all good things to eat (and drink – especially drink), make Harry's a must-visit.
The hamachi and tuna tartar melt in your mouth, and they're famous for their steak tartare, which is made at the table, and their creamy Cacio e Pepe pasta. 
If you're in search of some of the best soul food in New York, this is the place to go to. 
Amy Ruth's is a local institution known for its homemade chicken and waffles, with each menu item named after a famous African American. You're in for some authentic Southern Comfort brunch, such as cheesy biscuits, collard greens, and waffles.
White Bear is another must-visit place on any Culinary Trip to New York City. Why? Because Dumplings are another food that New Yorkers love! Make time to do a DIY dumpling tour in Flushing, Queens, which is even better for Asian food than Manhattan's Chinatown. White Bear may not appear to be much on the outside, but inside that slightly grim interior are the most delicious wontons you'll ever eat.
This place is a hip barbecue joint in what used to be a garage. Inside, it's industrial, with communal tables and the barbeque is one part Central Texas, one part New York Deli, so you'll find all the usual as well as pastrami and pork belly.
You can also have some craft beer and bourbon. 
Okay, so this one is technically a bar, but it also serves piping hot melty cheese toasties, which has elevated it to legend status. There are over 400 whiskies to accompany your grilled cheese. We recommend going with a group of friends and ordering as many sambos as you can: The Barbara (Sharp Cheddar, Gruyere, Mike's Hot Honey, etc.) is a popular choice as well as the Karen (Fromage Blanc, Gruyere, NY Sharp Cheddar, Havarti on sourdough), and the Betsy (Vermont Chevre, apricot jam, honey, thyme on ciabatta).
Permanently moving to New York? Here are some helpful tips
If you're a foodie, then probably a culinary trip in New York City has convinced you that the Big Apple is the place to be! Moving to a new home can be stressful if you don't plan ahead of time, but moving to a new city, especially one as big as New York, can be twice as difficult. So, if you're ready to take this step and start a new life filled with wonderful culture, places, and foods but worry about the move itself, here are a few helpful tips to make your move go more smoothly.

Opt for an NYC moving company that is both licensed and insured.
Before hiring any commercial movers, you should look into their credentials. They must be licensed by the US Department of Transportation and have a US DOT number. You can find out their complaint history by simply entering the moving company's phone number into the US. DOT database. Of course, if you are moving to New York, it is best to use NYC-based movers because the city can be quite hectic, and they are already familiar with the traffic, parking, and all other rules.
Make travel arrangements ahead of time.
Have you decided how you'll relocate your belongings? It is now up to you to decide how you will proceed. If you don't drive a truck rental to your destination, you'll have to drive yourself or pay for a plane ticket. To avoid paying exorbitant prices, make travel plans as far in advance as possible.
Important documents, such as a social security card, will be required when relocating to a new state in order to obtain a new ID/license. driver's As a result, make certain that all important papers are kept in a safe place during the move.
If you are moving to a temporary location, rent a storage unit.
If you haven't found your dream house yet or are short on space, you should definitely consider renting a storage unit. These storage units can be used for short-term, month-to-month storage as well as long-term storage. You can always inquire with your moving company about their storage options, which will undoubtedly assist you in sorting your essentials.
Working from home? Make sure to make arrangements for your office too!
By now, thanks to the pandemic a lot more people have taken up the whole home office idea and, as a result, a lot more people have started to create and incorporate into their homes a customized workspace or home office.