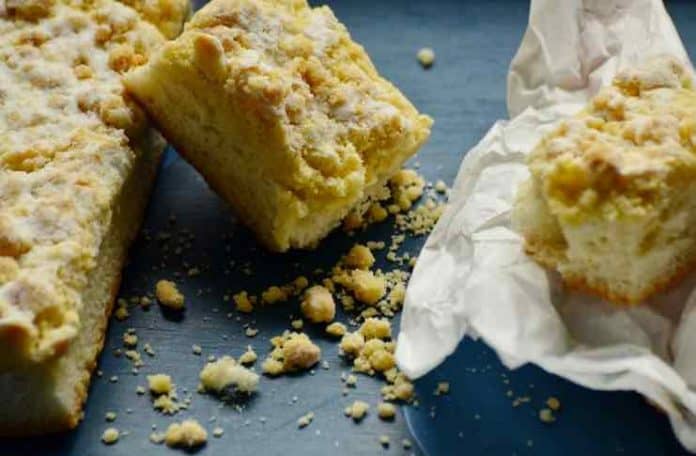 Dessert lovers have much to discover and snack on in Guam. From simple confections like buñelos to more classic fare like latiya cakes, Guamanians love their sweet treats. Below we rounded up a few of our favorite Guam sweets that you should definitely try on your next trip to this U.S. island territory in the Pacific. 
Latiya
This classic Guamanian dessert features thick slices of cake layered with a sweet creamy custard and topped with a dusting of cinnamon powder. Almost any kind of cake can be used for the base of a latiya. Indeed, vanilla or yellow cake is a popular choice, though you will find other variants too. Here's a yummy latiya recipe. 
Buñelos
Buñuelos are Guam's version of the doughnut. Buñuelos åga or banana doughnuts are fried dough balls made of mashed bananas, cinnamon, vanilla, flour, and sugar. Once fried, they are rolled in maple syrup, which further adds to their saccharine flavor. On the other hand, Buñuelos dḁgu are yam-based. They are synonymous with the holiday season for many a Guamanian because yams in Guam are typically harvested in December and used to make these fritters. Another type of Guamanian donuts is the buñuelos månglo, which are also known as typhoon doughnuts. The name loosely translates from Chamorro to mean "air doughnuts," perhaps because this snack is often made during stormy weather as comfort food. Unlike the two other types of buñuelos that are shaped into balls, buñuelos månglo are rolled out and cut into triangles before being fried and dusted with sugar.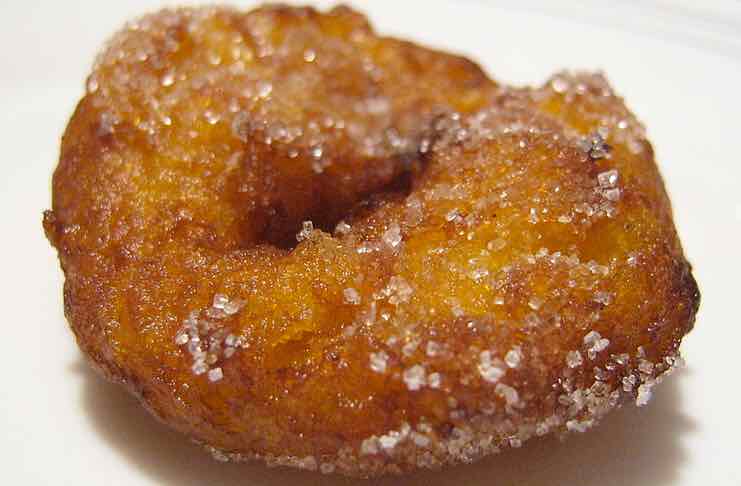 Pan Tosta
Guam's version of a biscotti looks like a misshapen bagel. Literally translated from Spanish to mean toasted bread, pan tosta is hard and crusty. Guamanians enjoy this treat by dipping it in a warm cup of coffee. It can be found across various bakeries in Guam.
Brazo de Mercedes
This is a classic Filipino dessert brought over by the large Filipino community that resides in Guam. A sweet yellow custard is spread over a pillow of soft meringue and then rolled up so the custard is at the center of the meringue roll. The roll resembles an arm, hence the word "brazo" in its name, which is the Spanish word for arm. Manny's Bake Shop in Tamuning is one of the few places you can get this treat. 
Sans Rival and Silvanas
Two other Guam sweets brought to the country by Filipino migrants are sans rival and silvanas. Sans rival translates to mean "without rival" and truly not many treats can match this dessert in terms of richness. Alternating layers of thin nutty meringue wafers and rich buttercream are stacked and then frosted with a final thicker layer of buttercream icing and sprinkled with cashews before being frozen. The result is a multi-layered cake with a delightful balance of crunchy meringue, sweet buttercream, and nutty cashew pieces. It's available at Manny's Bakeshop in Tamuning as well. 
Its sister dessert is silvanas. Silvanas are cookie-sized meringue wafer sandwiches with a buttercream filling. The entire wafer sandwich is covered in a layer of cake crumbs. This is a seasonal treat in Guam offered exclusively at Guam Bakery in Dedo starting around Thanksgiving and carrying through the holiday season. 
Guyuria
Guyuria (pronounced gu-ju-ree-ah) cookies are Guam's version of the jawbreaker. These rock-hard cookies are made with flour, sugar, and coconut milk. Unlike traditional cookies that are baked, however, guyuria dough is deep-fried to a golden brown. Once cooked, a warm sugar glaze is poured over the cookies to harden them. 
Apigigi 
Apigigi is a traditional Chamorro treat that is made with grated young coconut called månha and grated cassava or tapioca. These ingredients are mixed with sugar and coconut milk before being wrapped in banana leaves. They are traditionally cooked over hot coals, but a stovetop grill pan can be used too. The result is a creamy, succulent, and soft cake. 
Custard Pie
Huang's Cake Shop is the place to get a slice of this treat that's like a bigger version of Hong Kong-style egg tarts. A flaky pie crust is topped with velvet-smooth custard making every bite a delight. Huang's has been open since 1978 and holds a dear spot in the hearts of many Guamanians. They are best known for their custard pie, chiffon cake with its signature marshmallow icing, and their light cheesecake. It is best to head there early as they're also known to close ahead of schedule if they run out of cakes to sell for the day. 
Authentic Korean Pastries
Café Mayflour in Upper Tumon offers special Korean-style baked goods. Owner Bobby Kim uses Korean flour for his delicacies. This flour creates a particularly soft and spongy texture one could not achieve with traditional American flour. Check out their nama cream buns, nama rolls, and honey sponge cake. They also offer Korean-sourced coffee and traditional Korean drinks like Yuja-ade which is made by mixing lemon and grapefruit. For more about Korean sweets read this post.
Japanese-Style Pastries
Pecoli in Tamuning is a pastry shop that prides itself on making and selling Japanese-style cakes, pastries, sandwiches, and snacks. Indeed, "Pecoli" is a play on the Japanese word for hungry. The shop is known for its signature roll cake with a strawberry center, although they also do custom cake orders and release seasonal flavors and new offerings that keep customers coming back for more. If you're looking for Japanese desserts in NYC – read this.
Enjoy Your Guam Sweets…
A dessert tour of Guam is definitely a must when you visit. Plan your itinerary to make sure you get to stop for a couple of Guam sweets every day. Enjoy exploring and trying these delicacies and finding your own favorites. As they say in Chamorro, "ta fañocho!" or "let's eat!"