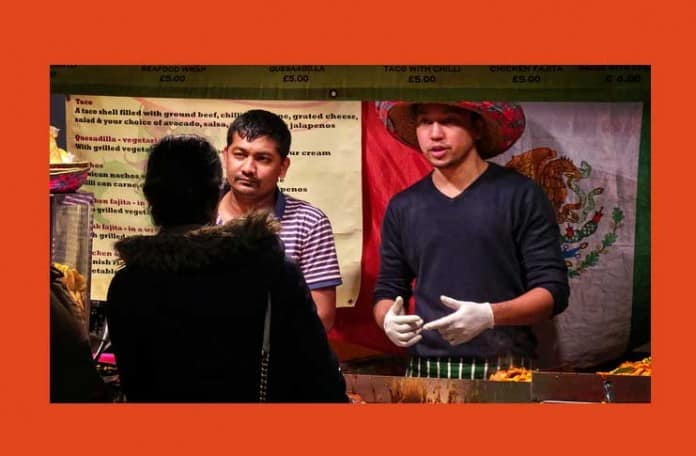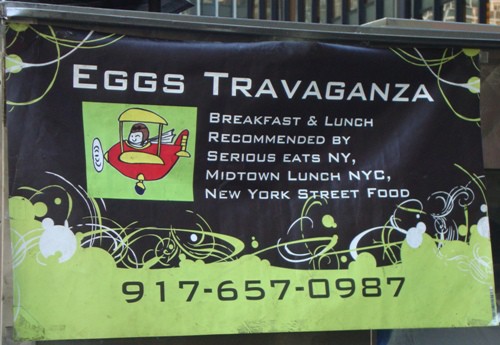 A really enjoyed the Mexican wrap that I had a couple of months ago from the Eggs Travaganza cart on the NE corner of 52nd St & Park Ave.  They always have great breakfasts, and at the time, they had just started serving lunch.  The Mexican wrap was an egg sandwich stuffed with chorizo, potatoes and cheese. Yum!
They had new signs up on the back and side of the cart, and they even listed us as a reference.  That is true – we do recommend Eggs Travaganza as a NYSF Suggested Vendor.
I knew they had expanded the lunch menu to include tacos and burritos, but haven't had a chance to try them yet.  Today's Lunch is a carne asada taco and a chicken taco ($2.50 each).  How would it compare to other tacos I've had.  Click through to find out – but here's a picture to whet your appetite.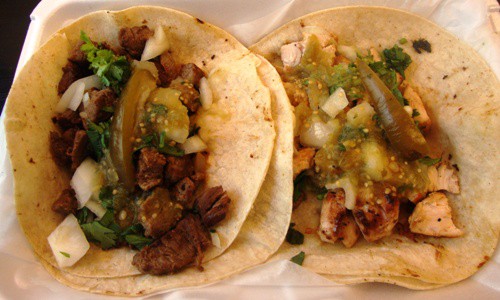 As he was cooking, Arturo asked me if I was going to the Vendy Awards, and who I thought would win.  His friend Rosa from El Rey Del Sabor is nominated this year and he was excited for her.  I am going to the Vendys, but can't reveal what I said because it was off the record.
Now on to the tacos – let's get to work.  The first thing I noticed was that he used 2 tortillas, which is usually a good sign.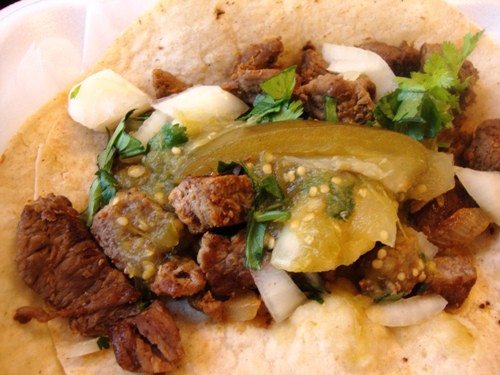 I picked up the carne asada taco and took a bite.  The initial tastes were fresh cilantro, then grilled steak, then green salsa picante.  They called the green sauce guacamole.  It was more like a salsa picante to me, but still very nice.  The meat was tender, grilled and tasty – and there was a lot of it.  This was a very full taco.  No way 1 tortilla was going to hold it together.
As the steak taco progressed, it got spicier, but not too much.  This was just the right amount of heat.  I would have liked some fresh lime to squeeze on, but none was included.  Some of the other taco vendors also include sliced radish, but I'm fine with just lime.
Next was the chicken taco.  It was apparent the chicken was grilled from the look of it, with a little charring around the edges.  The chicken had a similar taste trajectory to the carne asada – cilantro, salsa picante then chicken.  The chicken also had a nice marinated flavor to it, and it was a little lighter than the steak.  Delicious.
Today's Lunch gets an 8 out of 10.  These were very clean and fresh-tasting tacos.  Fresh cilantro, a little salsa picante, meat and onions.  The only thing missing was some fresh lime to squeeze on.
Next I'll have to try their burritos.