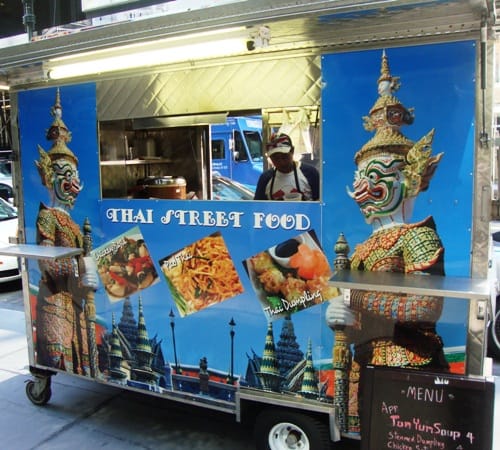 Not too long ago, we ran across a new pad thai cart serving Chicken Pad Thai on East 53rd St that was only on their 2nd day out. They didn't even have a sign or a name yet, just  a pad thai photo taped to the side of the cart and a chalkboard menu.
The cart was gone for a couple of days, and has now reappeared on 48th St & Park Ave with a new name and decorations, which we told you about as well. What a difference a few days make.
The front of the cart is reminiscent of the Streets of Thailand food truck we went to in LA over a year ago.
On the side of the cart is a photo of a Thai kickboxer, and over the photo it says Muay Thai, Thai Street Food by Tuk Tuk Boy. If you recall, Tuk Tuk Boy is a Thai street food cart on West 50th St that we've been to a couple of times. This must be their 2nd cart. The menu looks the same too.
We asked for basil chicken, but were told they were out of it, and they only had Chicken Pad Thai. Considering it was only 1:15pm, our guess is being a new cart, they only had pad thai for now. Hopefully some of the other dishes will be added later on.
Our choices were shrimp, chicken or tofu pad thai. The shrimp last time was excellent, so this time we went with chicken for $7.
Before leaving the cart, we asked for some hot sauce, which was given to us in a small, separate container.
Once again, what a difference a few days make. The pad thai was topped with plenty of grilled chicken, but it was mostly overcooked. There were different guys in the cart than on our first visit, and we noticed a difference, which wasn't for the better.
Under the chicken were flat rice noodles, bean sprouts, peanuts, scrambled egg and small pieces of tofu. There was also a wedge of lime on the side, which we duly squeezed onto the dish.
Other than the chicken, the pad thai was decent, if a little boring. It was peanutty, but didn't have that sweet and tangy sauce that we love (and that the shrimp had).
When we mixed in some hot sauce, it helped. If you get this dish, get some hot sauce. It's not that hot, and picks up the dish somewhat.
Even if the sauce was a little flat, the noodles were done right. They were not overcooked, and didn't stick together.
After adding the hot sauce, we did enjoy lunch from Muay Thai, but that first shrimp pad thai was like it was from another, better cart.
We don't think Muay Thai has Facebook, Twitter account, or a website, but that's the serendipitous nature of street food. If you stop by the west side of 48th St & Park Ave, they should be there, but if they're not, there are plenty of great street food options in the immediate vicinity.
If you go across Park Ave or a block down to 47th St as we did, there were 5 different food trucks. Stick with us, we'll let you know all of the many options for street food in New York.