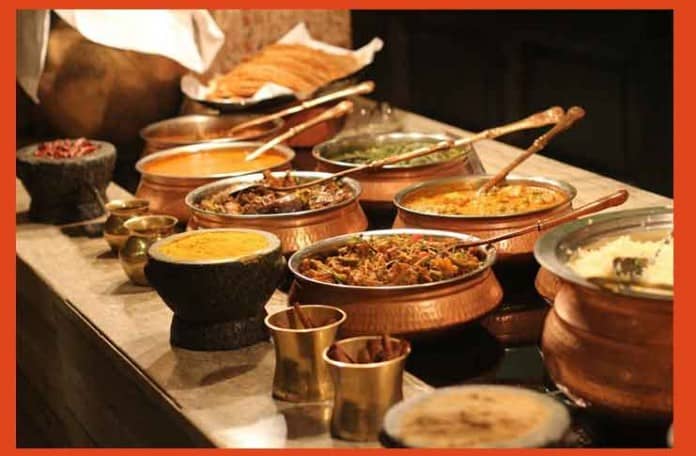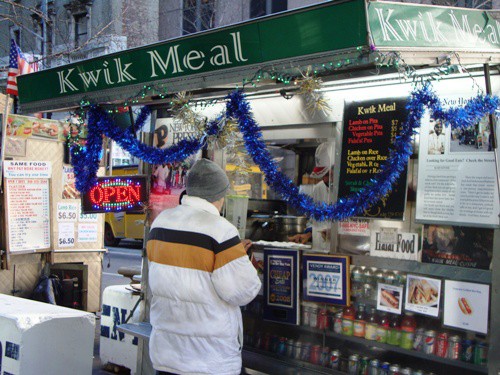 It's been a while since I went to Kwik Meal on the SW corner of 6th Ave & 45th St.  They were a Vendy Award Finalist in 2007 and are known for the high quality of their food, which is not surprising since the owner, Muhammad Rahman, was once a sous chef at the Four Seasons.  They are one of the few street food vendors who actually uses real lamb instead of gyro meat, and their salmon and shrimp over rice was excellent too.
Always on the lookout for new things, I noticed a sign for kati rolls, which they didn't have last time I was there.  They had a choice of chicken or vegetable, with one for $3.50 and 2 for $6.  Today's Lunch is one chicken and one vegetable kati roll from Kwik Meal.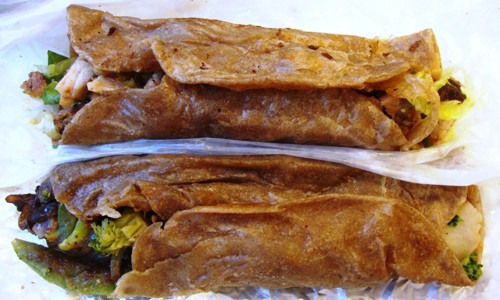 When I got back to the office, the first thing I noticed were the breads, which were darker than usual because they were made with whole wheat.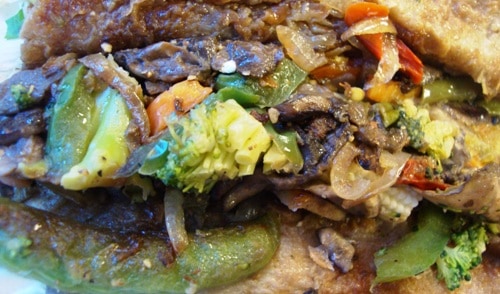 First up to try was the veggie kati roll.  I unwrapped it and saw mushrooms, onions, broccoli, string beans, potatoes, carrots, baby corn and hot red pepper flakes inside.  I took a bite and got the deep, dark taste of mushrooms.  subsequent bites had more variety, with the broccoli and string beans especially coming through, as well as some heat later on from the hot peppers.  I'm not a huge veggie fan, but this was pretty good, although the veggies were a little soft – I would have liked them crisper.  The bread did break about halfway through, which made it a bit tough to eat – but I persevered.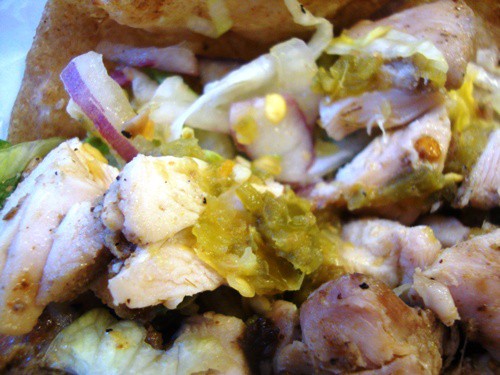 The chicken kati roll was comprised of chunks of mostly white meat chicken, lettuce and red onion, as well as Muhammad's excellent green hot sauce.  You can get it without the green sauce if you don't like spicy food – but if you do, ask for the hot sauce – and your mouth will be popping!  Even though the chicken kati roll was more stuffed than the vegetable one, the bread didn't break on this one.  It was easier to eat, and more to my liking.
I've never been comfortable with giving scores to food, so we're going to discontinue scoring for Today's Lunch.  There still should be enough information in the review to tell you if you will like it or not, but once you get to a certain level of quality, it's more about individual taste.
So where does Kwik Meal fall on the kati roll scale?  The chicken kati roll can compete with ones from Biryani Cart and Kati Roll Company, but I didn't think the veggie kati roll was on the same level.  If they put hot sauce on the veggie kati roll, it would have helped.  The value was good at $6 for lunch, but I would probably get 2 of the chicken kati rolls next time.