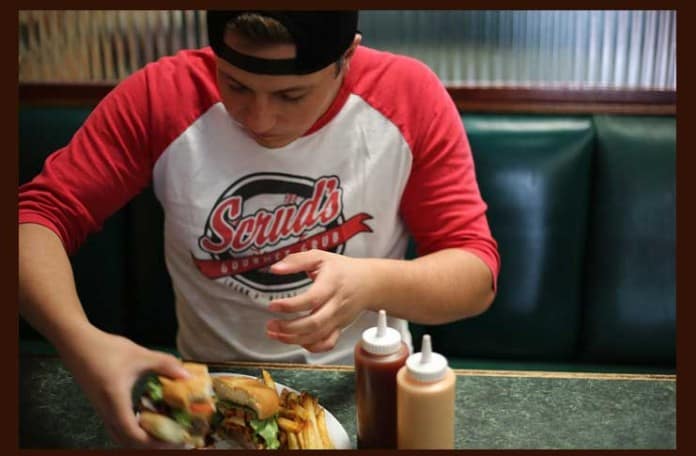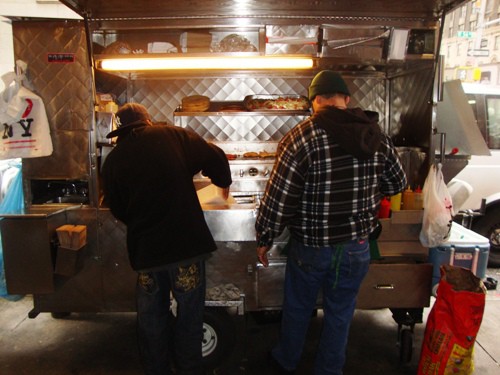 I didn't have much time for lunch today – and on days like these, I often go to Carnegie John's cart.  It's on West 56th St just east of 7th Ave, and he is one of the few excellent street food vendors in the immediate area around my office.
There's always a bunch of people waiting for their food and today was no exception.  IMHO, John's best dish is chicken over rice, but his steak sandwich and sausage & peppers are really good too.
I wanted to try something else, so Today's Lunch is a cheeseburger from Carnegie John's cart ($4.50).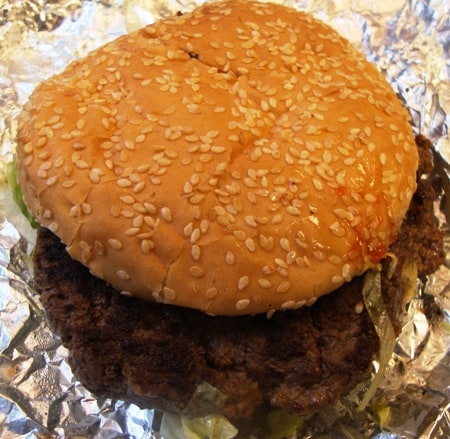 The first thing I like about this burger is that after John cooks it (from scratch) on the griddle, he puts it on the charcoal grill, which adds some extra flavor.  He doesn't just reheat a precooked burger.
The second thing I like is that he puts on 2 slices of cheese.  I hate when a vendor only puts 1 chintzy slice of cheese on a cheeseburger.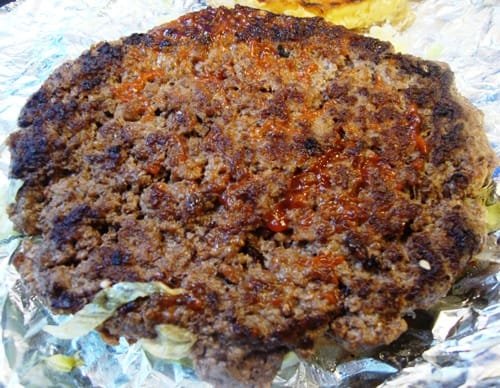 It's kind of hard to tell from these pictures, but this was a very wide burger – about 6″ across.  It's not a fat burger, but it is very wide.  You can't see the cheese or lettuce because John puts them on the bottom, while he puts your chosen condiments on top.  I get only ketchup on burgers, but he also has bbq sauce, mustard, hot sauce and white sauce, as well as tomato, onions and peppers if you want.
Even with the average thickness of the burger, it was cooked to medium, with a tiny bit of pink in the middle.  Try getting that from a precooked burger.
Today's Lunch is an 8 out of 10.  It doesn't look like much to eat from the cross-section above, but with the width of the burger, it was plenty filling for lunch.  In addition, $4.50 is a good value for a large, freshly-grilled cheeseburger in midtown.  This may not be a "gourmet burger" like Frites 'N' Meats, but it's a good, solid burger for 1/2 the price.
Whatever you get from Carnegie John's, you can't go wrong.  I haven't had a bad lunch from there yet, but my favorite is his chicken over rice.