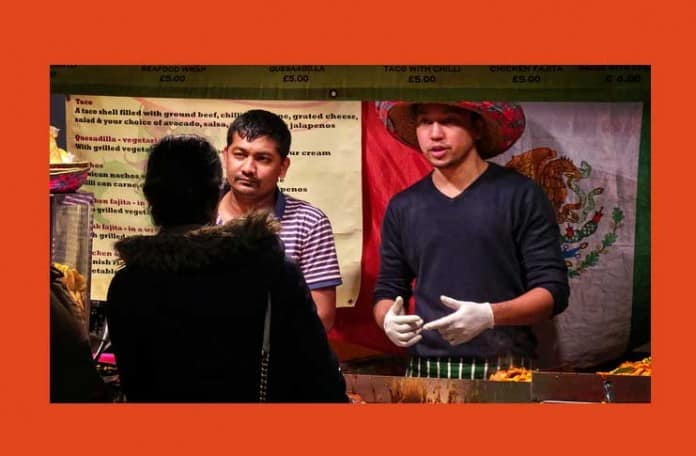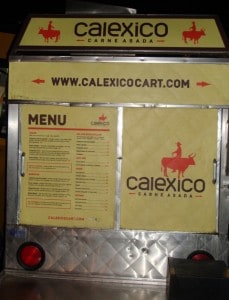 After trying 3 of Calexico's Carne Asada's tacos at the VendrTV Birthday Party on Friday night, I wanted to try some of their other goodies, including their namesake carne asada, which was absent the other night.  Therefore, Today's Lunch are some other things from Calexico Carne Asada; a carne asada taco, a chipotle pork taco and a pollo asado rolled quesadilla.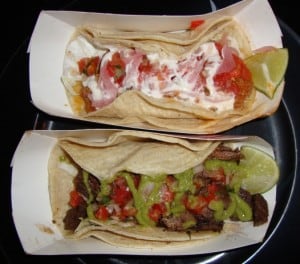 The carne asada taco ($4) had large chunks of marinated skirt steak, pico de gallo and avocado crema atop 2 tortillas.  Delicious!  When a restaurant names itself after a dish, as a general rule of thumb, you should probably try that dish.  They obviously think it's their best dish, and it usually is.  It was our favorite today, although the pollo asado was up there too.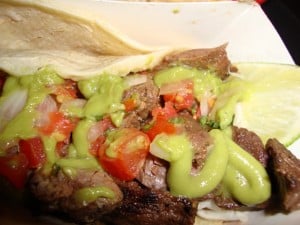 The chipotle pork taco ($3) was filled with shredded pork, pickled onions and Mexican crema.  The taste was a little sharper than the carne asada, but all the flavors worked together very well.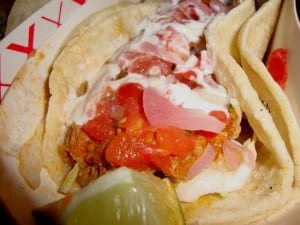 The rolled quesadilla with pollo asado ($6) was really good, too.  The quesadilla took a few minutes longer than the tacos to cook, but it was worth it.  They made the chicken quesadilla, then rolled it up so it was eaten like a wrap.  This was much better for street food because you don't need a fork and knife like you do with flat quesadillas.  It was served with what they call chipotle "crack" sauce, and we see how it could be highly addictive.  In our opinion, the secret ingredient was the pollo asado, their marinated, grilled chicken.  It was as good as the carne asada.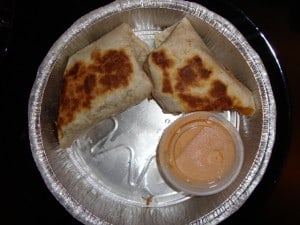 Today's Lunch was one of the best we've had since beginning this street food odyssey.  It's easy to see why Calexico Carne Asada won the top prize at the 2008 Vendy Awards.  It's a bit of a trip from midtown, but on a day off like today, worth the trip.  They also opened a restaurant in Brooklyn, if you can't make it down to Soho for lunch during the week.