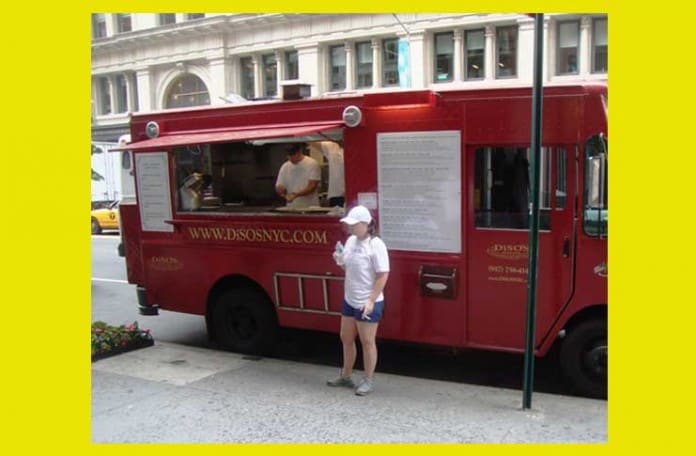 Here's where to enjoy the best street food – food trucks below and food carts to the right.
fritesnmeats – Hey Tribeca! Were on Greenwich & Chambers. Come out & show us some lovin' today. Thinking of changing locations. Show strong love & we stay. Taking pre-orders until 1130! 917.292.9226 Get some Oinkers! Get some Brownies! Get some Frites! Get Some!!
schnitzeltruck – Morning midtown east. So we're gonna try out 54th & lex again. Show some schnitz love! 🙂 be there at 11:30
1 new tweet.
nyccravings – Estamos en Hudson and King! Ready by 11:30!
CupcakeStop – Broadway & Spring w/Red Velv,Funfetti,Nutella,Oreo,Van Choc,Choc PB Swirl,Hostess,Boston Cream,PB&Jelly,Hummingbird,Lemon Poppy & Van Van!
waffletruck – Happy Friday! We're on 8th Ave btwn 56 & 57 til 4:30pm or so. Give us a line from your favorite romantic comedy for 1 free dinges.
StreetSweets – Good morning. Street Sweets will be on 50th St btw 6th & 7th Av from 8a until 5p, stop by and pick up your incredible delectables.
RickshawTruck – Hey everybody! Its friday weeee! Midtown west 45th and 6th. Also, chelsea at 15th and 9th! 11 til 3!!
CalexicoCart – It's finally Friday! Both carts are cookin it up and offering spicy ground beef as today's special. Come and get it.
New Jersey Food Trucks
TheTacoTruck – Lunch in Hoboken today @ Sinatra Dr & 1st St from 11:30-2. Call ahead 201.577.4214.
As always, check the pink Mobile Munchies twitter feed on our homepage for the most up-to-date information.