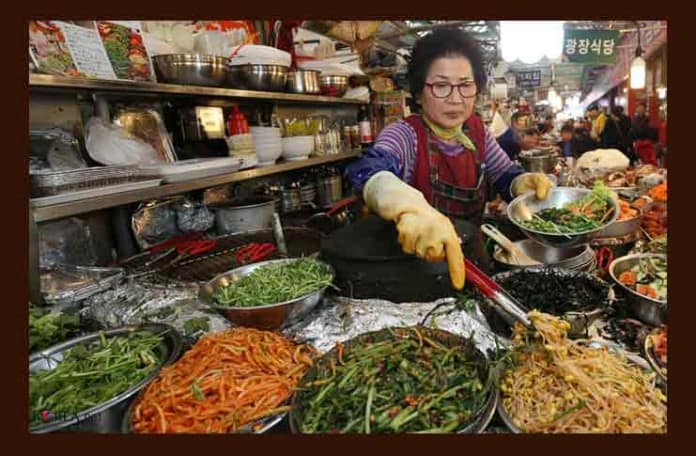 When I went to Kim's Aunt Kitchen cart a few months ago on West 46th St, just east of 6th Ave (bet 6th & 5th Aves), it was for the fried flounder & shrimp combo, which was pretty good.  Knowing their Korean origins, it was time to try the bulgoki (aka bulgogi), a thinly-sliced beef bbq dish that is one of the better-known Korean dishes.
Today's Lunch is the beef bulgoki over fried rice with bbq sauce ($6.50 for large, $4.75 for small).  You can also get it over white rice or lo mein, and they have the usual white sauce, hot sauce, ketchup options, which made no sense with bulgoki.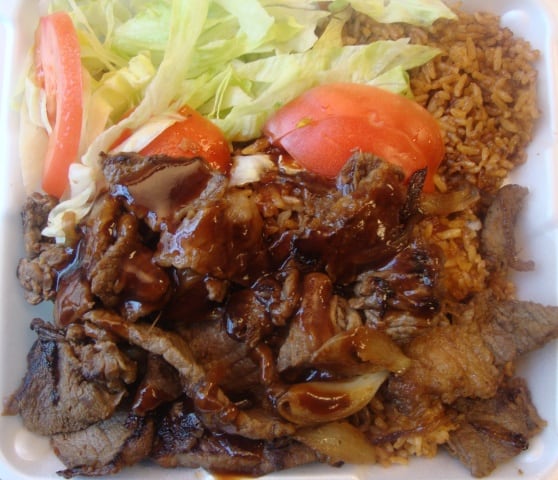 Upon opening the container, it looked and smelled pretty good, but it was obvious they did not trim the beef.  There were several pieces where I had to cut away the fat before eating the meat.  Once I did this, some pieces were tender but some were still chewy.
The bbq sauce was fine, and it went well with the beef, but the fried rice had a funky undertaste.  It seemed like the oil used to fry the rice was older than it should have been.
There was a side salad with a bunch of tomato and some lettuce.  Since I didn't get white sauce on the meat, the salad was naked, which I didn't realize until getting back to the office.  My mistake for not asking for white sauce on the salad.  Then again, this entire lunch ended up being a mistake.
Today's Lunch gets a 5 out of 10.  Some of the bulgoki was fatty and chewy, and the fried rice was fried in old oil.  Today's Lunch didn't get me sick, but it wasn't too appealing either.  They obviously have a decent following, with a steady line of 8-10 people throughout lunchtime, but almost everyone got one of the various fried fish sandwiches.  That would be our recommendation too.