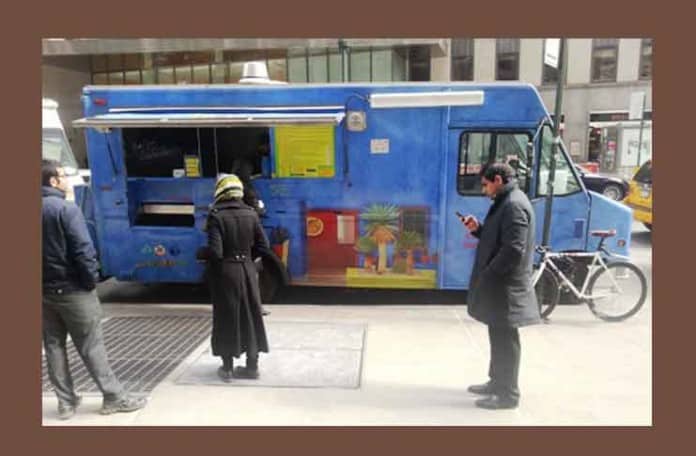 How about that weather today?  Wonderful!  Perfect day for some street food from the vendors on the right and the trucks below.  The Schnitz guys have some free rice balls with meat sauce-1 per person.
As always, make sure you check the pink Mobile Munchies twitter feed on our homepage before heading out.  The food trucks sometimes have to move on a moment's notice for film shoots, water main breaks or any other number of reasons.
fritesnmeats – Howdy Folks!!! The Sun is shinin' Burger Bright!! We'll be on Park Ave bet. 26th & 27th. Last day for the amazing Italian Job. Gotta get it! Dont want to wait? Call it in & just pick it up. No waitin'! Preorders til 1130. 917.292.9226
schnitzeltruck – Morning guys.. Nother nice day out. We'll be @ 52nd & lex @ 11:30.. We have tons of pork. And some free stuff.:) Who wants free rice balls? Need some motivation to roll up these delicious morsels of flavor explosion. Today is rice ball with meat sauce:)
BistroTruck – TGIF Special of the day: Couscous Royal ( lamb, chicken, merguez & veggies over couscous & side of spring salad); Dessert: creme brulee
StreetSweets – Hey 50th st (btw 6th & 7th Av) will b on location from 8a – 5p stop by & make your own gelato sandwiches w/ our cookies, u read it here 1st.
waffletruck – Finally Friday! We're on 52 btwn 6 & 7 til 4:30pm. Tell us a better 2 hour activity than watching the series finale of Lost=1 free dinges.
ETRAVAGANZA – GOOD MORNING EVERYONE. FRIDAY IS HERE. COME FOR FRESH PANCAKES. TACOS AND BURRITOS! NE CORNER 52ND & PARK.
CupcakeStop – Broadway & Spring: Red Velvet,Funfetti,Nutella,Oreo,Choc PB Swirl,Almond Amore,Banana Nut,Carrot Cake,Triple Choc,Pineapple & Choc Red Wine!
2 new tweets.
RickshawTruck – Fri 5/21: sunny days=dumpling days! Were serving at 45th&6th also serving at 46th & 11th from 11-3
CalexicoCart – Ahh yeah, it's Friday! Both carts are out & offering Braised Beef Brisket in a tangy Roasted Jalapeno Sauce as today's special. Enjoy!
Hoboken/Jersey City
TheKrave – 5/21 – 12:00-2:00, Hudson & Essex, Inside Liberty Towers Gourmet 12:00-2:00, Hudson & Harborside Pl…. http://tumblr.com/xl1a8ms1a
VeganLunchTruck – The cinnamon snail is serving brunch and lunch today on Sinatra dr. Between and 4th http://bit.ly/d6DfT9
TheTacoTruck – Working on getting the truck back on the road for dinner tonight. Keep your fingers crossed. Come out tomorrow for… http://fb.me/z0r4zsj2