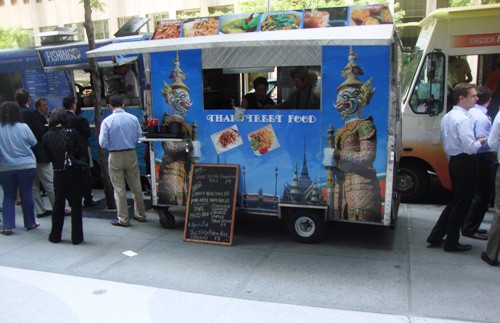 Yes, it's a Thai love fest. No, not that kind! Get your mind out of the gutter.
We had Thai green curry chicken from the Thai No Name cart just 2 days ago, but we were recently checking out the action on 50th St between 6th & 7th Ave, and noticed the Muay Thai cart had a fried rice dish featuring Thai sausage. Now that's how to get our attention!
It was crazy on 50th St, with 3 food trucks, 4 food carts, and hundreds of people on the sidewalk – our own version of an Asian street food marketplace.
You don't see Thai sausage too often, and at $9, it was the most expensive dish on the menu.
If you've ever had Chinese sausage, Thai sausage is similar. There's a sweetness that you don't get from Italian or German sausage.  We think the sweetness is in the skin, but are not entirely sure.
The Thai sausage was sliced off a hot dog-sized sausage, and fried with onions.
Once it was nicely grilled, the sausage and onions were put over fried rice with a tiny salad on the side, and a sauce that we didn't recognize (fish sauce?)  and didn't really like with the sausage.
On the other hand, a few squirts of fresh lime juice was a good addition to the dish.
There were some fresh scallions added to the to of the platter, and plenty of scrambled eggs in the fried rice. It was a large portion as well.