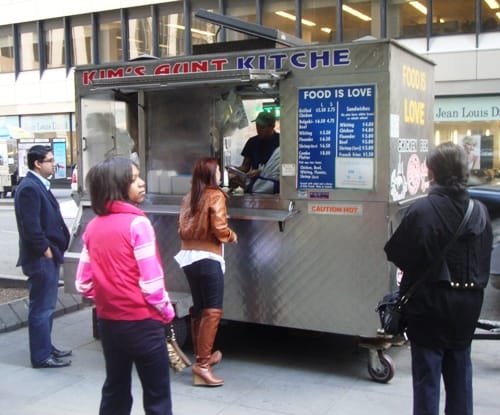 One of the long-time street vendors in midtown is Kim's Aunt Kitchen. They are located on West 46th St just east of 6th Ave, next to Moshe's Falafel (although Moshe's is closed this week for Passover).  You can easily spot Kim's by the slogan "Food Is Love" on the side of their cart and on the cart"s menu.  We couldn't agree more!
One food we love is fried seafood, which Kim's Aunt Kitchen has in spades, and at street food prices.  I know what you're thinking, that cheap seafood is not the smartest thing to get from a street cart – but in this case you would be mistaken.  I have eaten Kim's fried seafood numerous times, and they have a steady line of regulars at lunch every day.  I'm not aware of any health problems, other than of the cholesterol variety.
On this visit, I got the fried shrimp platter, which includes 8 pieces for $6.50.
The shrimp are breaded in panko crumbs, which make them a bit fluffier than if Italian or regular bread crumbs were used.  The shrimp weren't huge, but they were a decent size, and 8 of them make for a large lunch.
The platter at Kim's come with a side dish of french fries, white rice, fried rice or lo mein.  None of them rise above the ordinary, but the french fries (thin but limp) and white rice are the better options.
But you don't go to Kim's for the side dishes, you go for the fried fish.  I guess that's why a lot of people seemed to get sandwiches, which are $1.50 less than the platters.   You can get a fried whiting sandwich for $4(!), although we would recommend kicking in another dollar and getting the flounder.  It's well worth the extra dollar, and a $5 fried flounder sandwich is still an excellent deal.
Kim's is old school, so they don't tweet or have a website, but if you want a good fried seafood lunch at a great price, head over to 46th St just east of 6th Ave.