It's been a while since we've been to the King Of Falafel and Shawarma, who won the Vendy Cup in 2010 as the best street vendor in New York City. It's always good to catch up with Freddy, who has his finger on the pulse of New York street food as much as anyone.
Freddy's original cart is on Broadway & 30th St in Astoria, Queens, but last March, the King branched out and opened a 2nd cart in midtown, on the NW corner of 53rd St & Park Ave. That makes it easier for us to have lunch there during the week.
This visit, Freddy also told us about a new location he will be at that hasn't been announced yet.
If you've never been to the King Of Falafel and Shawarma, you're in for a treat. You can't go wrong with any dish, and while we were on line, Freddy sent his assistant down the line handing everyone a free falafel while they were waiting. As you can see, the falafel here is oval, not round, which Freddy says keeps the inside moister.
Freddy has recently made a few changes to the Manhattan cart. The platters used to be served over salad, but he recently started serving rice. He also started serving the classic halal cart chicken over rice, where the chicken is grilled on the flat-top. It has always been available in Astoria, but now it's in midtown too.
Since we already got to enjoy a falafel before ordering, we decided to get a chicken shawarma platter for $7. The shawarma is made from tightly-pressed layers of slow-roasted meat. It's not that processed meat most street vendors serve. Given the choice between chicken slow-roasted on a spit or grilled on a flat-top, there's really no choice in our mind. The shawarma gets our vote every time.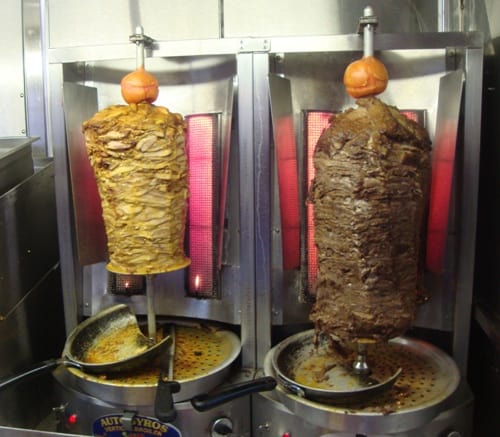 On top of each spit is a tomato, which helps keep the meat even moister when roasting.  When Freddy carves off the meat, there are both crispy and soft, juicy pieces of meat.
The other items in the platters and sandwiches are great too.  There are pickles, lettuce, tomato, onions, (mild) pickled turnips and your choice of up to three (!) sauces.
We get all three, white sauce, hot sauce and tahini, which adds a great sesame flavor. Everything here is spiced really well, and very flavorful too.
Freddy even tossed a couple of extra falafel onto the edge of our platter.
Lunch from the King Of Falafel and Shawarma is packed with different tastes and textures, but it's also one of the better deals around. Platters are $6-8, and sandwiches are $4-5. You can't go wrong with those prices, and the quality of this food. The Manhattan cart's menu can be seen here.
The King Of Falafel and Shawarma is on the NW corner of 53rd St & Park Ave from 11am-3pm, but Freddy told me about his plans to work another spot too.
At some point in the near future, Freddy will be moving this cart to 47th St & Park Ave two days a week, the latest street food hot spot.
The move hasn't been officially announced yet, but you can follow the KKing Of Falafel and Shawarma on twitter here or on our Mobile Munchies twitter feed to see when it happens. That's great news if you work right by Grand Central.