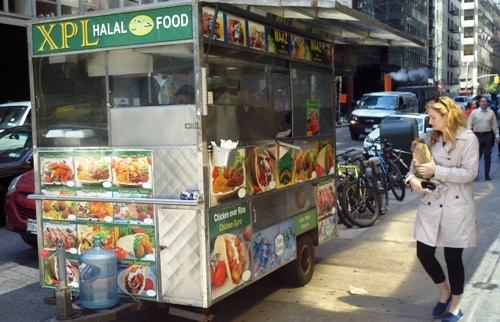 When that craving for chicken over rice hits, you need to know the best place near where you are at the time. There are halal carts on just about every corner of midtown and downtown, and you need to know which ones are better than the others.
We were recently by 3rd Ave & 52nd St when the craving hit, and we spotted an XPL cart. There's another XPL cart on 3rd Ave around 48th St, and an XPL truck on Park & 48th, but we were by 52nd St & 3rd.
If you can find a good chicken over rice vendor, it's easy on the wallet. This lunch cost $5, which is about average for halal cart chicken over rice.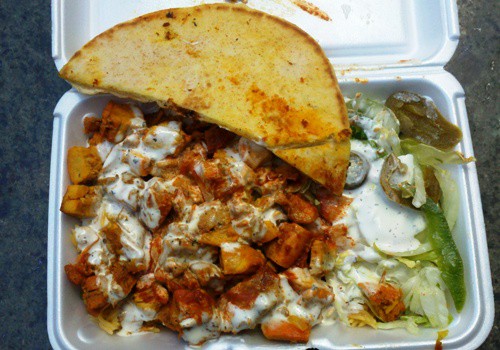 We got lunch with the standard "white and hot" sauces. In addition to chicken over rice and a side salad, they give you 1/2 a grilled pita bread. We like tearing off pieces of pita bread and picking up pieces of saucy chicken with it.
The first word that came to mind eating this chicken was "springy". That's not an adjective you commonly associate with chicken, but the chicken still had some life to it, unlike at many halal carts, where the chicken is dried out. We'll take springy over dry any day.
The white and hot sauces were good, but not much different from other halal carts.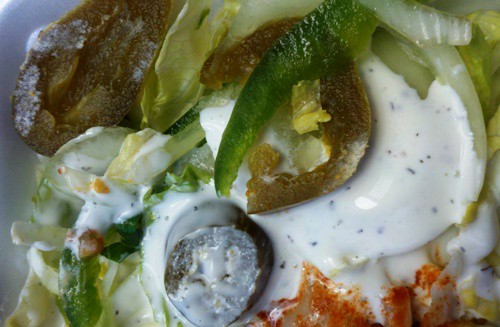 Two things were above average – the rice and the salad. The rice was fragrant and cooked the right amount. The salad wasn't exceptional, but there were jalapeno slices, bell peppers and onions in there, which made it better than many other halal carts. We declined tomato, but you can get that too.
You know how there are 3 similar halal carts on 6th Ave between 52nd & 53rd St. Serious Eats did a comparison of them here.
It's not going to be us, but someone should compare the chicken over rice at the 2 XPL carts and the XPL truck to see how they compare. If you have the stomach for it, let us know, and we'll let you post your findings here on NYSF.