Searching for an insider's guide to Vegan Food in NYC? You've reached the right place. New York, known throughout the world as the city that never sleeps, visited by tourists from all over the world who are left in awe by the city's architecture, beautiful art, and of course, delicious food.
It is common knowledge that New York has some of the world's best restaurants and best food that will satisfy any palate.
Vegan food lovers will go crazy in NYC because they won't be able to choose which place to eat at, given the countless options. 
It's not hard to find a vegan restaurant in New York City so to discover the best vegan street food, we had the help of abillion, a popular app that helps you explore recommended vegan places near you, with real reviews and ratings. So we downloaded the app for free and used the map feature to explore the most popular street food spots.
New York is, in fact, so accommodating to vegans that it's ranked on abillion among the top 10 vegan-friendly cities worldwide. Reviews from locals and visitors have made New York a MUST for plant-based food lovers. 
Vegan on the Fly
Imagine walking home from a long day at work and all you can think about is that show you want to watch on TV, or that get-together with friends you've been planning for a while. You want to have simple and delicious food on the table, easy to eat and tasty. Vegan on the Fly will provide you with a variety of street food options that will make you want to rush home as soon as they hand you the bag. The smell is too invigorating! 
Watch this review video by Vegan Bodegacat to get a glimpse:
Marty's V burger
A small and welcoming burger place on the East Side awaits you: Marty's V burger serves one of the best vegan burgers in the city, and let's not forget about the cheesy fries. Perfect for a quick lunch that you can enjoy right outside Marty's on the table he provides, or great to take away and enjoy in Madison Square Park.
Watch this video review by Hazelismyspirit to learn more:
Urban Vegan Kitchen 
Next, abillion's map directed us to a quiet street in the Village to try out Urban Vegan Kitchen. The mouthwatering options on the menu will certainly have you coming back for more. The reviews on the app weren't lying: from buffalo wings to BLTs, you will certainly be satisfied with your choice.
Watch another video review by Hazelismyspirit to get a glimpse of Urban Vegan Kitchen:
Orchard Grocer
Looking for an insanely delicious and unique sandwich? What about a classic New York bagel? Then you MUST head to the Orchard Grocer in the Lower East Village. Just reading the menu will make your stomach growl, so make sure you're hungry!
Watch this video review by Vegan Bodegacat about Orchard Grocer:
Screamer's Pizzeria
Craving that perfect New York pizza slice? Yes, us too. We were so excited to try different slices from Screamer's Pizzeria after following the map across the bridge to Williamsburg. So many vegan options to choose from! It was definitely a vegan pizza lover's paradise.
Watch this video review by Mercyforanimals to learn more:
In New York for the weekend and don't know where to go next?
If you're hungry for something specific but aren't sure where to get it, go to abillion's map and type in the dish you're craving. You will get a list of restaurants serving that dish, and the reviews will surely help you decide where to go. 
It's hard to be stingy when it comes to vegan food. You want others to enjoy that amazing dish you had, and we certainly were not disappointed by any of our choices. We too left a review on abillion ranking the dishes we ordered. For every review, we posted we were awarded $1 to donate to the charity of our choice, among a list of 50 different non-profits. Who knew eating and reviewing could be so rewarding?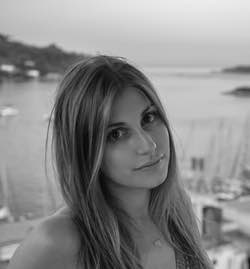 Lara Mercuri is an Italian-American content writer born and raised in Florence, Italy. She's passionate about animal rights and vegan food, and she loves trying out new restaurants as much as experimenting in the kitchen. She loves to travel all around the world, and New York is her go-to city when she needs to recharge.