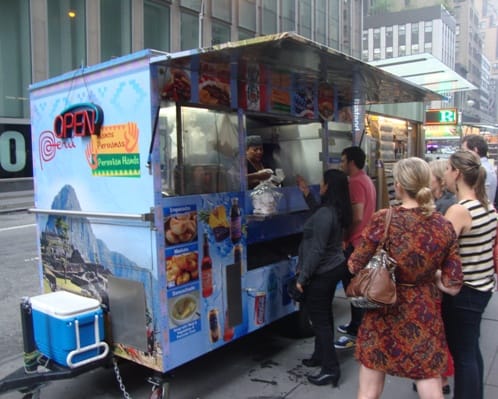 Not sure of what to get for lunch, but we needed something for the cold. Is Aji de Gallina good for cold weather? Well, we got out of the station at 47th St & 6th Ave, and were reminded immediately. That's right, we've been wanting to try Manos Peruanos again.
Having  only been there once before, and enjoying a pretty good arroz con pollo, we wanted to try something a little more "Peruvian". Being a big egg lover, the aji de gallina looked right up our alley.
There aren't any prices listed on the menu, but after waiting about 5 minutes, lunch came out of the cart and cost $8.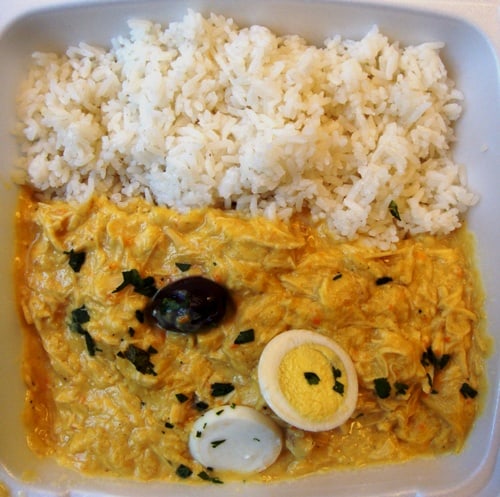 On one side was white rice and on the other was aji de gallina. This dish isn't that well known here, so let's walk through it.
Aji de gallina is pulled chicken in a creamy aji amarillo and parmesan cheese sauce.
"Aji" means chile pepper in Spanish, and "amarillo" means yellow, but while they are called yellow chile peppers, their color changes to orange as they mature. You could even see tiny pieces of orange in the sauce.
The chicken was creamy and cheesy, with a fairly strong parmesan cheese that added good flavor. Additional flavor was provided by some sliced hard-boiled egg and an olive. In fact, the vinegary olive was an interesting counterpoint to the mild chicken and aji amarillo sauce.
We also added some green hot sauce, which was not brutally hot, but added some spiciness and a little flavor too.
We didn't realize it at first, but the whole shebang was served over half a boiled potato, sliced horizontally. Getting to the bottom of the chicken and hitting the potato was a surprise, but it went well with the creamy sauce.
The white rice was lightly salted and was fine. Not exceptional, but certainly good.
Aji de gallina is a perfect dish for the cold weather. It's hearty, and keeps you satiated all afternoon. We highly recommend it, especially if you like cheesy, eggy things.
There are some other interesting dishes that we will be going back to try. Next up is probably the lomo saltado, a sliced steak and potato dish.