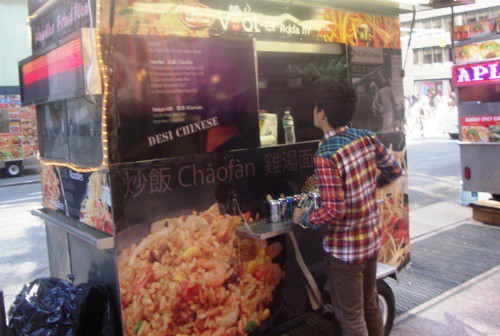 Yesterday we picked up flautas from Mexico Blvd (review coming at lunchtime) and walked along 46th St, expecting to see our old friend Meru Sikder at the Biryani Cart.
Before we got to the Biryani Cart on 46th & 6th, there was a new cart just east of it called Vooter Adda. We took a photo, and then took another photo. Guess who was in the cart?
It was Meru, in a brand new cart, with a totally new menu. Monday was the first day for Vooter Adda.
The cart says Desi Chinese, and the name, Vooter Adda, was the name of his brick-and-mortar restaurant in Jamaica, Queens.
Meru said the concept is a limited, inexpensive menu. It's basically fried rice with Chinese and Indian proteins, plus salad and a spring roll for $4!
Where else can you get a solid lunch in NYC for $4, especially from a 2-time People's Choice Winner at the Vendy Awards (2008 & 2009)?
We're going to Biryani Cart today, and will let you know what we find. Here's the menu.