Nowadays, people go to restaurants not just to wine and dine but to experience the place's vibe and take amazing photos. And most of the time, these photos take front and center of their social media feed.  
If you take a closer look at the photos, you'll see that plants adorn most of the background. Each frame is beautified by a pot of plants or by a delicate hanging vine. That's because plants lend natural beauty to any space. 
Because of the strain people feel every day, they want to be surrounded by something beautiful and calming that will reduce their stress levels. Plants have a way of doing precisely that. That's why many restaurant owners choose to have plants incorporated into their restaurant design. They want their restaurant to become not just a place to fill the stomach but also a place to calm the soul. 
If you're thinking of adding plants to your restaurant design, don't hesitate. It's not a fad that will come and go but something that will stay because of its many benefits. To give you a better idea, here are ways plants can enhance your restaurant design: 
Brightens Up a Space 
Plants with bright and colorful flowers can instantly light up an area and wow your guests. You may use a potted flowering plant, like a rosalea, at the center of each table. If you're wondering what is a rosalea plant, it's a lush indoor plant with blooms resembling roses. The height of the blooming plant is perfect as a centerpiece. 
The mild, sweet fragrance of rosalea will captivate your guests. It will also be the best backdrop if your guests take food photos at their table. When guests share pictures of your restaurant offerings on their social media and add a location and a hashtag, it can instantly attract more people to visit and try what you offer.  
2. Can Work As a Beautiful Divider 
Instead of just plain, dull wooden dividers, try using linear plant dividers to segment the spaces and create small private nooks for your guests. For this design idea, you may use snake plants or bamboo, depending on the height of the room and your personal preference.  
Aside from linear plant dividers, you may also want to opt for decorative partition planters, where you can add a variety of potted plants of various heights to create a more exciting effect. 
3. Fill Awkward Spaces 
There may be areas in your restaurant that appear uneven and awkward because there's a vast space without anything on it. Instead of leaving people to wonder what it could be for, why not put large plant vases on the floor to lend an air of beauty and fill the space? You can use pretty indoor tropical plants like the exotic and beautiful rubber plants or the fascinating monstera deliciosa. 
4. Welcome Guests With A Green Wall  
At the entrance to your restaurant, you may add a green wall with your branding to welcome guests and where they can also take photos after dining. Green walls have become a trend in the past years because it provides a natural beauty and relaxing effect to any space.
Being welcomed to an establishment by something lush and calming can give guests more to look forward to. 
5. Embellish A Wall 
Instead of artwork on your wall, you may want to embellish it with plants. Plants can purify the air in your restaurant, and putting them on your wall can help remove the toxins in the air. Adding it to your space will also increase the productivity of anyone working within the area.
So, if you have guests doing some of their work in your café, they can easily be inspired and be more productive. Your staff will also be more engaged at work which is another fantastic benefit. 
6. Hide Imperfections 
If there are instances of work that can't be rectified or would take a significant amount of investment to be fixed, instead of stressing over that, why not add plants to hide the imperfections and move on with it? Plants with lush foliage, if strategically positioned, can hide any imperfections in your space. 
7. Emphasize The High Ceiling 
If your restaurant has a high ceiling, it would be the perfect opportunity to add beautiful and delicate vines to fill the negative space. The elegant balance of mixing vines and modern lighting will genuinely captivate anyone looking up.  
8. Freshen Up Your Al Fresco 
Your al fresco dining area can look more captivating with plants. It can also emphasize the boundary of your restaurant from the pavement. You can add planters with lush flowering plants. From the outside, this will add a touch of beauty to your exterior and will look very inviting. 
Conclusion 
Maximize the potential of your restaurant's interior design. Eating great food in a place that wasn't well thought out takes the joy out of the gastronomic experience. Adding plants in various ways can help you liven up the space, give a wonderful ambiance, and make your guests come back for more.
Want to read more of our latest posts? Check out our Restaurant Menu Design 101.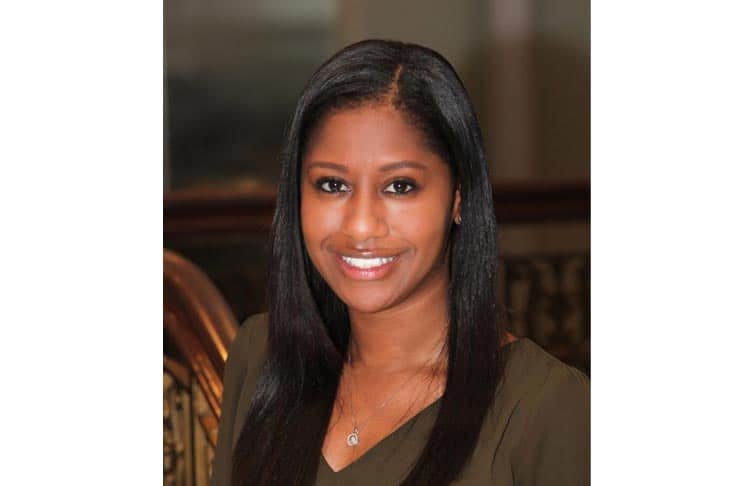 Tiara Budd lives in New York and is determined to eat (and Instagram!) her way through the city. In her free time she loves exploring new neighborhoods, reading books from the library, and traveling all around the country.