The majority of your customers are on social media, and your business should be there too. Social media marketing is one of the most effective ways to drive traffic to modern businesses and this includes restaurants too.
There are numerous different types of content one can post on social media platforms, especially if you're involved in the food business – high-quality pictures of dishes, customer feedback, daily or weekly menus, behind-the-scenes videos, employee spotlights, and the list goes on. More precisely, developing a social media presence is one of the best ways you can give your dishes the attention they deserve.
Undoubtedly, the majority of your potential customers will be spending most of their time on social media. Keep reading to learn some of the best social media marketing tips to grow your food business exponentially.
Consistency Is the Key
Posting once in a while rarely does the trick. To ensure that your food business stays on top of your customers' minds, you need to be consistent. Consistency doesn't mean spammy. It means posting content that your viewers would cherish and ultimately convert them to customers.
If you're just starting out with building your social media presence, you can experiment with multiple types of content to see what resonates the best with the audience. Likewise, having a consistent voice is important. It helps your business stand out from the crowd and helps build trust.
Post High-Quality Images and Videos
The main objective of social media marketing for restaurants is to make it irresistible for customers to visit your restaurant or order online. High-quality images and videos are crucial for that to happen.
The key here is to post drool-worthy images and videos. Hiring a professional photographer to capture photos of your dishes is a great idea. Along with that, investing in setting up the background and lighting is beneficial.
However, professional photographers don't always have to be the way to go forward. You could buy a camera that captures photos in high-resolution and learn how to use it the right way. Or, you could start with your smartphone's camera.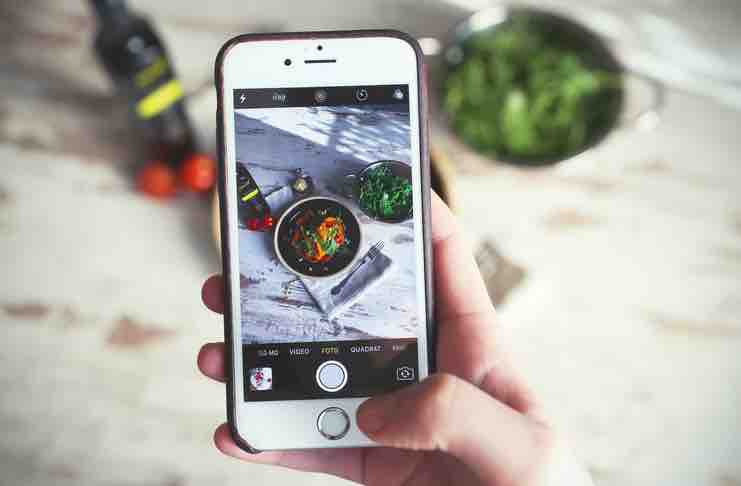 Collaborate With Influencers
As you probably have noticed, influencers are becoming a major part of most social media marketing campaigns. The biggest reason for this is that it works. Collaborating with influencers who have spent a considerable amount of time in building their following and authority can do wonders for your social media handles, and ultimately your business.
Collaborating with influencers is one of the most effective ways to bring a lot of people into your social media profiles. You just need to make sure that the influencers you choose have followers who you consider as the target audience for your business.
Another way you can make use of influencer marketing is by creating a collaborative menu item with the influencers. This could be a special recipe that's considered the brainchild of your business and the influencer you collaborate with and is available only for a limited period of time.
Share User-Generated Content
One of the easiest ways to grab the attention of your potential customers is to post user-generated content (UGC) on your social media handles. This could be in the form of Instagram stories, posts, or videos.
Your customers are your micro-influencers and user-generated content gives people the needed social proof to make a visit to your restaurant or order online. Some of the easiest ways you could share user-generated content are by re-sharing the photos of your restaurant taken by customers, creating social media posts about reviews left by happy customers, and also asking customers to leave video testimonials.
To increase the number of visitors that create content about your restaurant, you can offer them a small incentive, for example, a piece of cake or a donut or something that aligns with your food business. This would be a nice gesture that would reflect the positive atmosphere of your business.
Respond to Comments and Reviews (Both Good and Bad)
Responding to comments and reviews, both positive and negative, is incredibly crucial to growing your food business. While positive feedback can help you understand what your business is doing right, negative feedback can help you understand what you are doing wrong.
Even a single unanswered question or bad review can make people question your food business's capabilities to offer solutions to customer concerns. In the case of negative reviews, try to resolve the problem with the customer as a satisfied customer effortlessly becomes a micro-influencer for your business.
Host Social Media Contests
Hosting social media contests is one of the most effective ways to increase engagement on your business's social media handles and create hype around your brand. The key is to make the contests easy to participate in and at the same time, fun-filled for your customers.
An example of such a contest would be asking the social media users to caption a photo of one of your dishes in the post comments and the best comment gets a free dish or food coupon. In most cases, such contests would make existing followers invite their friends and family to comment, which would expand your audience base.
Run Social Media Ads
This might be the oldest trick in the book, but social media ads are useful to reach a wider set of audience. Facebook is the most popular platform to run social media ads as it has got numerous targeting options.
Geo-targeted advertising or location-based advertising is one of the most interesting forms of social media advertisements. As the name suggests, you can define your customer base based on location to maximize the results. For example, you can customize the ad campaign in such a way that only users within a specific mile radius around your restaurant will see the advertisement.
Social media ads can also be made more specific by understanding the demographics of the target audience. In Facebook ads, you can deliver ads only to a specific group of people who are within an age group, follow specific pages, and have certain interests.
In Conclusion
Social media platforms are incredibly useful to stay on top of your consumer's minds. If you haven't yet explored social media marketing for your food business, these tips can help you get started with ease. The key is to remain consistent with your efforts and try displaying your business's authentic voice to your audience.