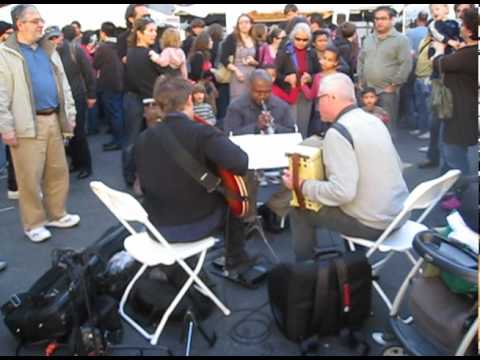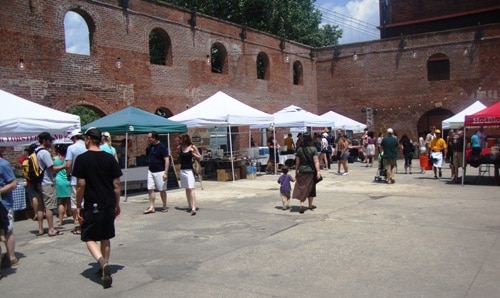 Brooklyn Flea, operators of Smorgasburg, just announced some big news. Starting Sunday, September 9, they will be launching a second weekly Smorgasburg, on the DUMBO waterfront at the historic Tobacco Warehouse. I believe that's where we attended the 2010 Food Film Festival, pictured above and below.
From the Brooklyn Flea website: "This is one of the most beautiful and scenic sites in the City: a hundreds-years-old open-air walled structure right next to the Brooklyn Bridge with unparalleled skyline views, surrounded by the brand-new world-class public park, next to the hugely popular Jane's Carousel, River Cafe, and Grimaldi's Pizza, steps from the East River Ferry, and loaded with tourists from all over the world plus hungry locals from DUMBO, Brooklyn Heights, and Brownstone Brooklyn.
It's the perfect companion to the Williamsburg Smorg: the similar waterfront setting, but a bit more intimate and relaxed. We're so excited about the new spot, and about our growing food vendors' businesses having another way to grow and thrive within the Flea family.
We'll be open every Sunday from 11am to 6pm through November 18. We're happy to hear from any new vendors interested in participating in DUMBO (apply here). And we can't wait to see you down there next weekend!"
OK, there you have it. Yet another amazing weekend food market to hit. Seems like that's all we do on weekends these days (not that we're complaining).