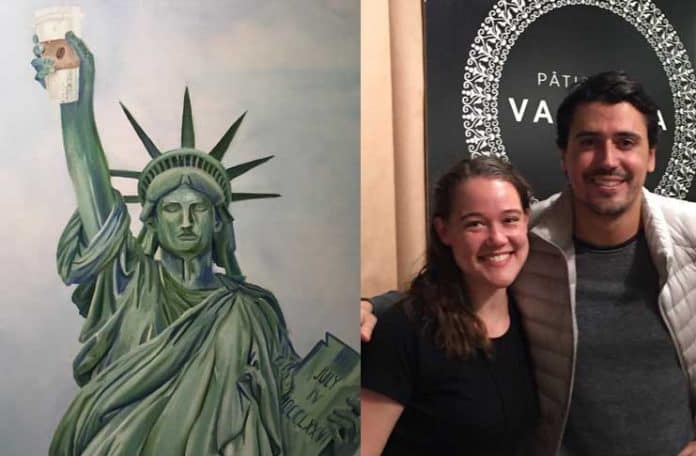 "Coffee – the favorite drink of the civilized world." – Thomas Jefferson
Micro Brews, Gastro pubs, sommelier's – so many experts and connoisseurs of everything coffee. Juan Valdez is not real and coffee is good.
The NY Coffee Festival was held during October 13-15. Project Waterfall is the official charity partner of this brilliant Festival. 100% of profits go to deliver clean water and sanitation in coffee producing communities. The New York Coffee Festival 2017 aims to raise over $100,000 for Project Waterfall. All funds raised will support clean water projects in the Rulindo district of Rwanda in partnership with charity: water.
I love coffee, but I went for the food.
Bluestone, Tuck Shop and more…
Bluestone looked great and seemed to be doing a great business. Always had a line. Unfortunately I go to these events to do tastings and not pay almost $9 for avocado toast…
Next to them was Tuck Shop. Again lines too long to wait for a kale salad. I would have liked to be able to review their food and not just say it looked lovely. Which it did.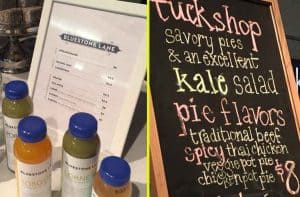 As a food blogger I felt I needed to review the food but this event was all about Coffee.
Coffee. Coffee. Tea and tea. It was a coffee haven. This was evident by the crowds that I experienced on a Saturday afternoon.
The Coffee Con…super bowl of caffeine .
Surprisingly I wasn't taken away by the hit of coffee aroma when I walked in. Which is one of my favorite sense memories to all that is right in the world.
Like the smell of clean sheets or fresh cut grass.
Roasted chestnuts and giant pretzels. Coffee is a scent I identify with the streets of NY.
Held at the Metropolitan Pavilion. 3 Floors of labs, coffee demos, coffee quizzes, educating all about all there is to know about beans…it's a fruit.
Caskai: Tastes great and boosts your day
Caskai was one of my favorites. Joel Jeldreks and his sister in law were extremely welcoming to all. Spending time with everyone to educate and share this discovery. New to the states the process of shaving the husk of the coffee bean. Cascara comes from what is called the 'natural coffee process' whereby the coffee fruit is dried whole and then the husk is removed from coffee seed after fully dried – this dried husk is Cascara.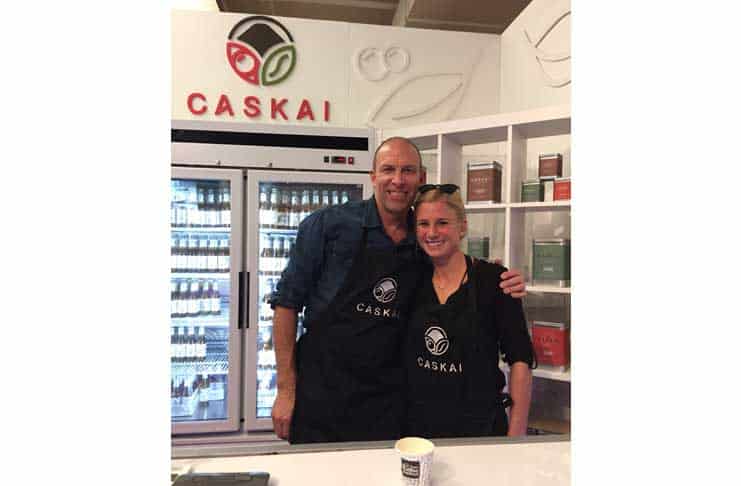 Joel was so gracious and had me sample many of their items. Caskai sparkling cascara infusion was refreshing and a crisp light flavor. The cascara is grown in the highlands of panama and Nicaragua, spring water from the Austrian Alps, a touch of organic cane sugar, a shot of carbonation, citric acid and smile.
It tastes great and providing a little boost to your day, premium sun-dried cascara has quite a nutritional story. A truly balanced superfood, Cascara contains a full combination of beneficial nutrients that includes powerful anti-oxidants, essential amino acids, B Vitamins, Vitamin E, Potassium, essential fatty acids (Omega 3 and 6), Carbohydrates, Fiber, Protein and a natural caffeine kick as a back note.
The NY Coffee Festival Experience…
I came upon Dona Chai. Pretty Booth and very friendly. Tea…chai it was nice. Refreshing…I was in need of caffeine.
I made my way through the many many coffee fans standing and drinking at booth after booth.
Danny Macaroons served me a lovely salted caramel macaroon. Gluten Free Soft and chewy with a hit of sea salt and a light drizzle of caramel.
Weaving in and out of the crowd I found Vanessa Patisserie based in Brooklyn. I was impressed with the Beautiful caneles. Madelines and all the mini pastries Beautifully displayed.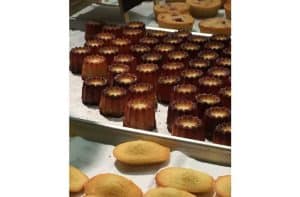 Gotham Coffee Roasters served me a lovely chai latte.
Tim Tam from Australia offering their lovely tim tam biscuits and challenging all to the Tim Tam Slam.
Swiss Water Process and Kris Wu educated me on the process of taking the caffeine out.
"Our internally developed Green Coffee Extract (GCE) is introduced to the beans and caffeine removal begins. Caffeine ventures out on its own, away from the coffee beans into the GCE until the ratio of soluble compounds in the GCE to the compounds in the coffee reach the point of equilibrium. Caffeine and GCE flow continuously through our proprietary carbon filters until all the caffeine is trapped and separated from the GCE. Then the GCE is refreshed so that it can be used again and again to remove more caffeine."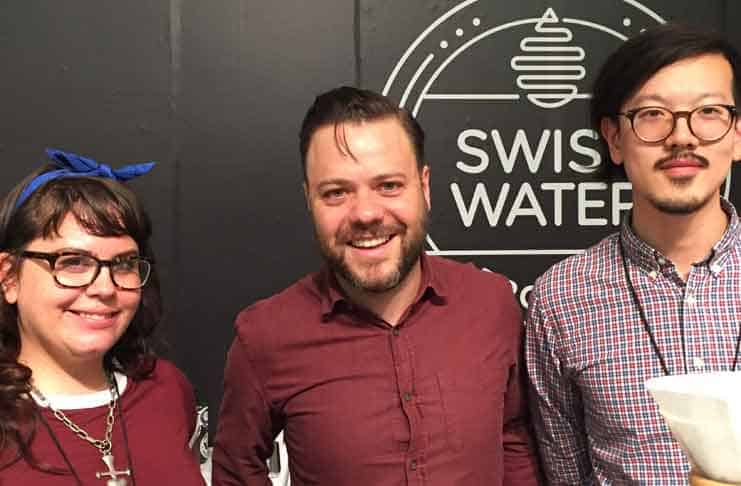 Flat Brew coffee spread espresso was probably my most satisfying taste of the day. Sweet, smooth taste with enough espresso flavor to appreciate and feel like you just got a generous shot of creamy coffee in a spread. It was the caffeine I was looking for all day.
Festivals like this can be overwhelming but from the amazing coffee, vendors ranging from Bodum, de' Longhi, Starbucks, Tim Tam, and so many more. The Lab Program including the sensory Perception Master Talks, Music, Art, Latte Art and coffee masters this is an experience you should not miss next year.
Living and loving in NYC, food has been a passion of hers. East Coast to West, Faith's goal is to explore and learn with the contribution of other like-minded foodies. Faith Rein has written for 2Girlsfromabar@blogspot.com. Youtube channel – faith.rein, love food love faith. You can find her @: Faith.rein/facebook (always looking to add friends) / faith rein@twitter / faith.rein@instagram / faith.rein@gmail.com