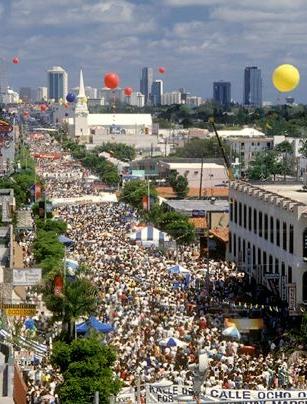 Tis the season…to enjoy great food truck festivals. There are too many to name around the country, so let's just concentrate on four upcoming festivals in the New York area.  We'll go chronologically to make it easier.
This Saturday (Aug 4th) is Parked! from 10am-9pm at the South Street Seaport. There will be over 30 of NYC's top food trucks, 20 non-truck food vendors, a beer and champagne garden, and music from John Hammond, The Juggs, The Loom, and Johnnie Lee Jordan & The Boys.
Admission is free and food and drink is pay-as-you-go. A $65 Parked Pass will give you (from 5-7pm only) a dedicated VIP express line at each truck, 10 small bites from 10 trucks of your choice and 1 drink. Only 500 are available, and can be bought here. More on the website here, Twitter @ParkedFest  and their Facebook page for exclusives.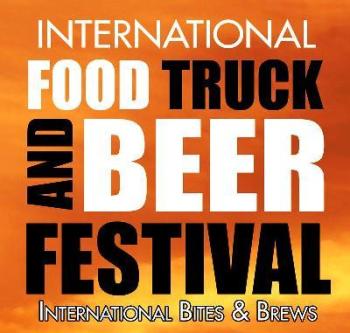 The following weekend, on Sunday, August 12th, the Seaport will also be hosting the International Food Truck and Beer Festival from 12-9pm.  Local Seaport restaurants and the city's best food trucks will each represent different countries, featuring international bites and brews from their designated regions. There will be crisp lagers, flavorful ales, robust stouts, porters, and everything in between!
Admission is free, and food and drink are pay as you go. The Five Oceans Ticket includes 6 vouchers for $40, but you can get a 50% discount by clicking here and using the code "streetfood". That's 6 vouchers (cough, drinks) for $20! (Vouchers are redeemable for merchandise, beer and wine at all participating festival venues.)
Jumping into September, the Big Kahuna, the 8th Annual NYC Vendy Awards are on Saturday, Sept 15th from 12:30-5pm on Governor's Island.  Tickets can be bought here for $95, but include as much food and drink as you can handle from the best street vendors in the New York City area.
New York Street Food is a Silver Level Sponsor of the NYC Vendy Awards for the 3rd consecutive year. The Vendy Awards are always the highlight of our year, and this will be our 4th one. Boy, time flies when you're stuffing your face!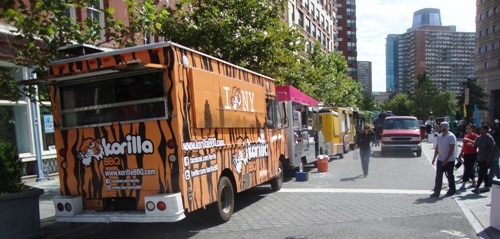 Heading into NJ, on Saturday, Sept 29th, twelve of the best food trucks in the NYC area will be in Jersey City for the 2nd Annual All About Downtown Festival. Last year's inaugural event was such a success, this year they have extended the hours, which will be from 11am to 10pm.
Admission is free and food & drink are pay as you go, with beer and wine available too. All About Downtown will also feature dozens of local artists and artisans, merchants, nonprofits and other vendors.  There is a full lineup of live music scheduled, and plenty of family friendly fun, like face painting, storytelling and a bounce house.
New York Street Food is a co-sponsor of this event, and the following 12 food trucks are confirmed for the 2012 All About Downtown Festival: Korilla BBQ – Red Hook Lobster Pound – Souvlaki GR – The Taco Truck – The Cinnamon Snail – Wafels & Dinges –  Coolhaus – Kelvin Natural Slush Co – Morris Grilled Cheese – Marky Ramone's Cruisin' Kitchen – Phil's Steaks – Taste of India.
We may not have included every food truck festival, but we have to say, We Love NY!