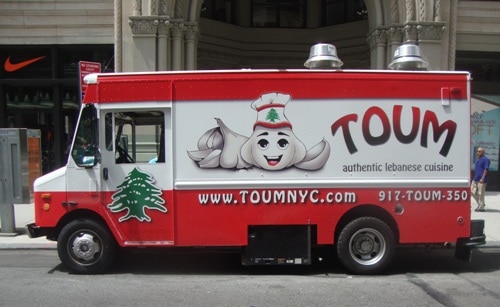 After leaving an appointment yesterday, we walked up lower Fifth Avenue to 23rd St without a concrete decision of what to get for lunch. In the 10 blocks from 13th to 23rd St, something would probably catch our eye.
As luck would have it, we spotted a new red and white food truck across the street between 20th and 21st St called Toum. Upon closer inspection, there was a picture of a smiling clove of garlic wearing a chef's toque with a Cedar of Lebanon on it, and "authentic lebanese cuisine" below it. OK, let's take a closer look.
The menu had some items we were familiar with and some dishes that were new to us. The known items were chicken shawarma, kafta sandwich, beef kabab, and salads and dips such as hummus, babaghanouj and tabbouleh.
A few of the unfamiliar dishes were fried kibbeh (a beef dumpling), lahem b'ajeen (Lebanese pizza) soujouk (spicy sausage) and makanek, a beef sausage with pine nuts and a lemon sauce that looked interesting.
Most of their sandwiches are $7 and platters are $10. For our First Look, we went with the makanek platter for $10. Of course, we had to make some choices, because what food truck these days doesn't give you choices when ordering.
Each platter comes with tabbouleh salad and one dip (hummus, babaghanouj or labneh), plus french fries or rice with vermicelli. (Vermicelli mixed with rice? We'll have to see what that's about.)
It was a little busy, but we had a chance to ask Simon a few questions after ordering. He told us that Toum means garlic in Lebanese, and their signature side dish, also called Toum, is a garlic whip with salt, oil and white vinegar. Simon says it accompanies all their dishes, but I would describe it more as a dip or condiment than a side dish. The toum is in the small cup on the right in the photo above.
Simon also told me it was their 3rd week out, and they have been in this spot for the past 2 weeks. He hopes it will be their daily spot for lunch.
Taking lunch out of the bag, there was a baggie with 2 halves of a thin pita bread on top of a container with the rest of my lunch. Opening the container, there were a bunch of grilled, thin sausages that resembled merguez served over that rice/vermicelli combo, tabbouleh and hummus, which was my choice.
The first two bites of the sausage were eaten naked, and they were quite lemony. It was not tart enough to pucker my lips, but it was certainly lemony. The sausage was pretty well done and not too moist, but it was flavorful. There were also some whole pine nuts mixed into the sausage meat, which I enjoyed.
Dipping the sausage into the garlic whip was even better, although the sausage kept breaking apart when I stuck my fork in to pick it up. A little less grilling would have done the sausage some good, but the toum (garlic whip) was strong and tasty enough to forgive a few sins.
The rice and vermicelli combo was a little odd, with the pasta mixing in a different texture than you expect with rice. It clumped together, but tasted pretty good. I'm still scratching my head about this one.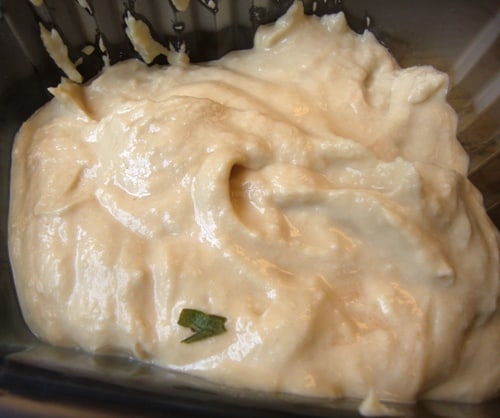 I really liked the hummus. It was creamy and lemony, though not as lemony as the makanek. The chickpea flavor came through nicely, but in a creamy way, not grainy at all.
On the other hand, we didn't enjoy the tabbouleh. Not only are we not big tomato fans, but it was way too tart and vinegary.
The pita bread tasted good, but it was a little thin for dipping into the hummus. It did work well with some sausage and garlic whip though.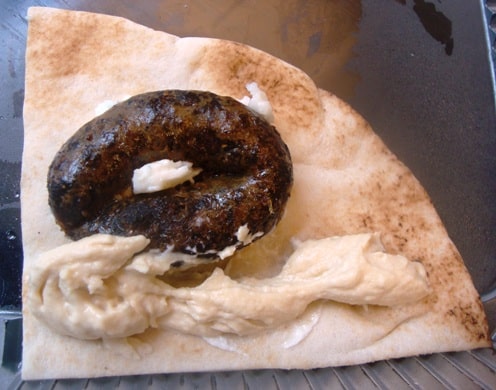 While there were some ups and downs, we definitely will be going back to try some of the other dishes at Toum. We're curious about the Lebanese pizza, the spicy sausage, and the beef dumplings. So many things to try (sigh).
Toum's card says the website is at www.toumnyc.com, but it's just a parked site for now.  Twitter is here, Facebook is here, and of course we have added Toum to our Mobile Munchies twitter feed.
For now, Simon says they are on 5th Ave by 20th St every day for lunch. Sounds good to us!