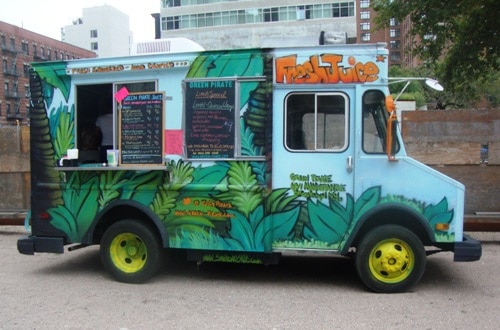 Although they are not a new truck, we hadn't been to the Green Pirate Juice Truck before. According to their website, the truck has been around since 2007, but we never crossed paths. That's probably because we don't generally seek out vegan food, but the Cinnamon Snail has opened our minds to how good vegan food can be.
Now that the Green Pirate Juice Truck is a regular at the some of the food truck lots around town, we caught up with them Thursday at the Hudson Square Food Truck Lot.
In addition to half a dozen fresh squeezed juices and smoothies, they had a special wrap of the day. We ordered the Lentil Quinoa Wrap for $9.
Since the truck specializes in fresh squeezed juices, we had to try one, and went for a 12 oz. Hot Pink Limeade for $5.
The wrap was pretty substantial, stuffed with all sorts of goodies. In addition to the lentils and quinoa named in the dish title, there was avocado, carrot, tomato, spinach and cucumber.
All of the fresh veggies gave the wrap a crispy crunch, and pulling it all together was a lime cashew caesar dressing. The dressing wasn't strong, but its taste was apparent in the wrap.
For a drink, the Hot Pink Limeade was really interesting. It was made with sweet beets, lime, apple and cucumber. The drink had a gorgeous fuchsia color, and you could actually taste each of the ingredients. I'm not a big fresh-squeezed juice person, but this was quite tasty and refreshing.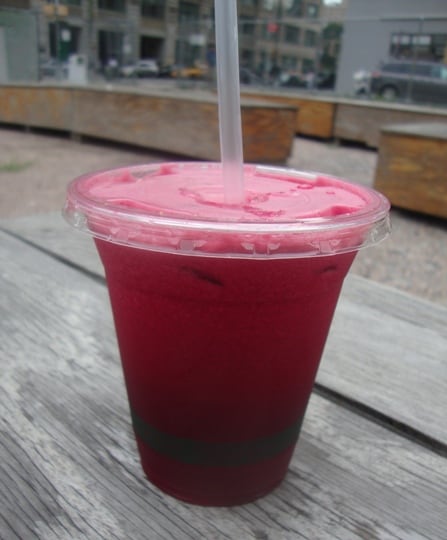 Between the wrap and the juice, this was one of the healthiest lunches I've ever had, and it was pretty filling too. Healthiness is not what I look for in a lunch, but if the food and drink taste good, I'll take the healthy side effects too.
You can find the Green Pirate Juice Truck on twitter here or on our Mobile Munchies twitter feed. Your doctor will thank you, but so will your taste buds.