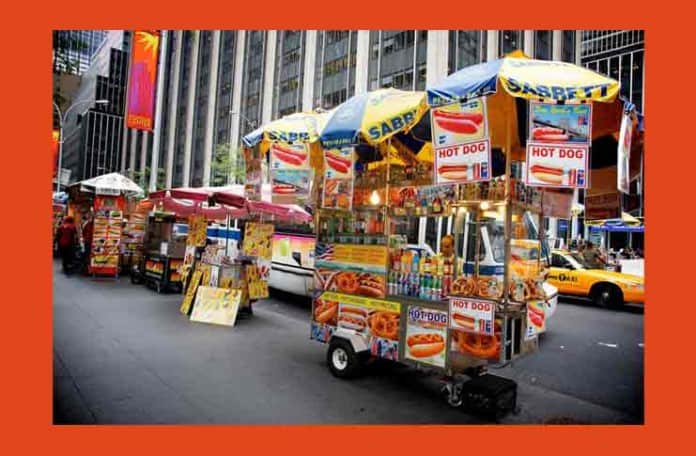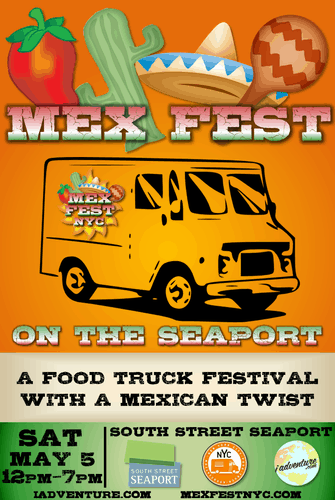 If you want to celebrate Cinco de Mayo with fifteen of NYC's best food trucks and plenty of booze, we have the event for you!
Mex Fest takes place at Pier 16 at the South Street Seaport on Saturday, May 5th from 12pm-7pm.
Click through for how to get tickets, what you get for said tickets, and which food trucks are signed up to attend.
UPDATE – Ticket prices and packages have changed since this event was first announced. No more Early Bird prices are available.  Click here for the most recent information on tickets and ticket packages.
There are two choices for advance tickets, and they both include drinks and sombreros.
A regular ticket for $5 gets you a sombrero and a ticket voucher that can be redeemed for 1 Beer, 1 Margarita, 1 Shot of Tequila, 1 Michelada or 2 Tacos. (Vouchers will cost $8 at the event and are not redeemable for food truck items.)
A VIP ticket for $25 gets you a sombrero, 5 ticket vouchers that can be redeemed for the items mentioned above, and a pubcrawls.com Cinco de Mayo All-Access Pass.
You obviously need to be at least 21 to drink at Mex Fest.
Food trucks will be pay as you go, and each food truck will showcase their skills by infusing Mexican flavor into one of their regular menu items.
Food trucks scheduled to attend are:
Luke's Lobster
Treats Truck
Kimchi Taco
Coolhaus
Frites'n'Meats
Gorilla Cheese
Schnitzel & Things
Wafels & Dinges
Taim Mobile
Milk Truck
Kelvin Slush
Souvlaki GR
Mexico Blvd
Eddie's Pizza
Big D's Grub
If you are over 21, I have 3 special words for you – Kelvin Slush Margarita!  Take a shot of tequila and put it into a fruity Kelvin Slush. You'll thank me later.
There will also be a jalapeño eating contest, a real, live burro and other assorted Mexican festivities.  (You're gonna need that Kelvin Slush after the jalapeño eating contest!)