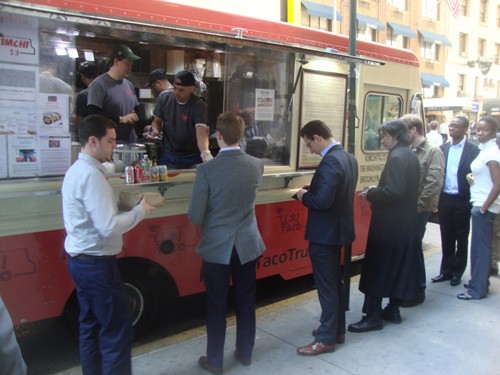 Last month Kimchi Taco Truck celebrated their 1st birthday.  To some people it may sound like all these Korean tacos trucks are the same, but they are most definitely distinct from each other.  Some are more traditional, some are more fusion, and some are in the middle.  KTT leans to the more traditional side, but still has some elements of other cuisines (tortillas, pico de gallo).
One of the better lunch deals around is 3 tacos for $7 at KTT.  There are 4 different types to chooses from, and you can mix and match.  I got a short rib, a chicken and a falafel taco.   That's another outside influence – falafel.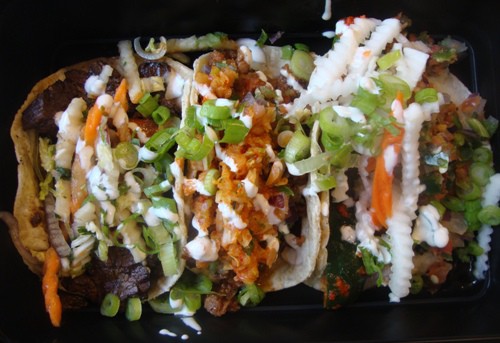 I was intrigued by the idea of a falafel taco and started with that one.  The falafel is actually made with chickpeas, tofu, edamame and Asian spices, so it's a bit different from Middle Eastern falafel.
It was tasty in a taco, along with a spear of cucumber kimchi, pico de gallo and pickled daikon.  I asked for it spicy, and that's exactly what I got.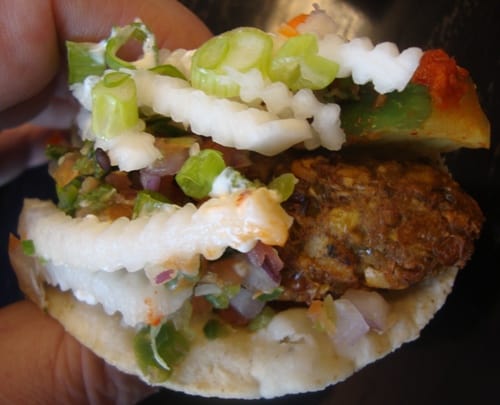 Next up was the pulled chicken taco, which had a definite bbq flavor going on underneath the kimchi, red onions and miso crema.  Once again, it ws spicy as advertised, and really tasty with the shredded bbq chicken providing a nice base.
I saved the best for last, the short rib taco.  When I first went to KTT over a year ago, the short rib was chunks of grilled, marinated beef.  A few months ago I had another one, and it was ground beef, which wasn't nearly as good.
At the time, I said something to one of the guys in the truck, and he told me they were going back to pieces of beef rather than ground beef because of complaints.  I'm glad to say they did, and today's short rib taco was as delicious as the first one I had.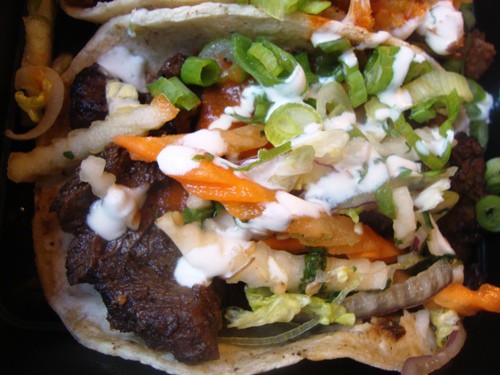 Three of these babies for $7 is a great deal!
You can find Kimchi Taco Truck on twitter here or on our Mobile Munchies twitter feed.  They hit plenty of different neighborhoods during the week, and are often around Union Square or Brooklyn on the weekend.
If you're in Brooklyn, keep an eye out for the Kimchi Grill, a brick-and-mortar they will be opening at 766 Washington Ave in Prospect Heights within the next few weeks.