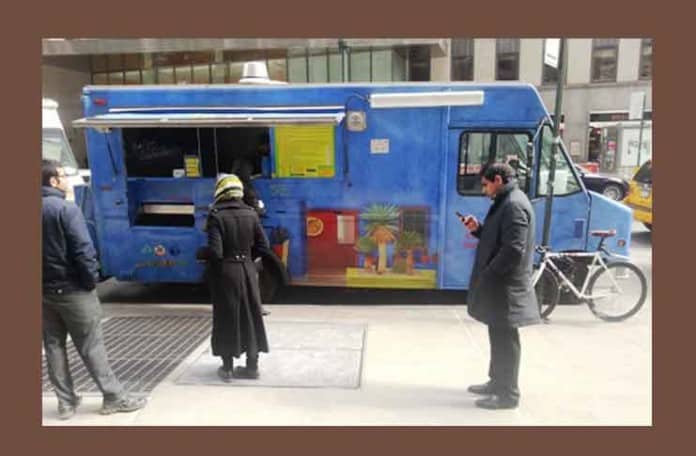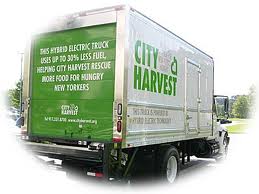 Next week, you'll be able to enjoy great food from some of New York's best food trucks – and help feed hungry men, women and children in New York at the same time!
On December 8th (and on December 11th at Brooklyn Flea), more than 20 food trucks around the city will offer special "Keep Us Truckin'" menu items with a portion of the proceeds supporting City Harvest.
"Keep Us Truckin" commemorates the first pound of food City Harvest rescued, 29 years ago on December 8, 1982.  City Harvest has since rescued and delivered over 300 million pounds of food that would otherwise have gone to waste to programs feeding hungry New Yorkers.
Look for "Keep Us Truckin'" at:  Asia Dog, Biryani Cart, Bistro Truck, Cake and Shake, Cupcake Stop (two locations), Eddie's Pizza Truck, El Rey Del Sabor, Frites and Meats, Green Pirate, Jamaican Dutchy, Jiannetto's Pizza Truck (two locations), Korilla BBQ, Milk Truck, Papa Perrone's, Souvlaki GR, Steak Truck, Street Sweets, Taïm Mobile, Tavern on the Green featuring Ladle of Love, Treats Truck, Van Leeuwen Artisan Ice Cream (two locations and storefront), and Veronica's Kitchen.  The most current list of trucks and menu items is available at cityharvest.org/keep-us-truckin/.
To whet your appetite, the special menus already announced include kobe hot dogs, mushroom burgers, green falafel sandwiches, harvest celebration soup, egg nog ice cream, warm glow cupcakes and more…
Menu items benefitting City Harvest will be specially marked at each truck.  Fans of the food trucks and City Harvest are invited to keep tabs on trucks and menu items by becoming a friend of City Harvest on Facebook (facebook.com/cityharvestnyc) or following City Harvest on Twitter (twitter.com/cityharvest).
Customers are also invited to post or tweet pictures @Cityharvest of their "Keep Us Truckin'" dish.  The best picture will win a gift certificate to dine out at a (stationary) New York City restaurant.
Unfortunately, agencies served by City Harvest have reported no relief since demand for emergency food spiked last year.  City Harvest works to meet greater need at soup kitchens and food pantries by rescuing and delivering food to some 600 programs throughout the five boroughs.  Currently, City Harvest helps feed over 300,000 hungry men, women, and children each week.  You can also sign up to volunteer at the City Harvest website.
GREAT FOOD FOR A GREAT CAUSE!