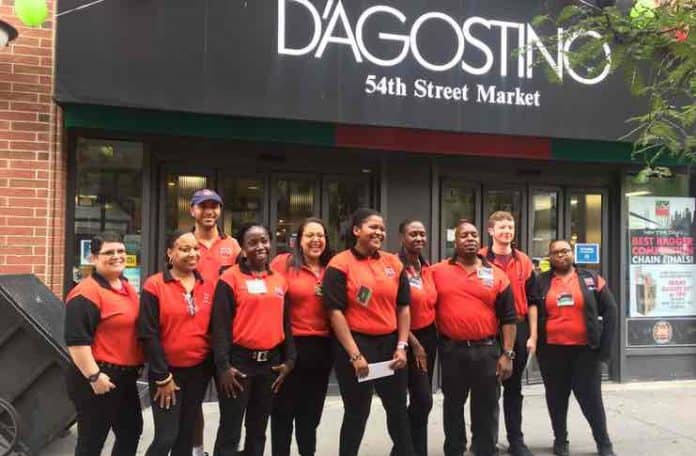 Grocers across NY State have been preparing for the National Best Bagger Competition being held in Las Vegas 2020 by the National Grocers Organization.
Grand prize is a trip to San Diego and $10,000.
This coveted prize is more than a competition. It's a personal pride of who these people are and pride in what they do every day.
I attended the Finals at D'Agostino at the 54th Street Market on 10th Ave.
The exterior was covered with balloons and posters welcoming all to come to support your favorite bagger at your favorite neighborhood grocery store.
Walking in, the feeling of excitement was similar to opening day at Citi Field or Yankee Stadium.
The store is beautiful. Refreshing and bright to only be outshined by this happy staff.
I ran into much upper management and the D'Agostino family with a warm greeting making me feel immediately welcomed and at home.
There is a gorgeous sushi bar with master sushi maker behind the helm.
Passing the deli counter there were 2 beauties. Helen, also known as Hong Kong has been there for 40 years. Helen retired last year but missed her D'agosti family and returned. Wanda was the other Deli Doll, my name for them. Wanda's bright beautiful smile is infectious.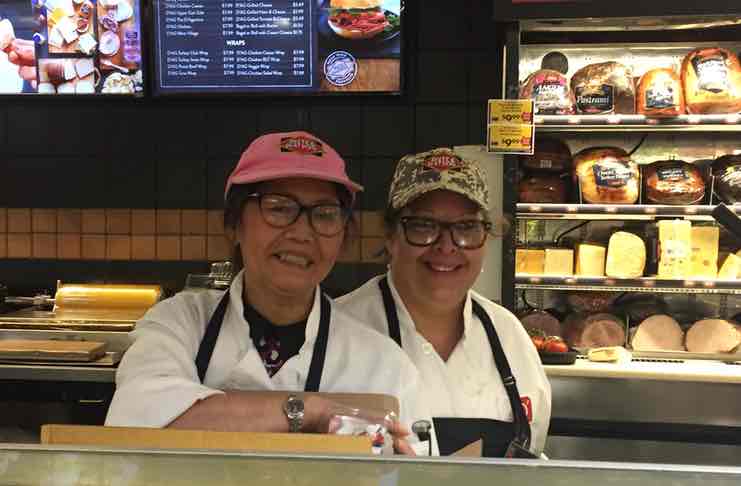 The pride these ladies have for the work they do is really about the people they meet every day. Wanda has 20 some odd years behind her. I hope there will be 20 more.
We were brought downstairs by Denise Mcfadden the front End manager of the stores I couldn't help but be impressed with the cleanliness and organization of the behind the scenes.
A large break room for this store of 50 staff members was decorated from ceiling to floor. Festive and better than the green room at Letterman's.
A table overflowing with sandwiches, wraps, salads, drinks, and AMAZING sushi. This is not your deli food from just anywhere.
The sushi is some of the best I have had throughout all the boroughs of NY. Fresh and beautifully displayed.
Sandwiches and wraps to rival Balducci's or any other high-end fancy caterer in Manhattan at half the price.
The competition was ready to begin.
Each register was decorated with balloons, streamers, and smiles while music ala Rocky theme playing in the background.
Tuxedoed Richard Calbasso, District Store Manager was at the mic. Michael Buffer would be proud. Although Richard was a presence that would knock Oprah out if he had his own talk show. The positive excitement-filled this store as crowds jostled for space to see every moment.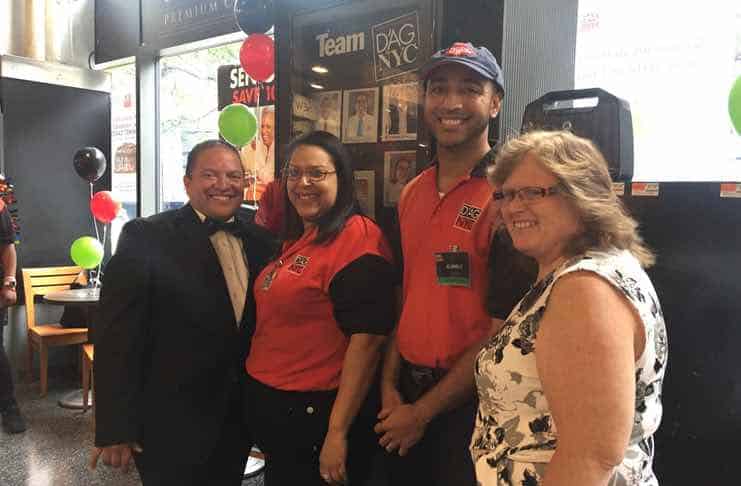 Each store in the chain held its own competition to determine who would go to the finals.
10 competitors warmed up and pumped up as they would go head to head randomly picking which 2 of the 5 rounds.
Criteria is speed and weight with the same items needed to be placed in 4 bags.
D'Agostino signature recyclable bags were used. Various products including a dozen eggs, Large bags of chips, paper towels, 6 pack of bottled soda, etc. Distribution was also part of the judging.
On your mark, get set….BAG. was the cry to begin.
The first bagger to have all bags packed raise their hands. Each round was more exciting than the next.
Every bagger had in introduction speaking of their years working at D'Agostino some more than 20 yrs. A rookie looked to be a front runner. A winner coming in 3rd at the State competition.
The last round was in the most exciting photo finish.
The music, the balloons, the food, the comradery, but mostly the feeling of a family set by the D'Agostino family was what I came with away from this amazing experience.
In a time where the local businesses are suffering. The mom and pop shops are becoming instinct. Digital is easier. Convenient. Next day or same-day delivery are all enticing.
Amazon is on my speed dial and everyone's favorite list. No matter what they do we go online.
Yet…there are somethings that are sacred. They should still be revered.
I like to see my tomato's, smell the fruit. Check out each piece of fresh, organic healthy, unhealthy food I will prepare with love and care.
The grocer knows this and has more care in what they offer the people of NY.
Let's be clear we accept what we get.
We pay for what we get.
D'Agostino & Gristedes are not your big grocer. Not your whole foods, trader joes. The prices are competitive and some times higher.
There are bad days and good days but I know for a fact…you can talk to your grocer when the fruit doesn't look as fresh and they will listen.
When you go to those big boys in the food business they might help too. I'm sure they have many caring individuals. The prices are a little less at times but I don't see Helen or Wanda. I don't get the smiles when I check out. No one at these long lines will take the time to call me by name. Ask about my family or say they miss me because they know I probably was shopping online.
They forgive me…the are just happy to see me.
I am happy to see them.
The cost of having caring people going over and above is priceless.
You can come to the Gristedes Finals this Friday, August 30th at 307 W.26th Street. Starting at 10:00 for the first heat and 1:00 for the 2nd.
Cheer on your fellow New Yorkers. Cheer on New York.
This will make your day, I promise.
And lastly, here are the names of the contestants and the 2 winners going to Finals:
Store #801 = Oumou Keita
Store #806 = Eliasel Deoleo
Store #809 = Chakeema Hunt
Store #811 = Marcus Scott
Store #813= Constance Gaines
Store #815 = Damaris Taveras
Store #816 = Beverly Montes
Store #825 = Jarrod Gentile
Store #827 = Dania Marte
Store #550 Ernestine Bynum
The 2 winners representing D'AG's in the state finals are our winner Eliasel Deoleo and our second-place finisher Damrais Taveras.
Living and loving in NYC, food has been a passion of hers. East Coast to West, Faith's goal is to explore and learn with the contribution of other like-minded foodies. Faith Rein has written for 2Girlsfromabar@blogspot.com. Youtube channel – faith.rein, love food love faith. You can find her @: Faith.rein/facebook (always looking to add friends) / faith rein@twitter / faith.rein@instagram / faith.rein@gmail.com