Long-term commitments are quite hard to achieve, and staying married for 25 years is no easy feat. Couples who last this long are truly exceptional, as typical marriages in the US only last an average of 8 years. It would be remarkable if you have parents with an alliance of this duration, and celebrating this milestone with them will be an honor. That's why we thought it would be nice to share some silver anniversary tips. 
The beginning of 2020 has provided a lot of difficulties, and one such challenge is with the pandemic and the uncertainty it brings. This was especially tough on our parents and the elderly. Large gatherings have been restricted with some venues closed and limitations on supplies. But this does not mean that you can't celebrate your parent's silver anniversary. Things may also change for the better in the coming months! Here are some tips for celebrating your parent's silver anniversary.
Type of Silver Anniversary Celebration
Decide what type of celebration your parents want and what you can provide them. Some couples would like a quiet dinner with their closest family and have a special trip or activity with just the two of them. Others would like to have their friends and family together in one celebration.
Throwing a Party
A party will not be complete without food and cake! Ask your parents about their preferred cake flavor and frosting. You can choose to have tiered cakes, cupcakes or you may design your cakes and have the cakeshop create it. If you're one of NYSF's followers in Singapore (apparently we have a lot!), you may visit Emicakes for more info on the options they can provide. In regards to the food, you can prepare a menu that's perfectly magical that will make your parents ready to say, "I do" all over again!  
Decide on the party theme around the couple's interests. It could be their favorite things, hobbies, or their original honeymoon destination. Choosing a color theme can also be centered on the color silver – silver anniversary?! Other themes could be an outdoor BBQ party or a cocktail party for adults. You may even incorporate your parents' relationship milestones in your party by naming BBQ stations or the cocktails to serve at the party. If you want something really cool, go for food trucks as your catering.  
If large gatherings are not yet possible, your party can still be memorable. With the available technology, arrange for a virtual party! 
Give guests instructions on how to do a video chat and how to set up their devices. Designate someone who can help in troubleshooting any issues.

Have a projector or connect the computer to your TV to let your parents see all their guests. 

Don't forget to decorate to make it more festive.

Order food and deliver it to your guests, if possible. Or if they are miles away, let your guests know what you are having. It will be more fun having everyone share the same food.  

Have some fun activities together. You can watch movies together (Netflix Party), do some karaoke online, or play some games.  
Sometimes commemorating the occasion is more important than having parties. You can also be creative with your parent's anniversary with the following:
Mark the Day
You can give a plaque to your parents inscribed with their anniversary date, occasion, and a simple message, then display it in a special place in your parent's home. Professional photo sessions for them and with your family is another excellent idea. 
Plan a Romantic Dinner or Date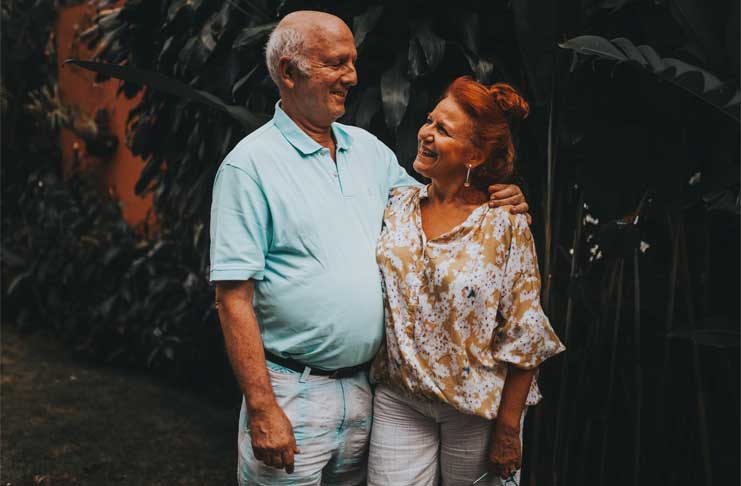 Find out what your parent's favorite dishes or their idea of a perfect date. If traveling is not an option, recreate the restaurant or the location in your home. You can arrange the backyard to host their date then order the food or cook it for them. Assign members of the family to be servers for everyone to be involved in their special day. Here are some more dinner date ideas.
Renovate or Rearrange their Home
If your parents have been wanting to improve their home, this may be the perfect time to do it. It may not be a grand home renovation – changing the furniture and decors, painting the house, or rearranging the furniture is enough to make their day special. Another great idea is upgrading their furniture, fixture, or electronic devices.
A Day of Service
Share the celebration with others by doing something charitable. Ask your parents if they would like to serve dinner at a shelter or make some donations to the institution of their choice. This act will not just make their day but will benefit others as well. 
Learning Together
Another way to commemorate this day is to let your parents do some activities together. Let them take a class together that would bring a joint outcome. Various online courses are available on dance, cooking, art, meditation, and exercise. Letting them engage in an activity together has been known to build passion and excitement.
I hope these silver anniversary tips gave you something to think about. Celebrating 25 years of being together is a momentous event that is worth commemorating. Honor it by thinking about the milestones that the couple achieved and the hardships they endured. Whether you throw a party for your parents or have an intimate gathering, what is significant is on the message the celebration is conveying. Rejoice what they have accomplished together and look forward to their future as well!