Someone at the office has a birthday. Bring out the cake! Your colleague got a promotion. Cake again! Your book club friend is leaving town. Good luck—have some cake! It's your daughter's graduation day. Better whip up a cake fast!
Pretty soon you're stepping on the scale and wondering what happened.
Cake can indeed make any occasion a celebration, but in today's world, many of us are getting way too much cake. Often people can't even eat the cake because of dietary requirements or preferences and may feel left out of the celebration as a result. Or maybe you're just tired of cake. Isn't there something else?
If you have an occasion coming up that deserves a celebration but you'd rather avoid the cake for whatever reason, here are some alternative food items that can make the day just as special.
1. Whip Up Some Special Juices
If you've got a juicer at your celebration party, consider whipping up some new recipes for everyone to try. Whether you choose alcoholic or non-alcoholic juices is up to you—both can be fun.
Party punch recipes are often good options as guests can sip on them all evening. But you can also experiment with different smoothies, fruit and veggie juices, protein shakes, and whatever sparks your interest. You can even hold a contest to allow attendees to guess the ingredients, or let them rank the juices from best to worst with a voting process.
2. Focus on Finger Foods
Everyone loves finger foods, but they can be especially fun for a child's birthday. Instead of loading the kids up on sugar, try giving them sliders, sweet potato fries, sausage rolls, pizza rolls, sandwich rolls, cheesy bread, ham and cheese rollups, smokies, deviled eggs, stuffed mushrooms, popcorn, and more.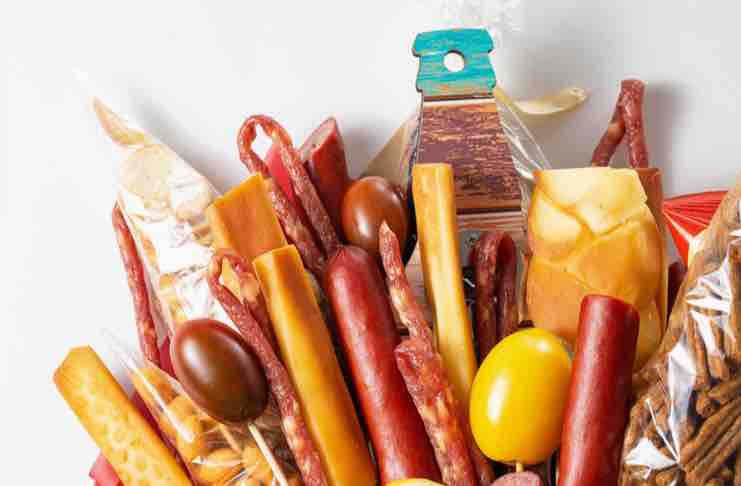 3. Bring Out the Games
If you'd rather not have food at all at your celebration, you can make your celebration fun by planning a series of fun games for everyone to play. Board games can work. Or, if you've got a group of kids, use games they'll love like musical chairs, what time is it Mr. Wolf? duck duck goose, relay races, or pin the tail on the donkey. We also love jigsaw puzzles, which are awesome for kids.
All ages enjoy a scavenger or treasure hunt, and if you have a gathering of adults, try charades, two truths and a lie, murder mystery games, outdoor volleyball or baseball, or name that tune. Here's a great list of party games you can try.
4. Travel Back in Time
If you're celebrating a birthday or if someone is leaving, try creating a theme party that centers around a specific time in history. If a person was born in the 50s, celebrate their birthday with a 50s themed party. Invite people to come in costume, decorate accordingly, play 50s music, and serve food that was popular in the 50s (like shakes!).
Here's a sample of a 50s themed party:
If someone is leaving and you want to celebrate their work in the company or organization, consider hosting a theme party based on when they first came on. You could even do a "look back" over the time they have served with a slide show, posted pictures, news articles printed and hung on the walls, etc. Consider serving the person's favorite drink, like beer or coffee.
Maybe various people can share their experiences working with this person, or you could put together a video series of individual messages and play that toward the end of the party.
5. Make Food the Centerpiece
You can replace the usual pretty cake with pretty fruit arrangements instead. Edible Arrangements delivers fruit bouquets for free, and they have many options to choose from. Go with a Birthday Wish-tini with Confetti Berries, a Taste the Love Platter, Dip Your Own Fruit & Chocolate or Create Your Own Dipped Fruit Box.
Of course, you can also make your own fruit bouquet. All you'll need is a box of wooden toothpicks, a foam ball, vase or decorative flower pot, and whatever fruits you'd like to use. Or you can create your own chocolate-dipped fruit slices by simply melting the chocolate and cutting up the fruit.
6. Think "Snacks" Instead of "Sugar"
If you want something for people to enjoy eating at your celebration but you want to avoid the sugar, try focusing on snacks instead. Good options include veggies and dip, cut-up fruit, nuts, popcorn, corn chips and guacamole or salsa, and cheese and crackers.
7. Break Out of the Cake Rut
If you're still interested in providing tasty treats but are just tired of cake, there are a lot of other things you could try: Rice Krispies treats, fruit and yogurt parfaits, s'mores, ice cream bars, cinnamon rolls, no-bake cookies or bars, or anything else that sounds good but that most people don't get to enjoy most of the time.
Want to read more of our latest posts? Check out our review of this Vegan place in Soho.