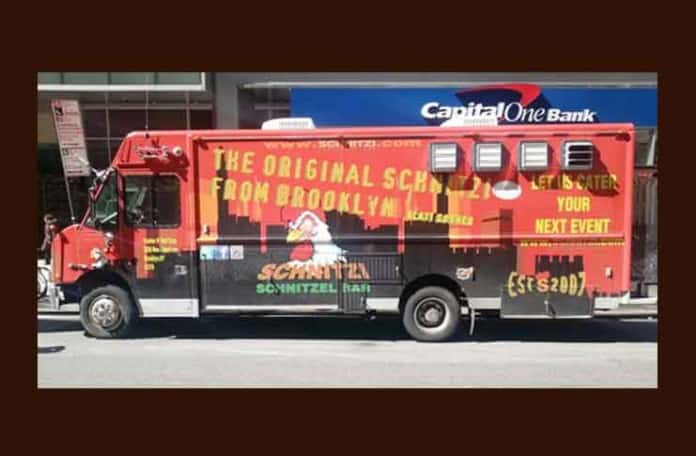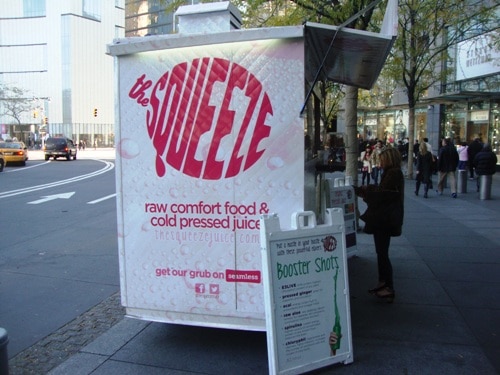 While the streets seem less crowded with food trucks these days, there are several reasons for it. The biggest (and most important) reason is that over 20 food trucks have been feeding those devastated by Hurricane Sandy on a daily basis
Just as Sandy hit our shores, vendors with seasonal permits ended their seasons on Oct 31st.  Bistro Truck, the Famous Dal Wagon and a number of other vendors won't be back until April 1st.
The most recent trend we've noticed is the downsizing of some street vendors.
Last week we told you about El Idolo selling their large food truck, having bought a smaller truck for the business. In these days of 4 hour gas lines and $4 a gallon gas, a smaller gas tank can make a big difference in profitability.
Parking is another perpetually vexing problem for food trucks. A smaller truck should be easier to park.
Another way of downsizing is trading in a food truck for a cart. The Squeeze, a raw vegan food vendor who parked their truck on Union Square West by 15th St, now has a cart in its place. With no cooking being done on board, a cart makes just as much sense, and has likely lowered operating costs. Not to mention the difference in legality.
In fact, we were by Columbus Circle on Friday and noticed The Squeeze has a 2nd cart parked in front of the Time Warner Center, right next to Wafels & Dinges.
People are finding out that having a food truck is not the cash cow they thought it would be. Vendors need to operate smarter to have a viable operating business. Whether that means a smaller truck, switching to a food cart (or two), or finding some other way of reducing costs, vendors have to be adaptable and creative.