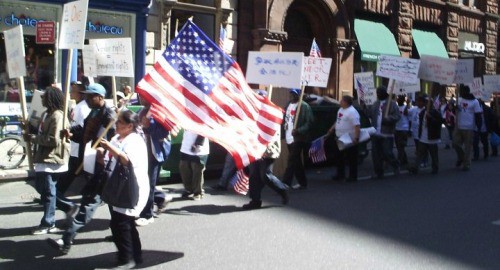 The folks behind the Street Vendor Project are launching a new not-for-profit organization…and you're invited to the launch party!
Tomorrow (Tues, 7/9) will mark the launch of Street Vendor Power, a new 501(c)(4) organization that will work to amplify the voices of all twenty thousand incredible immigrants, veterans, and entrepreneurs who sell food and merchandise on the streets of New York City.
Click through for where and when the Street Vendor Power Launch Party will be held.
For too many years, elected officials have ignored the city's smallest of small business owners, street vendors.  Building off more than a decade of work by the Street Vendor Project of the Urban Justice Center, Street Vendor Power will build leadership, political and electoral strength to benefit hard-working vendors, their families, their customers, and all New Yorkers.
After twelve years under Mayor Michael Bloomberg, our city is at a crossroads. Please join Street Vendor Power as they raise money for this new effort, and take the first steps to participating in a vitally important election season in New York City.
When:      Tuesday, July 9, 2013  from 6 to 8 pm
Where:     27 East 4th Street (between Lafayette and the Bowery), NYC
Who:        Vendors, voters, community members
What:       Dollar tacos and beer