It has been named one of the Top 10 Rib Joints in the U.S. by Relish and Top 10 BBQ Restaurants in America by USA Today and The Daily Meal. Moe's Original Bar B Que was founded in 2001 by Ben Gilbert, Mike Fernandez and Jeff Kennedy. The foundation of this BBQ Restaurant company is the food, and its unbreakable bond of true friendship.
After meeting at the University of Alabama in Tuscaloosa, Ben, Mike and Jeff instantly became friends. They had a mutual interest in all things Southern: BBQ, blues, college football, and whisky. In 1988, Mike hooked up with Moses Day in Tuscaloosa and began learning to fire roast meats. The boys were lucky to learn from Moses and his distinct style makes up Moe's original flavor of BBQ.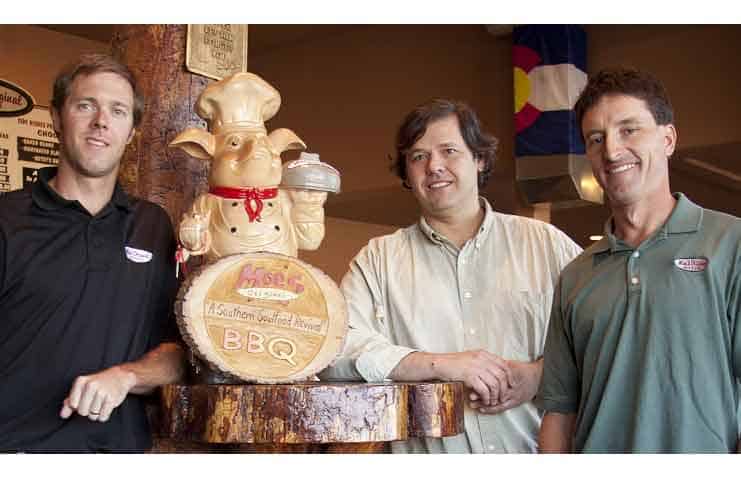 Loving the mountains, these entrepreneurs eventually all landed in Vail, CO., and refined the cooking skills they had learned over the years. By using fruit wood to smoke the meats fresh daily using kamado style grill and accompanying it with two sauces, they thought they had something special.
They wanted to start their own concept and so they rummaged through a landlord's junkyard in search of some sort of BBQ pit. What they found was 500 gallon diesel barrel and a single-wide mobile 40 foot horse trailer, and the start of a successful career. Using scraps of corrugated tin, wood siding from the junkyard, and some imagination – they cut the barrel in half, welded it onto the trailer, and started cooking swine. $600-$700 was the start up cost at that point.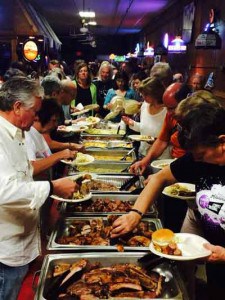 The three friends created a roadside BBQ stand set on a dirt lot on the side of the road in Vail. They sold out 100 consecutive days and by then knew – they had something special.
Unlike other BBQ pits, Moe's Original BBQ restaurant doesn't stop there as Southern style side dishes and desserts are prepared daily from recipes passed down for generations.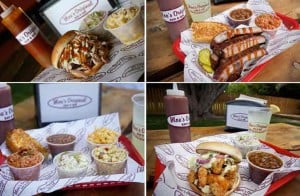 In over a decade Moe's Original Bar B Que has grown from a junkyard pit to over 40 successful BBQ restaurants in twelve states with minimal debt.
Consistently providing top notch cuisine has ultimately been an accomplishment for this brand. From the roadside shack to the 10,000 square foot BBQ Restaurant, bowling and music venue, the company likes to go with the flow. While not offering a cookie cutter atmosphere, each restaurant has the feel of Moe's Original, but the character and personality of its local owner and community. Moe's Original Bar B Que's team is a family filled with like-minded individuals with common interests and goals driven to succeed through hard work in a team mandated environment.
"We will continue to master the logistics of consistent BBQ and Southern fare, but our concept goes well beyond the food. We strive to make a comfortable environment for every customer who walks through our doors," said founding partner Jeff Kennedy. "We have created a culture that brings people together for great food and good times. While our philosophy begins with the owners, it is shared by the employees and spreads contagiously throughout each and every restaurant."
For additional information about Moe's Original Bar B Que, visit www.moesoriginalbbq.com.