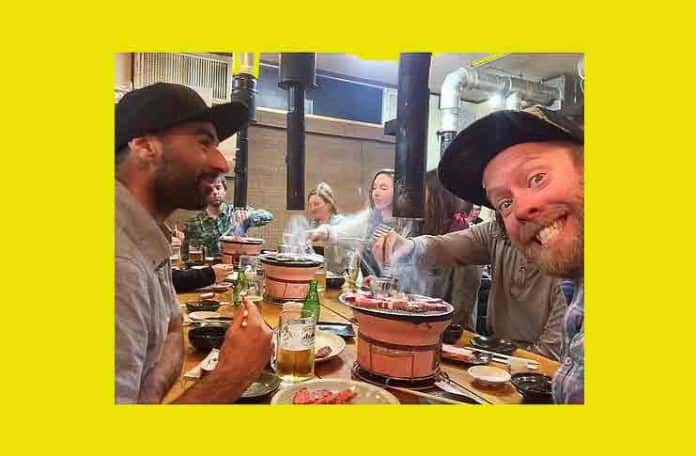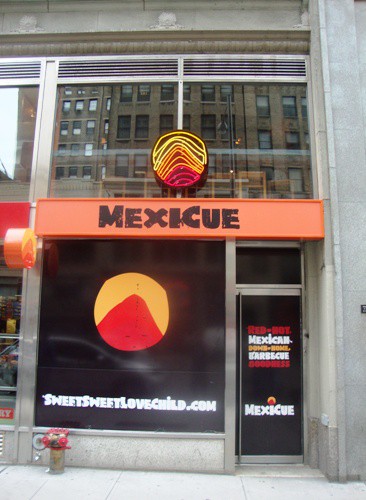 In case you haven't heard, Mexicue, a 2010 Vendy Award Finalist in the Rookie of the Year category, is opening a new store next week.  It's at 345 7th Ave, between 29th & 30th St.  They will have a soft opening Monday & Tuesday to work out all the kinks, and Wednesday is their official opening.
Today they had a sneak preview for their friends, press, and bloggers like me.  I hopped on the 1 train with great anticipation, as Mexicue is one of the best food trucks around, both in terms of their food quality and the creativeness of their cuisine.
So I got off the train at 28th St, walked up a block, and this is what I found.
Inside was a nice little space with Mexicue's signature orange & yellow colors on the walls, wooden rafters in the ceiling, and a painting of their logo on the wall to the right that you can't see in the picture above.
To the left of the ordering counter is a metal staircase leading upstairs, where there is seating for 20-25 people.  There is a big picture window overlooking 7th Ave with a counter and 6 stools, and more tables and chairs inside the room.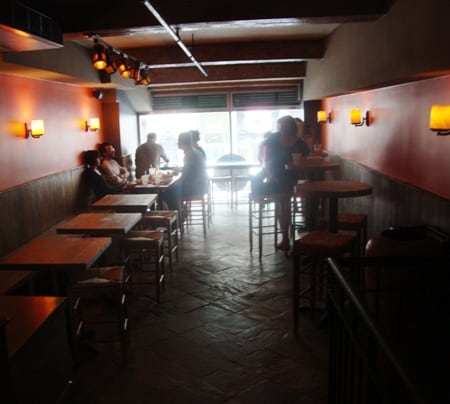 The picture above makes it look dark and narrow upstairs, but it wasn't.  Upstairs was light and comfortable. it's just that a ton of sunshine was coming through the window, messing up my picture.
One of the owners told me they have already applied for a beer & wine license, and will be staying open late on weekends (2am!) wanting people to come by and hang out upstairs after games and concerts at Madison Square Garden 2 blocks up, or to come over from the Eventi and Ace Hotels nearby.  It's a nice space to hang out, eat tacos & sliders, and drink beer or wine.
With a full kitchen, they have expanded the menu as well.  In addition to tacos & sliders, you can get any of the tacos & sliders as rice bowls.  They also have 2 salads – a Mexican fruit/nut/goat cheese salad and a smoky Caesar salad.  The side dishes now include a chili mac & cheese, spicy potato salad, cole slaw, and chips with salsa or guacamole.  You can see the main course menu here and the salad/side menu here.
As part of the sneak preview, we got our choice of 2 tacos or sliders or 1 rice bowl for free.  I chose the burnt ends chili slider and Alabama chicken taco ($3.50 each).
When you order chili, sometimes it's meat, sometimes it's beans, sometimes it's a mix of both.  The burnt ends chili slider was mostly meat.  It included sliced, pickled jalapenos and cilantro lime crema.
This slider packed some serious heat – and boy was it delicious!  The chili was meaty and had a great bbq flavor, the jalapenos added lots of heat, and the crema brought some coolness and complexity.  This might be my favorite new dish from Mexicue!  The only downside was no cheese.  Some sharp cheddar cheese would have been nice on it.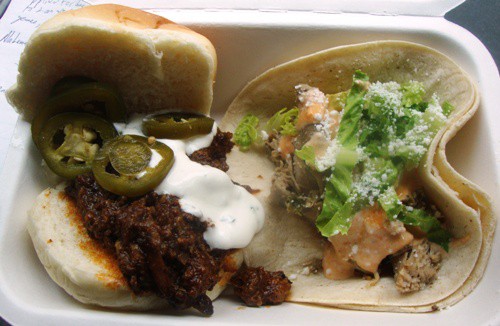 The Alabama chicken had shredded chicken, lettuce, cojita cheese, and what they called a creamy bbq sauce.  I wouldn't call it a bbq sauce because it wasn't tomatoey enough. I thought it was more like spicy thousand island dressing with chili powder, but it went well with the chicken, lettuce and cheese – and they used 2 tortillas with the taco.  This taco was good, but it didn't blow me away like the chili slider did.  It was a much mellower dish.
I'm going to go out on a limb and predict great success for Mexicue's new restaurant.  The food is creative and priced well, it's cooked well, and the space is comfortable.  It doesn't take a rocket surgeon to figure out this is a recipe for success.
Congratulations to everyone involved in the new Mexicue venture.  We're looking forward to eventually trying everything on the menu.