My eating companion and I gamely decide to make the walk from our workplace in FiDi to the restaurant. We pass through the familiar, beloved gnarly, streets of Chinatown and enter the Lower East Side. The streets get smaller and quieter, the restaurants become candlelit. We arrive at Kalye and meet Ben, our primary point of contact, and he introduces us to Rob, the restaurant owner. He gushes over the new space, which is a restaurant and an art gallery and invites us to take the middle table with the best view. He asks us how hungry we are. My companion and I exchange a glance and just laugh. How much food do you have?
Watch the opening of Kalye:
View this post on Instagram
The Beverages at Kayle 
Rob offers us wine or beer. We choose the latter, my companion opting for a Filipino San Mig light beer and I, a Red Horse IPA. Mine strongly resembles the smell of weed, despite Rob's optimistic claim that this beer is less hoppy than others. Neither are terribly impressive, and we drink them out of politeness more than anything. We do, however, find much more luck with a Diet Coke (my companion) and mango juice (me). Tropical and light, the juice sets the tone for the rest of the evening.
Filipino Comfort Food: Mains, Sides, & Everything In Between
Nothing seems to have a particular order, and we are perfectly fine with this arrangement. The pork barbecue arrives first, smoky and glistening. It has been marinated in banana ketchup, garlic, and soy sauce, and the combination is addictive. In turns sweet, tangy, and savory, with charred fatty ends that are either your first or last bite, it is certainly an impressive depth of flavor for such a minuscule workspace.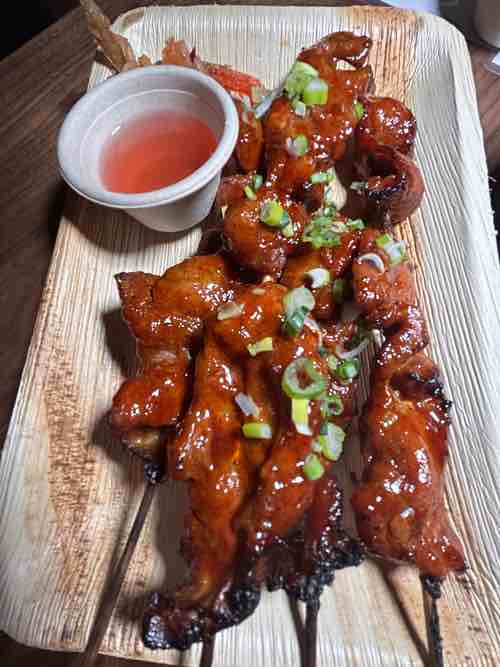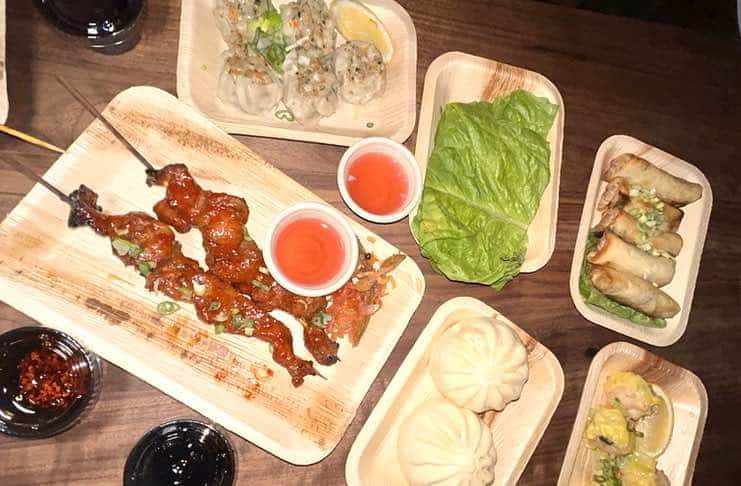 Shrimp Shumai
The shrimp shumai comes six to an order, and while they are small, they pack a powerful shrimpy punch. The dumpling is delightfully thin-skinned, the filling plump and juicy. There are a plethora of sauces offered to us, including a sweet and savory asado sauce, a vinegar sauce, and a Pinakurat aioli that Rob calls "homemade ranch." Weirdly enough, we really enjoy the shrimp with the aioli – it's a little acidic, a little herbaceous, and a lot creamy. (here's a lovely recipe for shrimp shumai).
The standout sauce of the evening, however, is the banana ketchup – a Filipino specialty that is both uniquely identifiable as ketchup while maintaining an undeniable banana flavor. We are slightly obsessed and proceed to dunk almost everything in it just for kicks. 
Pork Shumai
The pork shumai look like they ate the shrimp shumai for breakfast. Equally thin-skinned and delicate, they nonetheless pack more significant heft in both flavor and texture. They are well-seasoned and tasty but are not the standout here.
The Lumpia
Rob immediately recommends the lumpia, made with a mixture of pork, carrots, celery, and spices, then air-fried to perfection. Yes, that is correct. I do not typically advocate for air-frying, but these lumpia are masterfully crispy while maintaining the juiciness of the filling. 
The pro move is to wrap the entire lumpia in a lettuce leaf and eat it in as few bites as possible. We try it at Rob's recommendation, and it is excellent – the hot lumpia, cold crispy lettuce, and deeply spiced filling are well-matched for texture and flavor contrast. I find out later that the lumpia recipe comes from Rob's mother, and is one he holds dear. I do not blame him. They are delicious.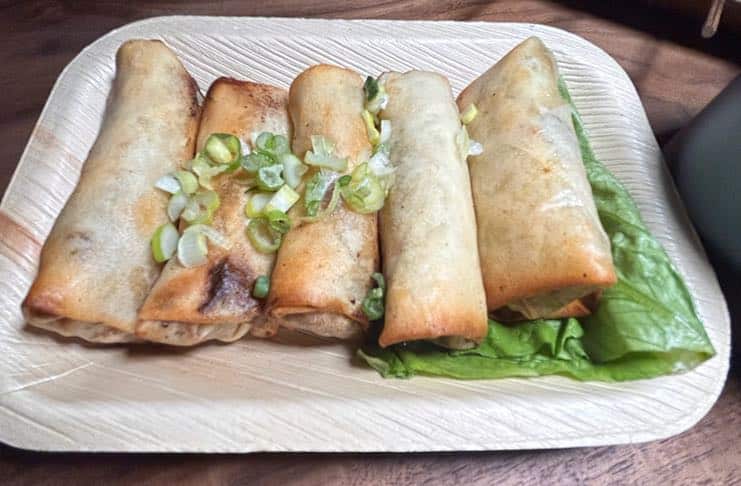 The Chicken Wings
We are also recommended the chicken wings, and who are we to refuse? They arrive with a generous mountain of shoestring sweet potato fries, which look surprisingly crispy for air-fried anything. Encouraged by the lumpia, I do not hesitate to try them, and again, I find myself pleasantly surprised. 
The thinness of the fries allows for increased surface area for maximum crispiness, but the inside remains tender and not mushy or mealy. The sweet potato flavor is mild and is well complemented by the hearty flavor of the wings.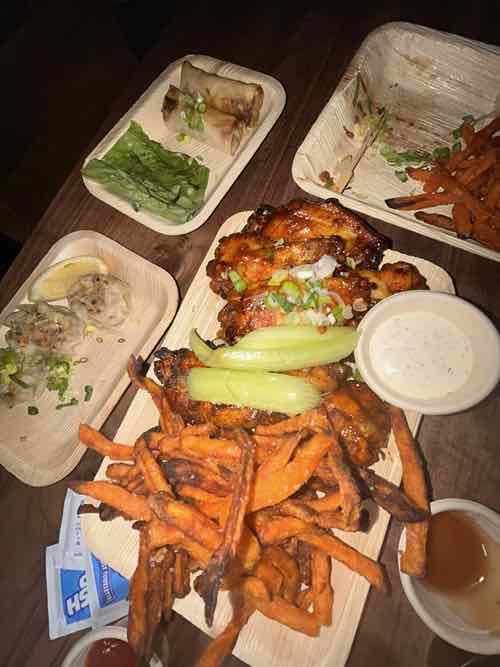 The wings themselves are not intensely crispy, but are not soggy either; they have a deep, roasted quality to them that creates a wing both succulent and firm. My companion and I both agree that the flats are superior (but then again, they usually are) but the drumettes are respectable and not overly dry. Their richness is offset by the addition of lemon grass, fresh lemon, and ginger. 
The Pork Siopao
When the pork siopao arrives, I am immediately reminded of the Chinese staple steamed bun filled with barbecued pork, the char siu bao. I bite in, and while the flavor is similar, there are a few key differences. The pork is pulled and tastes leaner than that found in the char siu bao, which tends to be finely diced cubes of fatty pork. The flavor is also more fragrant and leans heavily on warming spices. 
The bun itself is fluffy, although not quite pillowy; perhaps this is due to the method of cooking, or the buns have been at a hot holding temperature for some time, long enough for a slight "skin" to form on the topmost layer of dough. Overall, however, the flavor is deep and complex and quite satisfying.
The Ube Sliders
By the time the ube sliders are placed on the table, I am no longer absolutely ravenous. I have also vaguely forgotten what we ordered (always a possible outcome when one orders most of the menu) and am subsequently delighted by the sight of two perfectly plump pork patty sliders, covered in cheese, with ube buns that look soft yet pleasantly toasted. Another mountain of sweet potato shoestring fries accompanies it.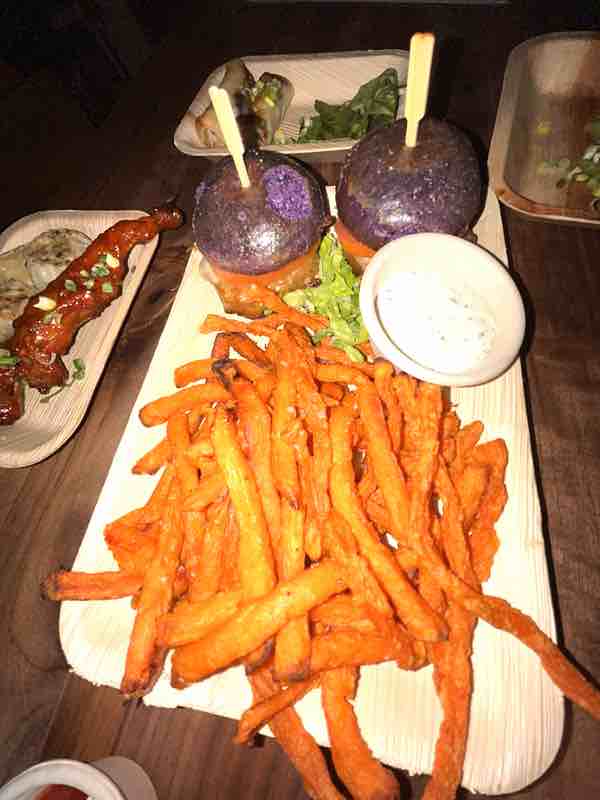 For all their good looks, the sliders taste even better. The patties are deeply tasty, savory and sweet; the Swiss cheese is unctuous and melty; the fresh lettuce and tomato cut through the fat and grease; the bun is deliciously toasted for maximum textural intrigue. Sometimes you don't know what you want to eat. Then this burger is placed in front of you, and you suddenly know exactly what you want. 
The Dessert
​We order the ube pao at Rob's recommendation, and we are waiting for several minutes before we hear the kitchen as they realize the pao aren't being prepared. We are hastily given the ube flan to try in the meantime. (I'm not complaining.)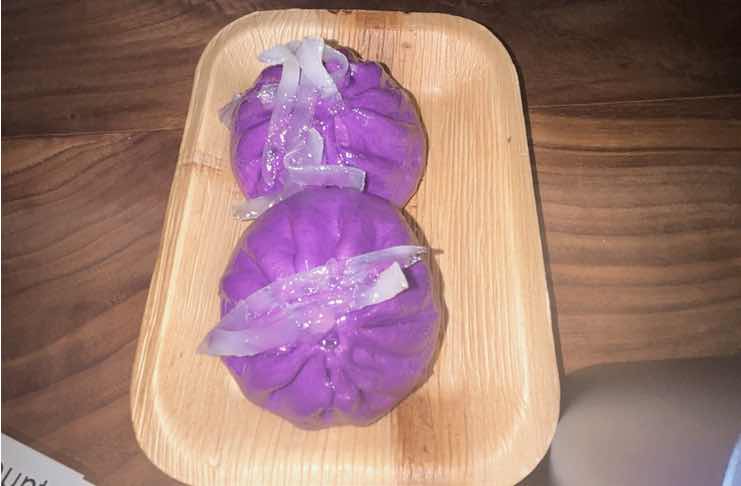 It is not ube-flavored flan, as I originally thought, but rather a more typical flan sitting atop a chiffon ube cake. The flan itself is fairly standard, creamy and decently decadent, but too citrusy for my liking. The chiffon ube cake, however, is lovely.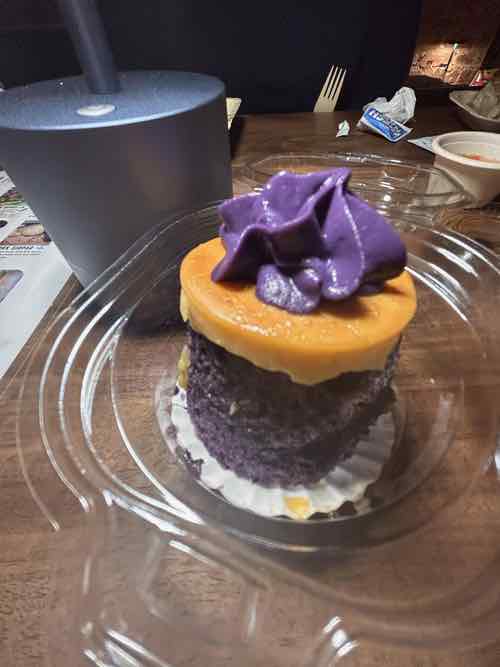 Exceedingly light, with perfect air pockets and no dry spots, the ube flavor is subtle and not too sweet. Million-dollar idea – this cake as a separate item, layered with ube buttercream?
The ube pao finally appears and is everything I want in a dessert bun. Warm and quite soft, I take a bite and am overwhelmed by its cloudlike mouthfeel. The ube filling is velvety and smooth. It is made with sweetened condensed milk, creating a superbly rich texture, but is kept light by the pillowy dough. 
The bun is topped with coconut jelly, and the ube with coconut mixture feels quite like a tropical hug. I find out later that this is another of Rob's mother's recipes, and I secretly wonder how I can score an invite to her house for dinner. Either way, it is a deceptively extravagant way to end the meal. Comforting, luscious, and just the right amount of food coma-inducing.
Final Thoughts
Kalye is the epitome of a new restaurant in the Lower East Side. Hip, local art. A tiny (and I mean tiny) kitchen where staff is running to the basement for storage, which is only accessible through the trapdoors of death outside. Food that is both a little familiar and a little exciting, while remaining largely delicious and reasonably priced. An excellent start for a restaurant owner with ambitious plans for the future. I am excited to see what they do next.
Three Best Bites
The lumpia, after being delicately wrapped in a lettuce leaf – is perfectly crispy and light, yet also luxurious.
2. The ube sliders, with a super tasty pork patty and a generous amount of cheese for such a small burger.
The ube pao dessert bun. It's like a hug from your mom, except it is from Rob's mom.
Bathroom Corner
The restaurant opened just a few weeks ago, and its bathroom is immaculate (for now). Equipped with all the essentials, and comparatively large in the midst of such a small space, I have no complaints.
More review? Check out my review of GG Tokyo 🙂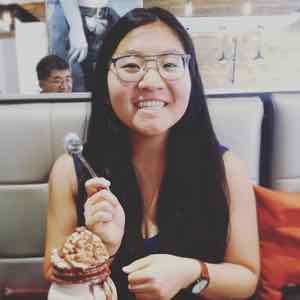 Katherine Chin was raised in upstate New York and grew up with the mindset that good food can, and does, exist anywhere. Now living and working around Manhattan, she spends most of her breakfasts pondering what she'll eat for dinner. She advocates for food that tastes good, and believes that sharing is caring – the best food is often eaten together. You can find her either walking or eating anywhere in Manhattan, when she's not planning her next food-centric adventure.