September 26th, 2011
As we mentioned yesterday, Solber Pupusas won the 2011 Vendy Cup on Saturday, in their second bite at the apple.  Rafael was also a Vendy Cup Finalist in 2008 under the name Soler Dominican.
Check out the amazing plate of food below: a pupusa (middle left), sweet plantains (top) and a tamale (lower right) covered by homemade pickled onions, jalapenos and cabbage, topped with their special sauce and crema.  The pupusa had your choice of chicken or pork yesterday, and their regular menu has even more choices of fillings.  You have to cut down the options to serve this many people, but that didn't seem to hinder Solber Pupusas.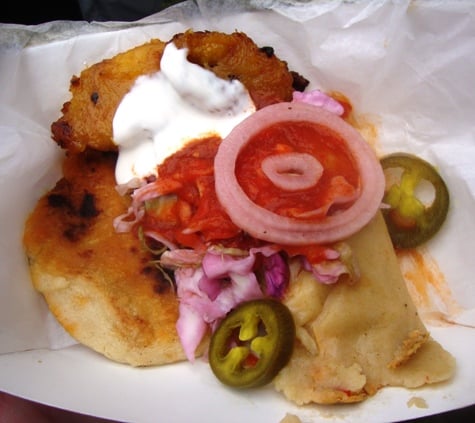 There were plenty of other tasty and interesting dishes in the Vendy Cup category, including the People's Choice Winner, Souvlaki GR.  Click through for details of what the other finalists served.