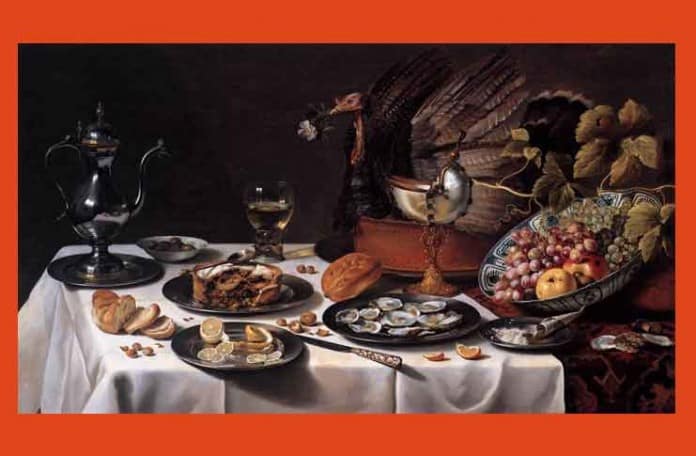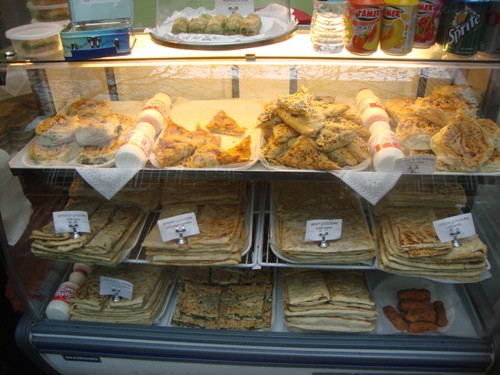 When I went to the Bryant Park Holiday Market right after it opened, I didn't see Mmm…Enfes until after I already had lunch that day – but it sure looked like it was worth going back for another day.  Today was that day.
Mmm…Enfes has a selection of Turkish foods including several types of boreks and golzeme, plus baklava and one or two other desserts.
For Today's Lunch, I went for a cheese rose borek with parsley ($6.50) and a beef & onion golzeme ($6).  I wanted to try more than one thing, but wasn't sure if one item would be enough for lunch (spoiler alert, it was).
Boreks are tubes of dough filled with meat, cheese, spinach, potato, etc, then rolled into a circle and baked.  This borek was somewhat shaped like a rose, which is where the name comes from.
Golzeme are two flat square pieces of dough with similar types fillings in the middle.  Both boreks and golzeme are pressed in a grill to warm them up after you order them.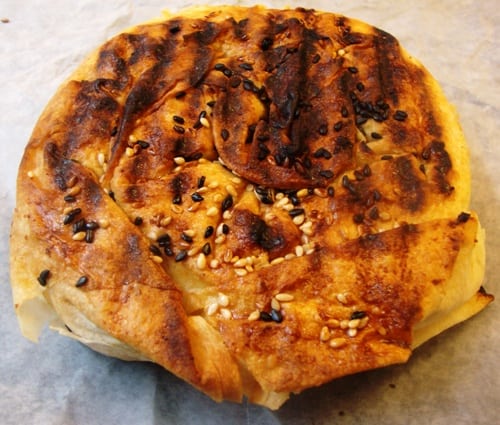 The cheese rose borek had sesame seeds on top, and was still pretty hot even after I got back to the office.
The cheese inside was like similar to feta cheese, with a little lemony tartness.  The parsley gave the cheese an herby edge, and it was all warm and toasty inside tubes of baked dough.
I was surprised at how filling the cheese borek was.  If it wasn't necessary for research, I wouldn't have gotten the golzeme (maybe).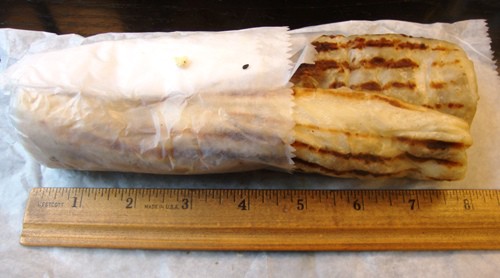 The golzeme were 8″ square.  They were grilled on the press and then rolled and wrapped with paper halfway up, making it very easy to eat on the go.  She asked if I wanted some tabasco sauce in the middle, which was "of course".
The golzeme had ground beef and grilled onions in the middle.  Each bite was both beefy and doughy – which is a good thing – and the tabasco picked up the spice quotient nicely.
Today's Lunch from Mmm…Enfes was very tasty.  Either one of these items would have been enough for lunch, and there are plenty of other flavors if I want to try potato, spinach  or chicken next time.
Good idea!  Think I will.