Do you love Thai food? Are you just looking for a good list of the best Thai food in NYC? Either way, I'll provide you with some juicy info about delicious Thai restaurants in the big apple where you should definitely eat this year.
If you're a Newyorker, you surely know Sripraphai, one of the first and a city's Thai Institution in Woodside. Being such a classic, we'll start with it…
Best Thai Food in NYC: 7 Places You Should Visit This Year
1. SriPraPhai: A Thai Institution
After so many years in operation, SriPraPhai is still a perfect place to come with your friends or loved ones and share a large meal of Thai seafood. I love their pork leg, catfish salad, and green curry with beef. 
The place itself spans over two levels with a nice garden. There were a few designful renovations over time which added a cute patio at the back, a fountain, and an apple tree 🙂
A few more of my top favorites? I love SriPraPhai's beef panang, as well as their minced pork with chiles, peanuts, and lemon juice. It's as yummy as it gets. 
Check out this video to get a glimpse into SriPraPhai:
Where? 64-13 39th Ave., Woodside; 718-899-9599
2. Ugly Baby
What a name, and for a restaurant! That's part of the new-age marketing and looks like it's working. Every time I drop by at Ugly Baby – it's packed with happy eye-tearing customers. Why eye-tearing? Because this place is Thai-spicy! It offers a wide array of Thai dishes that originate from all over Thailand, like the hot mushroom pineapple curry with tofu and lime leaves. It's a gem.
Don't leave Ugly Baby without tasting the small coconut milk cakes that come with black beans, taro, tamarind-chile sauce, and peanuts. Another gem that's always stuck in my mind. 
Where? 407 Smith St., nr. 4th St.; Carroll Gardens; 347-689-3075
3. Tong
Looking for great Thai Food in Bushwick NYC? Tong should definitely be one of your top choices. This place is known for its small plates of chicken satay, Thai spring rolls, and so many more yummies. I love going there with friends and having the waiter spread out these small plates on our table. 
My top favorites are the charred octopus skewers and the Yum Ma Kheu Yaw. What is that you may ask? Well, it's a cold marinated spicy eggplant with slices of boiled egg. It comes with a unique chili jam and coconut dressing, which I'd love to have every single day. 
I'd also recommend the dry-cured Beef and beef liver sausage, which comes with shredded papaya and lettuce. It's a lovely dish.
What about dessert? Well, I usually get the Tod Hua Phee. This is a crunchy banana blossom pancake, which isn't that heavy on your stomach. It's really nice eating all this in Tong's wooden and covered (and heated) sidewalk patio. 
Where? 321 Starr Street, Brooklyn, NY 11237, (718) 366-0586
4. Ayada
This iconic place deserves its place on the list of best Thai Food in NYC. If you're looking for a good Thai restaurant in Queens, then head on to Elmhurst. Similar to Sripraphai, also Ayada grew slowly, building on its strong grassroots, becoming a known household in the city. 
What should you try? I personally love their raw shrimp salad, as well as their Som Tum, which comes with big pieces of blue crab. Another great salad is their lacy catfish salad, which I often dream about when I really crave Thai food. Ayada's mango sticky rice is probably among the best in the city. I could eat 10 bowls if I was allowed. 
By the way, if you plan to make your own sticky rice or any Thai Food at home, I recommend getting this delicious Jasmine Rice White | Mahatma® Rice. It's perfect for normal or sticky rice.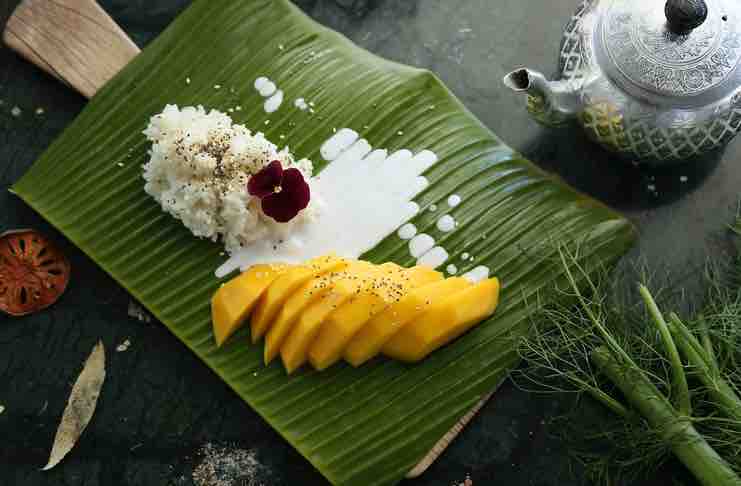 Check out this video to learn more about Ayada:
Where? 77-08 Woodside Ave., Elmhurst; 718-424-0844
5. Soothr 
Looking for good Thai Food in the East Village? Soothr's got your back. The place just opened in 2020 and has made its name as one of the best Thai restaurants in town. That's also probably the reason why you should reserve your table ahead of time. 
I went there once without reservation and had to wait around 30 minutes. However, the hostess was incredibly nice and kept us updated on the timeline. 
Soothr serve central Thai dishes that are quite new to Newyorkers, like the Sukhotthai Tom Yum noodles. If the weather allows, I recommend dining in their gazebo-esque backyard. 
What should you order? I love their Shrimp curry, which is always plump and juicy and has a great kick of spice. Their duck noodles are a feast, and the Mass Man roasted vegetable trio is very refreshing and tasty.  
Where? 204 E 13th St New York, NY 10003
6. Thailand's Center Point 
This Thai dining paradise is located in Woodside, and also deserves its place on our list of best Thai Food in NYC.  Thailand's Center Point is a charming and homey place with exceptional food. Most of the dishes are traditional Northern Thailand cuisine.  
What are my favorites? I loved the unique "Egg Sandwich", which is made of sticky chunks of stir-fried pork that are placed between two crispy fried eggs. On top of this is a very rich sauce which makes this sandwich extremely delicious.
What else? Try the oxtail soup. You can ask to have it spicy or mild. It's a very tangy and lemony-sourish soup filled with flavor, and a soft oxtail bone. The Ground Chicken Basil is also a 5-star dish, especially if you order it extra spicy (only for the brave!). The chicken is tender and juicy, soft, and full of flavor. Don't forget a Papaya Salad.
Check out this video to see what that looks like:
How's the ambiance and service? Try to get a seat on one of the small tables with umbrellas outside. It's lovely. The waitresses are lovely as well, and very accommodating. You won't feel lost for a second.
Where? 63-19 39th Ave., Woodside; 718-651-6888
7. Khao Khang
This Thai Restaurant is also located in Woodside, NYC, and offers some of the best Thai dishes in town, with very generous portions. However, it's a counter-service place with a cash-only payment option. I love being able to see whatever's available in the lush rows of pans behind the counter.
What are my favorites? I always order the southern sour curry with fish and bamboo, but there are many more worthy dishes you should try at Khao Khang. There's a wide variety of Thai food here, so the best thing is to get multiple entrees and try a little bit of everything. Go for the Ground Basil Pork, the Ginger Chicken, the Black Pepper Pork, and the Fried Fish. Finish it up with a yummy Grass Jelly drink and you'll feel as if you just visited Bangkok. 
Khao Khang also offers a few ready-made dishes in to-go containers like their mango sticky rice, tapioca balls with pork, and dumplings. It's nice to have these at home!
Where? 76-20 Woodside Ave., Elmhurst; 718-806-1807
Want to read more of our posts? Check out our post about these must-try Thai Food Delicacies.