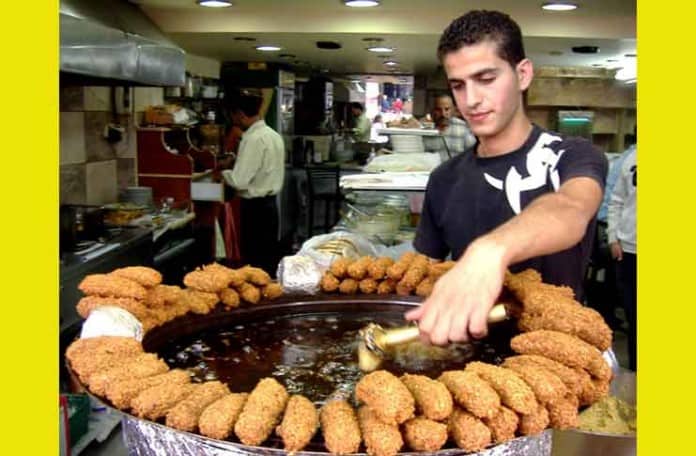 Istanbul Eats did a feature on the top 5 street foods in Istanbul.  Counting backwards, their favorites are:
#5 – The Galata Cucumber Man -We eagerly await the reappearance in the spring of the vendor simply known as the "cucumber man of Galata" (pictured below, smoking), a chubby fellow with Coke bottle glasses who sells what may be the city's simplest, yet most satisfying street food: peeled and salted cukes, a fresh green rebuke to all those starchy and fried snacks out there.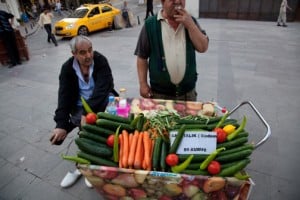 His method is simple: take a chilled cucumber, peel it, slice it twice down the middle so that it splays out like a flower, and salt it generously. It may sound basic, but on a hot summer's day, the cucumber man usually has a good crowd that gathers around his cart clamoring for this refreshing bite (this past summer he branched out and started selling carrots and apples, too). Of course, at 50 kurus (33 cents) a cucumber, it's a snack that's hard to refuse.  Address: The plaza in front of the Galata Tower, Galata
#4 – Maya Kumpir – In Istanbul's Bosphorus-side village of Ortakoy, the potato takes center stage for locals and tourists alike as one of the city's most beloved street foods. Known in Turkish as "kumpir", think of this Istanbul street food icon as the baked potato on steroids –a motley mix of flavors piled high into an inexpensive meal roughly the size of a small child's head.
A few minutes of observation revealed "Maya Kumpir" to be the most popular stand amongst the locals.  We ordered our potato and gazed over the mind-boggling myriad of available toppings under the glass-enclosed case.  As Muhettin split the potato down the middle and began mixing in a small amount of butter and kasar cheese, we started pointing out our selection of toppings to be added next. Among the options were hotdog slices, corn, peas, vegetable salad, pickles, pickled beets, green and black olives, yogurt, and even kisir, a couscous-like bulgur dish.  The potato was perfectly cooked, soft and moist throughout, and the variety of flavors piled on top made for an interesting combination of tastes and textures.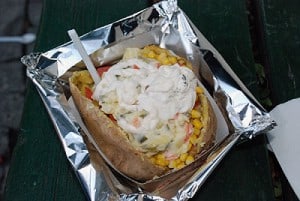 There are probably few places in Istanbul where one can go and have a full meal for less than 10YTL, while dining seaside, under the shade of one of the most stunning mosques in the world, and admire the sprawling Asian coastline across the water at the same time. And, though the seating is first-come first served and consists of park benches and stone steps, the show-stopping potato and it's supporting cast of toppings make the kumpir an experience to behold.  "Kumpir Sokak" is located on the main pedestrian street leading to Ortakoy Mosque and is hard to miss. Just look for all of the stands lined side by side. "Maya Kumpir" is No. 5.
#3 – Kizilkayalar's Wet Burger – The sign may read "Wet Burger" ("Islak Burger" in Turkish), but there's a lot more to say about Kizilkayalar's moist mini patties than that. How about "Heavenly Slider," "Binge Drinker's Delight," or "The Best 2 Lira Ever Spent in Taksim Square?"
The Kizilkayalar experience starts from a distance, most vividly late at night. It begins with a whiff of garlic detected well across Taksim Square, then, through the bustling crowd, eyes lock onto the bright lights of the steam box holding the burger bounty. Hungry customers are finally tugged in, like a tanker on the Bosphorus, by the steady foghorn voice of the Kizilkayalar hamburger man bellowing "buyurun, buyurun, buyurun!" (roughly: "come and get it!").  Make no mistake, the burger is wet, having been doused by an oily, tomato-based sauce before incubating in a glass-lined burger hamam.  But at 2 AM on a Friday night, nothing is as good as a Kizilkayalar wet burger – except for another one.  Address: Siraselviler Caddesi 6, Taksim Square (Open 24-7)
(NYSF Note: The Wet Burger was also featured recently in an episode of No Reservations with Anthony Bourdain.)
#2 – Citir Simit Bakery -With only a few ingredients to its name, the simit, a sesame-encrusted bread ring has gone on to become the most ubiquitous snack in Istanbul, and has even made its way to New York.

Let's hear it for the (deceptively simple) simit.
Despite its crisp exterior, the simit is actually a softie, and starts to fade as soon as it leaves the oven.  By the time many simits reach the streets, they are already past their prime and heading towards a state where they make better hockey pucks or paperweights than snacks.  That's why it's best to get simits straight from the source.  There are small simit bakeries hidden all over town, but one of the favorites is Çitir in the Karakoy neighborhood, where the somewhat gruff Emir Ozdemir has been manning the brick oven for 20 years. All day long, Ozdemir turns out tray after tray of hot simits, all for only 75 kurus (50 cents).  Address: Mumhane Cadessi No. 83-85, Karakoy
Telephone: 212-244-7775
#1 – Sabirtasi's Icli Kofte -For years on Istiklal Caddesi, in one calm spot stood the beatific Ali Bey, an angel in a white doctor's coat offering salvation in the form of golden fried icli kofte.  Though he passed away recently, Ali Bey left his post and his streetside stand — as much a part of the Istiklal streetscape as the red trolley cars that run up and down the boulevard and the belle époque apartment buildings that line it — to his son, who fills it with the same panache, white jacket and all. And thanks to Ali bey's wife, Fatma hanim, the icli kofte lives on.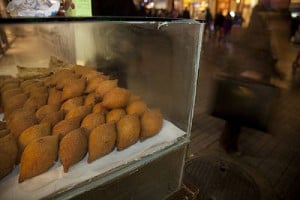 Known as kibbeh in the Arab world, icli kofte is a savory snack consisting of a bulgur wheat shell that holds a filling of ground meat, onions, parsley and spices. These little torpedoes are handmade upstairs by Fatma hanim, who spends most of the day at a large table with her daughter-in-law working the stuffing into the casing before passing them on for final preparation.  Unlike many of this city's icli kofte, which often look and taste like a fried mini football, Sabirtasi's are a refined delicacy. It's as if each grain of bulgur and every bit of filling were specifically designed to rise into a spicy, steamy, heavenly waltz across the palette as the fortunate snacker breaks the crunchy seal of the outer crust.  Address: Istiklal Caddesi 112 (across from Yapi Kredi Bank), Beyoglu; Telephone: 212-251-9423 [Istanbul Eats]