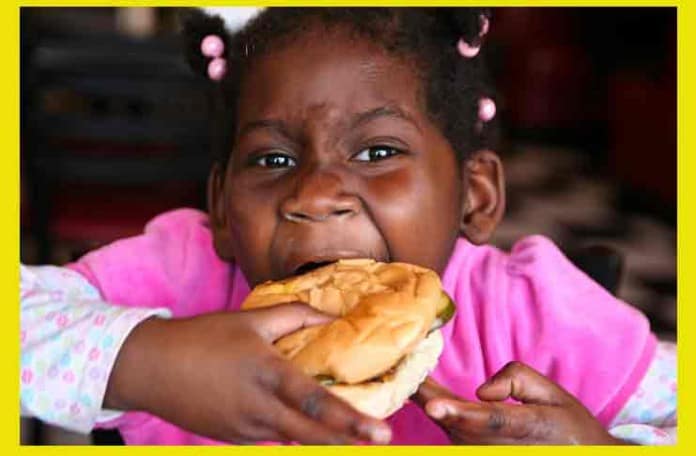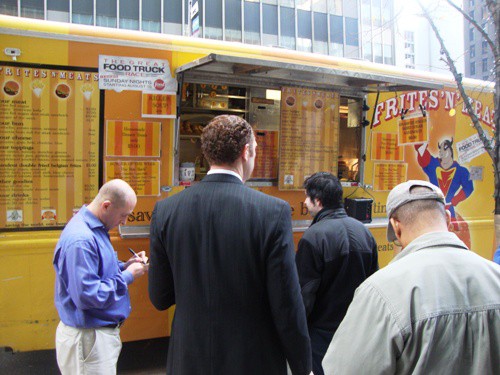 When I saw this week's special from Frites 'N' Meats, I knew it was going to be lunch one day this week.  Even though I had a burger yesterday from Carnegie John's, spicy food is generally high on my list, and a burger that "bites back" sounded too good to pass up.
With the Green Truck giving out free Mother Truckers, I think we'll make this week Burger Week on NYSF.
Today's Lunch is the "Bite Back" burger ($8.50) from Frites 'N' Meats.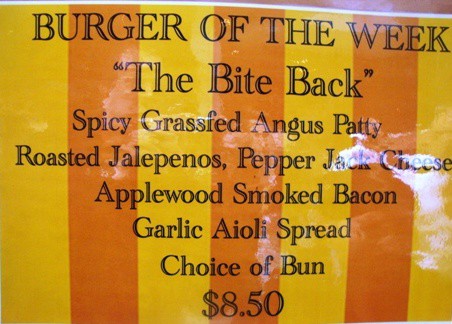 One thing I really like about F'N'M is their main ingredients are from local vendors – the beef is from De Bragga & Spitler, the bread is from Balthazar Bakery and the cheese is from Murray's.
I truly believe local vendors are what makes NYC special.  When you travel across the country, there are way too many chains.  Even in London, when I was there last month, had way too many chains.
Getting back to Today's Lunch, The Bite Back burger is a spicy angus beef patty with pepper jack cheese, roasted jalepenos, applewood smoked bacon & a garlic aioli spread.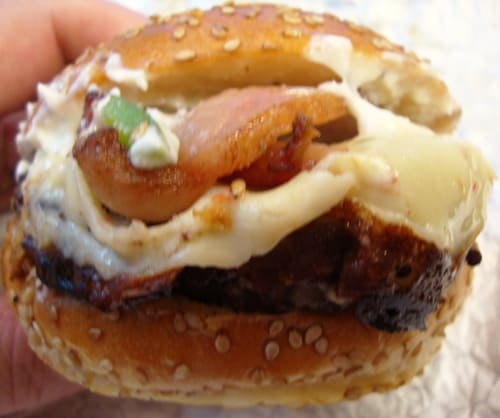 Being offensive-minded, I took the first bite.  This consisted mostly of grilled burger and garlic aioli, but on subsequent bites, the roasted jalapenos and pepper jack cheese came through more.
And by the 3rd or 4th bite, the burger had bitten back.  My mouth was feeling the spiciness, but the grilled burger taste still came through nicely.  The bacon wasn't as much a factor as I would have liked, but the taste did come through at times.
The burger was cooked to medium which was good, because in the past, it was too well done for my taste.
Today's Lunch is an 8.5 out of 10.  The burger was ccoked just right, all the ingredients were fresh and top-notch, and it was spicy!  Right up my alley.
BTW, the sesame seed bun was really good too – and I like their frites – it's just too much food for me to get one of their big, fat burgers and frites.  For dinner I will, but not for lunch.  Otherwise, I'll be asleep by 3.
I certainly didn't need frites when they keep coming up with weekly specials as interesting as this one.