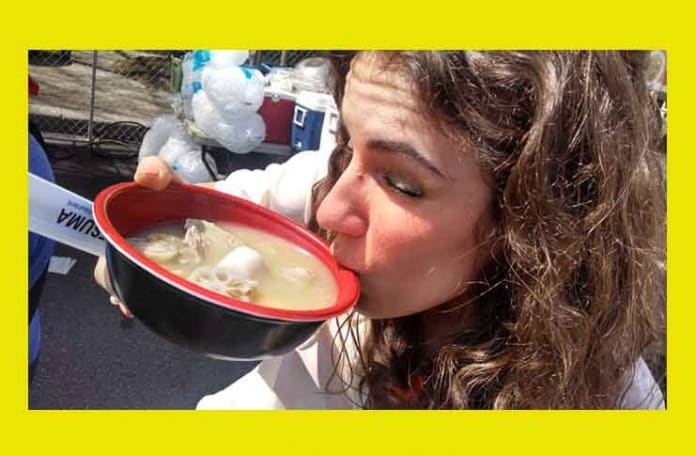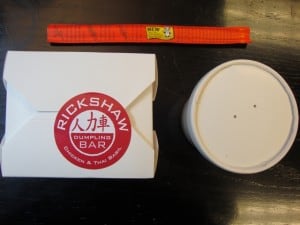 Today's Lunch is from Rickshaw Dumpling Truck, which is on West 57th St at 8th Ave on Wednesdays.
Today's choice was difficult.  The special was spicy Szechuan chicken dumplings with a spicy soy dipping sauce.  However, I went for the Thai chicken and basil dumplings with a spicy peanut dipping sauce because I was more in the mood for Thai than Chinese, and really wanted to try the spicy peanut dipping sauce.  I also got a miso soup to take the chill out of my bones this winter day.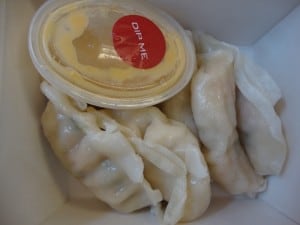 I was not disappointed.  The dumplings (6 for $6) had diced chicken, cellophane noodles, basil and carrots inside, and had a pronounced basil flavor.  The spicy peanut dipping sauce was perfect with these dumplings.  I usually enjoy peanut sauce, but a spicy peanut sauce is even better.  Good choice.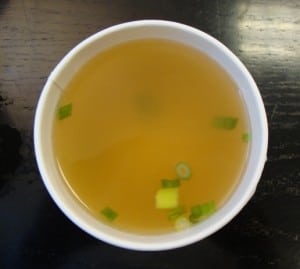 The miso soup ($3) was pretty good.  I'm not an expert, but it was similar to what I've had in most Japanese restaurants, with plenty of tofu on the bottom.
Today's Lunch was hot, tasty and filling.  I couldn't ask for more.  It was even healthy, which is unusual for me.  I know there are cheaper dumplings in Chinatown, but I'm on West 57th St, where the options are a bit more limited.