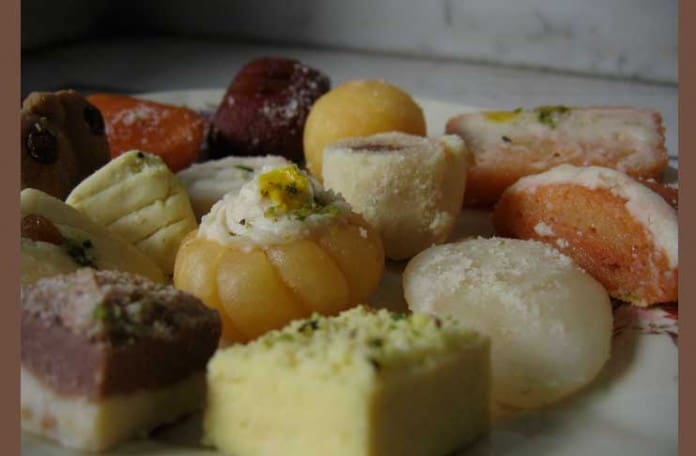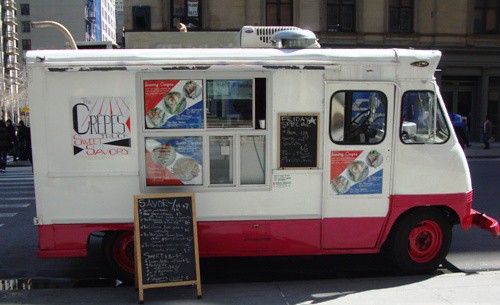 As I mentioned last week, we recently ran across The Crepes Truck on 5th ave & 22nd St.  According to Adam in the truck, they started around Thanksgiving last year, and have lately been in this spot regularly during the week and in Williamsburg on weekends.  Today, they were closer to 23rd, but still on the same block.
Since one crepe will not be enough for me for lunch, I ended up getting one savory crepe and one sweet crepe.  Today's Lunch is a ham, egg and Swiss crepe ($6) and a banana & chocolate chip crepe ($4).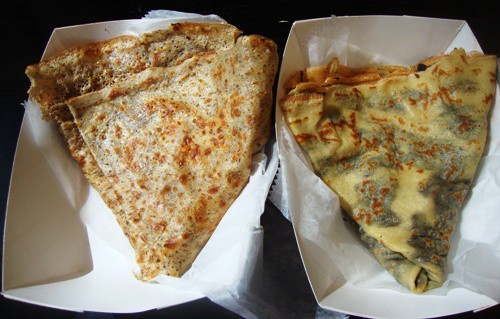 The Crepes Truck has two crepe makers in the truck, so Adam was able to make both crepes at the same time.  This cut the waiting time down by a few minutes.
In the first bite of the savory crepe, I tasted a bunch of ham, plus shallots and thyme.  Later bites had a little more egg and cheese in there.  Overall, this was quite tasty.  The crepe was nicely done, and the thyme really made a difference.  I've had plenty of ham, cheese and egg crepes in the past, and they didn't use herbs much, if at all.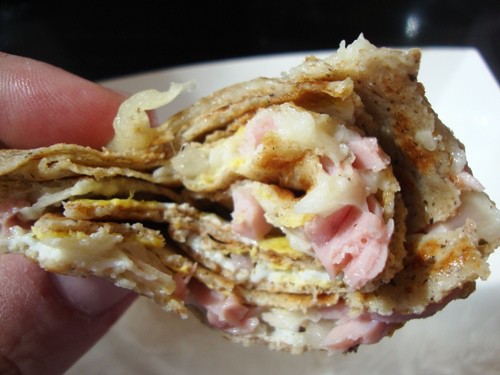 I was right to get the dessert crepe, because even though the first crepe was good, it definitely wouldn't hold me until dinner.
The chocolate chips totally melted, so that it seemed like there was chocolate sauce on the bananas.  Bananas and chocolate are a good combination, and they used bittersweet chocolate, which is my favorite.  The crepe itself had some golden browning as well.
We will definitely add The Crepes Truck to the New York Street Food directory and map.  I know you've been around for a few months, but welcome to the New York Street Food family.