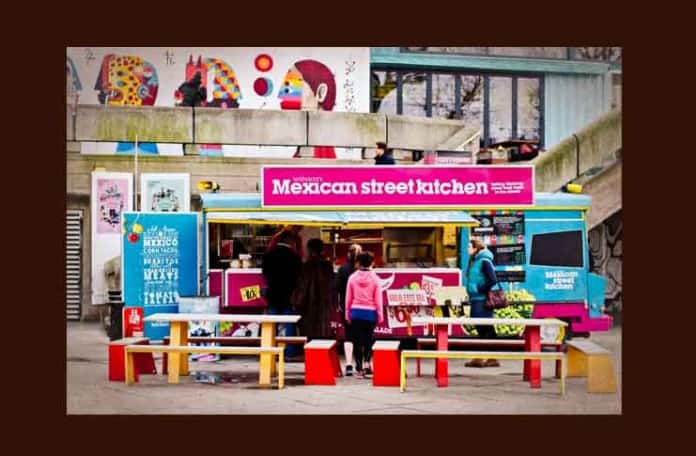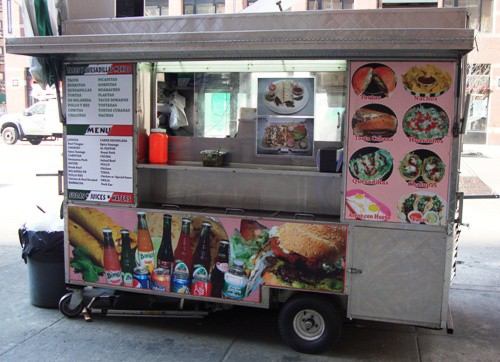 Having just gotten back late last night from a long weekend in Florida visiting relatives, things were pretty busy at the office, so I walked over to the Tacos y Quesadillas Mexico cart on 9th Ave between 58th & 59th St.  It's one of closest street food carts to my office, and is only a block west of Columbus Circle.
I've already had the dishes in their name, tacos and quesadillas, as well as huaraches, and enjoyed them all.  Everything is cooked fresh, and they are very well priced.
Today's Lunch is a chicken milanese torta ($5) from Tacos y Quesadillas Mexico.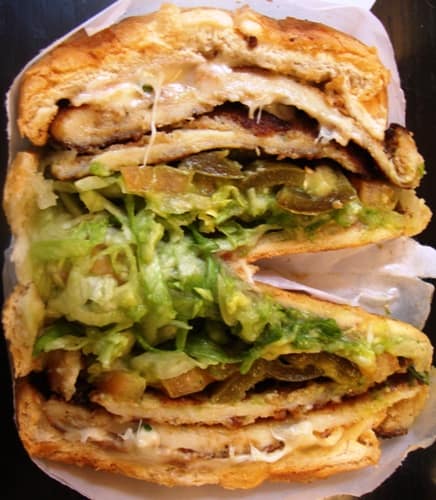 The chicken milanese torta started with 2 chicken cutlets pounded thin, breaded and fried (Mexican schnitzel?).  On the sandwich were cheese, lettuce, tomato, a few stray beans, a little salsa verde and sliced jalapenos.  You can see they didn't skimp on the ingredients, as this was a pretty thick sandwich.
And tasty too!  The torta got a bit messy with the cheese, lettuce, tomato and jalapenos – but it was delicious. The chicken was not tough or stringy, and the lettuce and jalapenos added some cool and spicy tastes within the same bite.
NYC should make it mandatory that all sandwiches sold within city limits have jalapenos, because they really raised this sandwich a notch or two.
This is going to be a short review because there's not a lot to say about the chicken torta milanese from Tacos y Quesadillas Mexico, other than it was a delicious sandwich.  The ingredients were fresh and tasty, and it was an excellent value at $5.  Try getting chicken cutlet and cheese on a roll from a deli in midtown or downtown for under $7.50.  It might not be impossible to find, but it is tough.
I'm glad the Tacos y Quesadillas Mexico cart is close to my office, because it's a good place to get fresh, authentic Mexican food at a good price.  Too bad they don't serve margaritas or Dos Equis, or else I'd be there for dinner too.