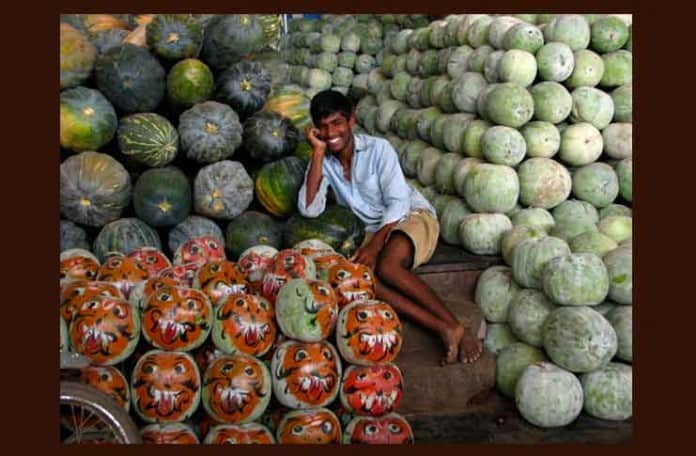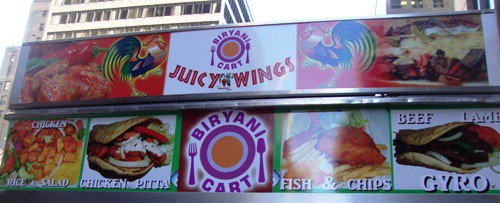 Last time I went to Biryani Cart in mid-December, there was a new cart next to it with a Biryani Cart/Juicy Wings sign that had an interesting assortment of wings with 4 types of sauces, as well as cheese steak, peppercorn cheese steak and deep fried shish kebab (?!).  The owner, Meru, told me they were going to be serving these items after the new year.

Well, I went back today to check out the wings…and they were a no go – but Meru promised they would be serving the Juicy Wings menu starting next week.  I hope so, because these certainly look like tasty sauces for wings.
As I mentioned in the mid-December post, Biryani Cart did have a few other new dishes, so I got to try another one for Today's Lunch – boneless fish curry for $7.
I like to get fish for lunch whenever possible because I'm the only one in my house who likes fish, and I only get it eating out.  A boneless fish curry from Biryani Cart – the 2008 & 2009 People's Choice Vendy Award Winner – should be worthwhile.  Click through to see more on Today's Lunch.
The first thing you notice, as is often the case with Indian food, is the aroma.  Indian food is wonderfully fragrant.
There were 2 pieces of fish over an orange basmati rice, with a small salad on the side.  The fish was lightly breaded and one fillet had white sauce on it, while the other had hot sauce on it.  Both fillets had fresh cilantro on top.
I'm not sure if they meant to separate the sauces or have some of each sauce on each fillet, but this had the effect of one fillet being spicy and one being a little creamier and less spicy.  It may have been an accident, but I did feel like I got 2 somewhat different fillets in the same lunch…and I mean that in a good way!
The fillets were boneless as advertised, and 2 of them for $7 was a decent value.  Fish is usually pricier than other dishes.
The rice was a thin basmati rice with saffron and other spices that gave it an orange color.  It was cooked well, and tasted even better with the juices and sauces underneath the fish.
Today's Lunch was very good, and I recommend it if you like fish.  Some people think you have to be crazy to order fish from a street cart, but Biryani Cart is no ordinary street cart, and this lunch was proof that Meru knows what he is doing – as if 2 People's Choice Vendy Awards weren't proof enough!