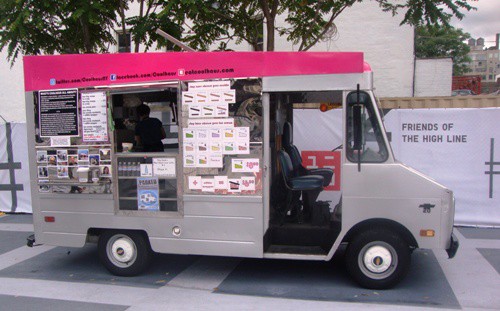 Showtime has teamed up with Coolhaus to create a custom ice cream sandwich called the "Killer Combo" to highlight the final season of "Dexter".
If you're not familiar with the show, Michael C. Hall plays Dexter Morgan, a complicated and conflicted blood-spatter expert for the Miami police department, who is also a killer. The series' 8th and final season premieres on Sunday, June 30 at 9 pm on Showime.
To illustrate the dual nature of Dexter's personality, the ice cream sandwich features one dark-side-of-Dexter with a Double Chocolate cookie, one lighter-side-of-Dexter with a Snickerdoodle cookie, and a Tahitian Vanilla Bean ice cream with a 'Bloody' Raspberry Jam Swirl.
The ice cream sandwich will be available at all Coolhaus retail outlets beginning in June, including 10 trucks nationally (in LA, Austin, Dallas and New York City), and two storefronts in LA, along with the online store (eatcoolhaus.com/store via SHO.com). The sandwich is also being distributed nationally at various grocery stores throughout the country.
Check @Coolhaus, @CoolhausNY, @CoolhausLA for details on Showtime's Dexter "Killer Combo."