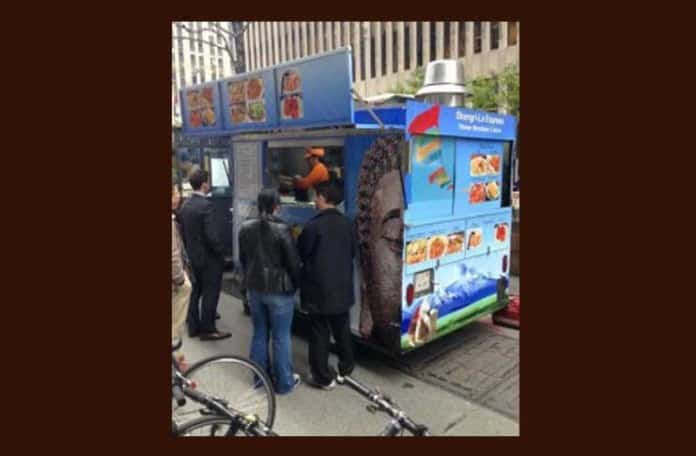 A few weeks ago, one of our more active readers, Roberto B, wrote for us about Shangri-La Express. As you can infer from the name, they serve Tibetan food.
Roberto covered a lot of the menu, but one of the dishes he did not try was the salmon. Being big seafood lovers, we ordered the Nasha Salmon Salad ($8) for our first trip to Shangri-La Express.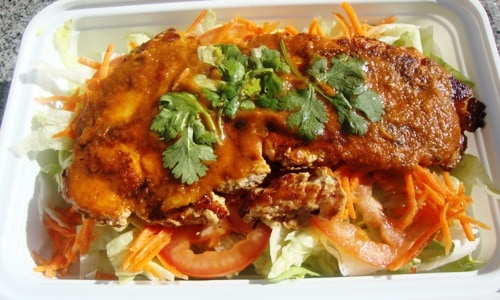 We didn't see them put the salmon on the grill, but it was a long, thin piece, and they grilled it for a while. Our guess is the salmon was probably frozen. It's not realistic to expect a fresh salmon fillet for $8.
After the fish was sufficiently grilled, it was placed over a salad of iceberg lettuce, tomatoes and carrots. They then spooned some sauce from the Himalayan Chicken Curry pot over the salmon, and added fresh cilantro.
The salmon was ok, but it was a little on the hard side. Not too hard to eat with a plastic fork, but certainly not soft and juicy. Yes, this was definitely a frozen fillet.
The curry sauce helped what would otherwise have been a dry piece of fish. We liked the curry sauce, which wasn't heavily curried, and was more on the creamy side.
After getting through the main course, there was only plain salad below. No dressing, and none of the curry sauce made it past the salmon. We generally like salad, but not plain.
This was certainly one of the healthier lunches we've had recently. If you ask for no sauce, there are probably only a handful of calories remaining.
The quality at Shangri-La Express was in the middle of the pack, not the best, but not the worst either. The variety of their menu is nice, and both the Himalayan Chicken Curry and the Sha-Balay (meat patties) looked pretty good.
Shangri-La Express parks on 50th St between 6th& 7th Ave for weekday lunches, along with a bunch of other carts, and if the police aren't around, food trucks. It's a regular United Nations of food vendors on that block. Stop by and see what tickles your fancy.