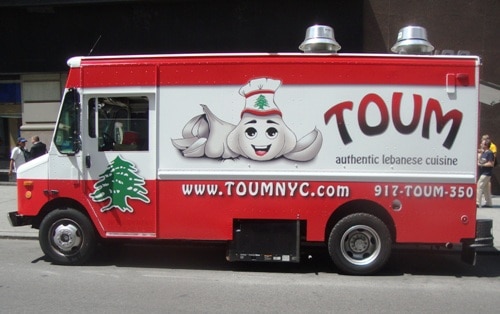 The most recent food truck to hit the street is Toum, which we had a First Look at about two weeks ago.
The second thing we noticed on the menu was Lebanese pizza for $4. Based on the price, this seemed like it would be less than a full meal, so we also ordered a spinach pie for $2.
Not knowing exactly what a Lebanese pizza was, we weren't surprised that it was quite different from an Italian pizza…and it was only about 7″ wide.
A grilled flatbread was covered with minced beef and spices, onions and tomatoes. They folded it it half to wrap up in foil, and you could see the grill marks on the bottom of the bread when opening the foil. That gave it a nice grilled flavor, although the flatbread was still soft.
The tomatoes were nice and fresh, and the ground beef had a nice amount of herbs and spices. We got hot sauce on top, but that's optional. The hot sauce was most definitely hot, and was a good addition to the dish.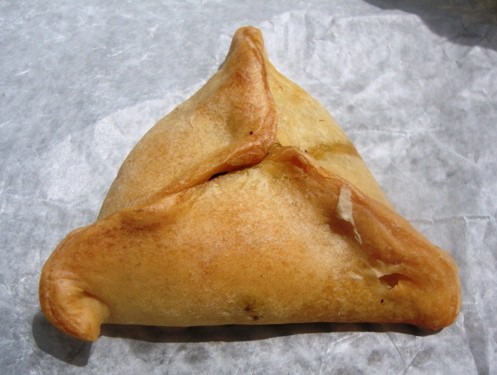 The spinach pie was a triangle of baked dough that was filled with spinach and onions. The inside had a distinct lemony flavor, which was a good complement for spinach, onions and dough.
Lunch at Toum was interesting, and we plan to go back to try some other dishes like chicken shawarma, kofta and falafel.
Toum has only been around a few weeks, and they are trying to establish a regular parking schedule, so check their Twitter here or our Mobile Munchies Twitter feed.
Oh, and their lemonade was tasty too, with a little sparkling water added for effervescence.