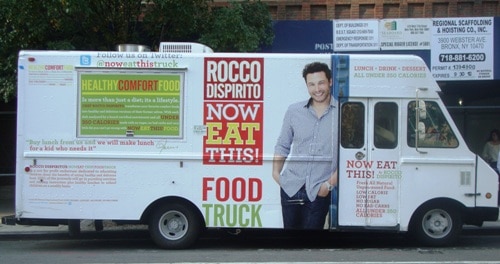 We hadn't seen Rocco DiSpirito's Now Eat This! truck around for a while. Was this another example of a food truck that went under?
No, they were just on hiatus for a while at the end of the summer. The truck recently reappeared with a new menu…and higher prices. No main dishes are under $10 anymore.
When it comes to Italian food, we prefer Northern Italian cream sauces to Southern Italian tomato sauces, so when we saw fettucine alfredo on the menu for $10, the choice was easy.
On another day, we stopped by the Now Eat This! truck on the late side for lunch. They were already out of food, but still had a few desserts left. They handed us a free dessert and asked us to come back again for lunch. Who are we to turn down a free dessert?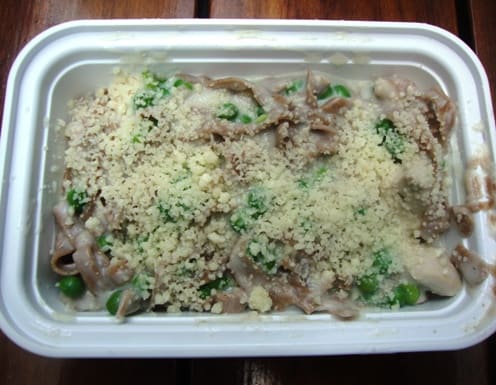 The dish was somewhat dark because whole wheat pasta was used, but the pasta was handmade, and softer than dried fettuccine.
Included in the pasta were some pieces of chicken, lots of peas, and a thick cream sauce.
Even though the sauce was nice and thick, it was a bit on the boring side by itself. A healthy dose of parmesan cheese sprinkled on top helped pick up the dish.
Most of the dishes at the Now Eat This! truck are under 350 calories, which probably led to the sauce not being as creamy as I'm used to with alfredo. The only way my wife's fettuccine alfredo would be 350 calories is if we ate only two strands of pasta.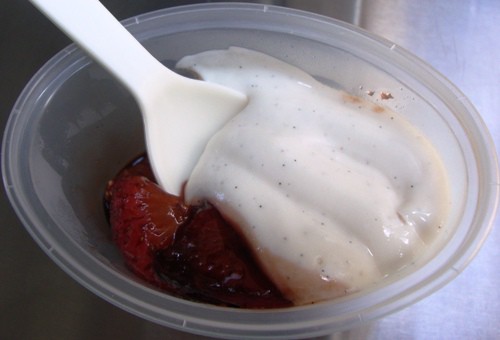 Dessert was a cup of strawberries in balsamic sauce with vanilla yogurt. It normally costs $4, but as we said earlier, we got lucky.
This was a good dessert. The contrast between the strawberries in balsamic and the creamy yogurt was good, and you could even see the vanilla bean in the yogurt.
The Now Eat This! truck is back on the street regularly, and you can find them on twitter here or on our Mobile Munchies twitter feed.
The menu is predominantly Italian for now. It's good to see them changing up the menu from time to time, but it is a little surprising to see Mama's meatballs for $11. This dish was $7 before the hiatus, and only $5 when the truck first came out! We'll have to see if anything changed to justify such a price increase.