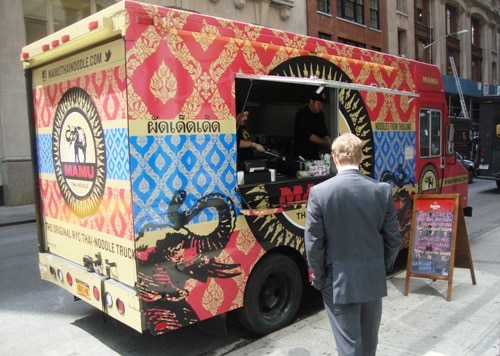 Now that Mamu Thai Noodle has been around for a couple of months, it's time to work our way down the menu. We started with Shrimp Pad Siew, then had Chicken Pad Thai.
Next up was Tofu Drunken Noodle, which cost $7.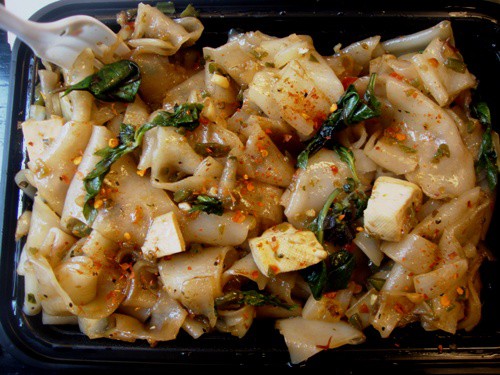 As with all the other dishes we've had from Mamu, there was plenty of food in this lunch. Walking away from the truck, the container was pretty heavy.
Inside the container were a lot of wide Drunken Noodles, but there was much more to lunch than that. The main flavoring was from leaves of basil, and there were onions scattered throughout the dish.
Crushed red pepper flakes were served on the side, which we made liberal use of. The drunken noodles were semi-spicy without the crushed red pepper, and had a nice kick with it.
The tofu was on the firm side and worked decently in this dish, but to be honest, it's not our favorite protein. We are carnivores through and through.
Getting back to the Drunken Noodles, they were soft and slippery. That was partly because there was more oil in this dish than the other food we've gotten from Mamu Thai Noodle. The width of the noodles also added to the slipperiness factor.
In summary, this was not our favorite dish from Mamu Thai Noodle, but still made for a good, satisfying lunch.
You can follow the Mamu Thai Noodle Truck on twitter here or on our Mobile Munchies twitter feed.
The owner Siwat has slowly been adding items to the menu, so you never know what you're going to find. That's half the fun of going to a food truck.